Market Recap: The market fell on Monday, heading into an extremely busy Tuesday on the back of more concerns over Europe. Spanish and Italian bond yields were on the rise as the euro was dropping. Further, Greece's inability to form a coalition government was also causing an issue for the market. We had no economic data to offset the news, and the market is preparing for a big day of economic data tomorrow as well.
The market is awaiting a large slate of news from Europe as well as from here at home, and we are going to be looking at a lot of incoming data. The market is looking quite weak right now, and these reports could unravel the market a lot more.

Two Trades
Two trades we like right now are long on Bed Bath & Beyond (NASDAQ:BBBY) and short Chipotle Mexican Grill (NYSE:CMG). BBBY has been doing great despite the tough market conditions as they are holding strong with a great round of earnings as well as a recent announcement of plans to acquire Cost Plus World Market (NASDAQ:CPWM). The company looks great to sell some premium against. At the same time, CMG is looking like it should continue to weaken. We believe discretionaries and overvalued stocks will weaken a lot harder in tougher market conditions. The stock, further, is sitting below the 50-day and 20-day MA as well as showing the 20-day MA crossing below the 50-day. We would be short CMG to $390 where it looks solid for a longer entry.
Trade #1: Long BBBY
Trade #2: Short CMG
(Click to enlarge)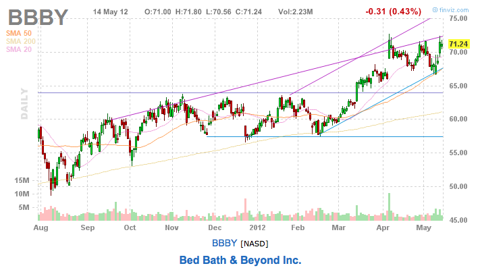 (Click to enlarge)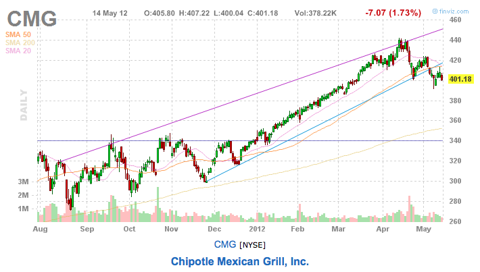 Tomorrow's Outlook
There is a ton of uncertainty heading into tomorrow. We have a lot of data on the plate from here at home and from overseas. The market will be digesting a lot tomorrow. Some of the most important reports are retail sales, empire manufacturing and the NAHB Housing Market Index here at home. Europe has a ton of key reports as well with the German ZEW Survey, GDP from Germany, France, Greece and the eurozone, bond sales from Greece, and other reports. Japan also gives us consumer confidence. Its a lot to digest, and the market has been not doing well on weak news, so we should not be expecting a lot of great upside tomorrow unless we get some real surprises. We are not confident that will happen and bracing for another down day tomorrow.
Our Moves
We had a solid day as we took a 1.5% gain in a long Hershey's (NYSE:HSY), short Russell 2000 (NYSEARCA:IWM) position. We also took a 13% gain in a long in BMC Software (NASDAQ:BMC) and 9% gain in M/I Homes (NYSE:MHO) from our Extended Value Portfolio. We did, however, take losses on a Panera (NASDAQ:PNRA) bull put spread and TJX (NYSE:TJX) bull put spread. We added an earnings position in Dollar General (NYSE:DG) and an options position in Bed Bath & Beyond.
We have the following positions. In our Short-Term Equity Portfolio we are long Visa (NYSE:V), Hersheys and Whole Foods (WFM). We are short MasterCard (NYSE:MA), Russell 2000 and Sara Lee (SLE). In our Options Portfolio, we are long Disney (NYSE:DIS), Panera Bread and Dollar General. We are short BP (NYSE:BP), Apple (NASDAQ:AAPL) and Russell 2000 . We have a reverse iron condor on Ultra Proshares Financial (NYSEARCA:FAS). In our Earnings Alpha portfolio, we are long TJX, Western Digital (NYSE:WDC), Teva (NYSE:TEVA). We are short Amazon (NASDAQ:AMZN). We have a reverse iron condor in Las Vegas Sands (NYSE:LVS) and Priceline.com (PCLN).
Chart courtesy of finviz.com.
Disclosure: I am long V.