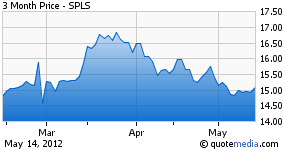 Staples Inc. (NASDAQ:SPLS), one of the global leaders in the supply of office products, is slated to report its first-quarter 2012 financial results on Wednesday, May 16.
The current Zacks Consensus Estimate for the quarter is 30 cents a share that reflects a growth of 7.1% from the prior-year quarter's earnings. The estimates in the current Zacks Consensus range between a low of 28 cents and a high of 31 cents a share. The Zacks Consensus revenue estimate is pegged at $6,190 million for the quarter under discussion.
Recap of Fourth-Quarter 2011
Staples fourth-quarter 2011 earnings of 41 cents a share came in line with the Zacks Consensus Estimate and increased 5% from 39 cents earned in the prior-year quarter.
Staples posted total sales of $6,459.7 million, up 0.7% from the prior-year quarter, and came almost in line with the Zacks Consensus Estimate of $6,460 million.
Gross profit for the quarter inched up 0.7% to $1,732.3 million, while gross margin remained flat at 26.8%. Adjusted operating profit increased 7.8% to $468.8 million, whereas operating margin expanded 48 basis points to 7.3%, reflecting abridged incentive compensation and depreciation expense.
Zacks Agreement & Magnitude
No movement was noticed in the Zacks Consensus Estimate for the first quarter of 2012, as none of the 14 analysts covering the stock revisited their estimates, either in the last 7 or 30 days.
Mixed Earnings Surprise History
With respect to earnings surprises, Staples has missed, met as well as topped the Zacks Consensus Estimate over the last four quarters in the range of negative 12.5% to positive 10%. The average remained at negative 1.3%. This suggests that Staples has underperformed the Zacks Consensus Estimate by an average of 1.3% in the previous four quarters.
In the fourth and third quarters of fiscal 2011, the earnings came in line with the Zacks Consensus Estimates. In the second quarter of 2011, the earnings beat the Estimate by 10%, however, in the first quarter it missed the same by 12.5%.
Closing Comment
Being a leading retailer of office products and services, Staples is better positioned than its competitors to sustain growth based on effective merchandising and margin expansion. Staples now intends to focus more on augmenting store productivity by generating incremental sales per store, accelerating growth in adjacent categories, increasing market share in core office supplies, streamlining cost structure and improving profitability across the International division.
International segment has been struggling with sales contracting 4.6% during the fourth quarter of 2011, following a decline of 1.9% in the previous quarter. The fall in revenue reflected a 9% decrease in comparable store sales in Europe coupled with sluggish sales in Australia.
Management now expects total sales to increase in the low single digits in fiscal 2012, while earnings per share to rise in the high single digits. However, we remain cautious about the macroeconomic environment and a sluggish job market, with small businesses and consumers still remaining watchful on their spending.
Currently, we have a long-term Neutral recommendation on the stock. Staples, which competes with Office Depot Inc. (NYSE:ODP) and OfficeMax Inc. (NYSE:OMX), holds a Zacks #3 Rank that translates into a short-term Hold rating.