As if to complement the return of Vladimir Putin to Russia's presidency, the Russian ruble last week returned to exactly the same level as two years ago: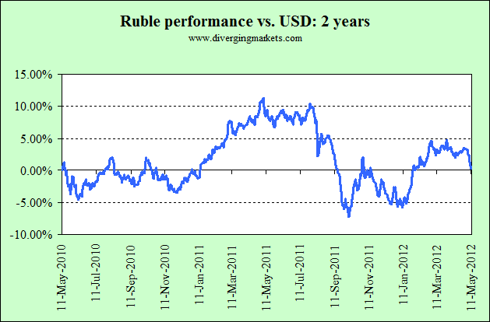 As Putin 2.0 gets underway, I thought this a timely opportunity to review how the ruble has arrived at today's exchange rate and where we should expect it to go from here.
The first point to remember is that the Russian government has been on the record several times in recent years saying it favors a strong currency (notably December 2008, September 2010, April 2011, July 2011 and September 2011, the last of which added the caveat of oil remaining above $100 a barrel). Whether this stance was unique to Medvedev's presidency depends on the extent to which there is indeed a difference between the two men. From the standpoint of monetary policy, I contend there is no difference.
A big motive behind talking up the ruble so much is Russia's desire to make it more convertible in the global FX market, and part of this process necessarily requires the central bank to loosen the trading band within which it trades. Since the onset of the global financial crisis in 2008, Russia's central bank has loosened the trading band three times, to four rubles in October 2010, five rubles in March 2011 and six rubles in December 2011, marked by black triangles on the graph below. It is hardly a coincidence that broad ruble strength followed each intervention in the consequent months. Note also that the longer-term trend channel shows an unmistakable move toward gradual appreciation, which apart from helping keep inflation under control, would be a necessary prerequisite for greater ruble convertibility.
Source: Oanda.com
3 reasons the long-term trend will continue
1. Politics
The struggle for many Westerners trying to trade Russia can be summed up in the simple conundrum of acknowledging the way things are versus how Westerners think things should be. And nowhere is this struggle more evident than in recent capital flight statistics, which went from US$33.6 billion in 2010 to $84.2 billion in 2011, with this year's first quarter numbers marginally lower than the fourth quarter of 2011. Say what you will about the politics of Putin's re-re-election--these numbers are not encouraging--but as power transitions go, if that's even the right phrase, this could have been far worse. Second quarter net outflows this year will be crucial, but bear in mind that even in the darkest days of 2008-09, Russia still managed to keep its fiscal house in order relative to most of its peers, as I will show below.
2. Economic management
Comparatively speaking, Russia's public debt profile and its budget deficit are practically nil, and its current account surplus of US$100 billion last year puts it closer to China than the rest of its BRICS peers. Further, the central bank is no stranger to market intervention and an import cover above 14 months provides formidable protection in the event of sub-$100 oil. The below charts illustrate rather vividly Russia's economic situation compared against its BRICS peers, plus Norway STO, Canada FXC, ENY, and Mexico EWW on the basis that those three countries are the only other tradable oil exporters in the same league as Russia: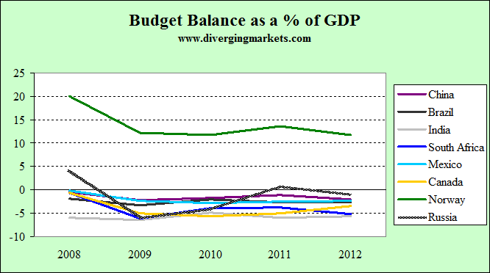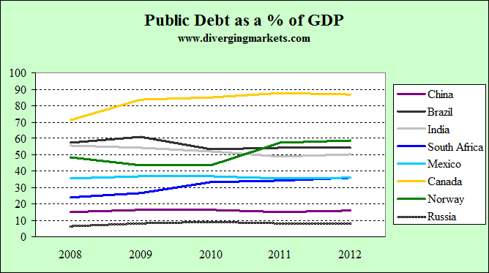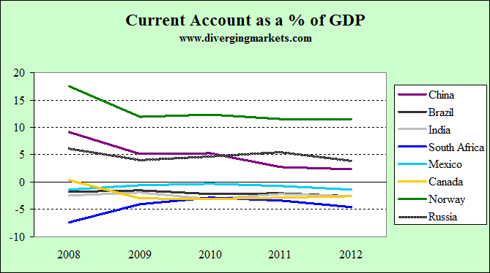 Source: IMF, World Bank, EIU
3. Interest rates
Russia is currently tied for having the second-highest benchmark interest rate among G20 nations. At rates this high (as opposed to negative real yields on US Treasuries out to 10 years), underpinned by both talk and action from authorities supporting a strong ruble, there's a compelling yield opportunity in rubles.
The least certain element of the ruble is of course its volatility and this will likely increase as the central bank continues widening the trading band. But until the ruble is freely convertible, the main determinant of the USDRUB exchange rate is going to be the Russian central bank and its mandate of fighting inflation gives it a vested interest in continuing to favor long term ruble strength. For those who can hedge the occasional stops and starts, the ruble or anything correlated to it, such as ERUS, RSX, RBL or RSXJ, should be worth buying on dips.
Disclosure: I have no positions in any stocks mentioned, and no plans to initiate any positions within the next 72 hours.