Not surprisingly, apartment REITs have outperformed other types of REITs since the housing price crash that began several years ago.
There are 11 essentially pure multifamily apartment REITs among the 211 individual mortgage and equity REITs in the Morningstar database. We look at those in this article.
Generally, analysts give them neutral to negative reviews for forward prospects. The yields seem depressed due to rising prices, which suggests they may be overvalued as a group.
In order of size, they are:
In Part 1, the residential equity REIT (NYSEARCA:REZ) came out on top in terms of return and volatility measures, but low on yield probably due to popularity.
REZ itself is not a pure apartment equity REIT. It includes healthcare REITs, mobile home part REITs, storage REITS, senior housing, and student campus housing, for example. That makes it quite different than the apartment focused REITs discussed here.
Between people losing their homes, being unable to obtain mortgages to buy homes, and being skeptical about the financial merits of owning a home, apartments have seen a boom in occupancy and rising rental rates -- all good for multifamily property investors so far.
Of the 11 apartment REITS, only 3 have a positive growth in distributions over the past 10 years, and did not decrease dividends along the way in 2009:
These three apartment REITs represent 7.44%, 4.48% and 2.33% allocation within REZ. That means if you seek pure multifamily exposure, you need to own the individual REITs, not the residential REIT ETF.
Their calendar year dividends were:
| | | | |
| --- | --- | --- | --- |
| | AVB | ESS | MAA |
| 2001 | 2.56 | 2.80 | 2.34 |
| 2002 | 2.80 | 3.08 | 2.34 |
| 2003 | 2.80 | 3.12 | 2.34 |
| 2004 | 2.80 | 3.16 | 2.34 |
| 2005 | 2.84 | 3.24 | 2.35 |
| 2006 | 3.12 | 3.36 | 2.38 |
| 2007 | 3.40 | 3.72 | 2.43 |
| 2008 | 3.57 | 4.08 | 2.46 |
| 2009 | 3.57 | 4.12 | 2.46 |
| 2010 | 3.57 | 4.13 | 2.47 |
| 2011 | 3.57 | 4.16 | 2.54 |
Yield versus Historical Yields:
This table compares the forward estimated yield with the trailing yield and 5-year average yield:
AVB

ESS

MAA

Yld

est

2.6

2.8

3.8

Yld

ttm

2.5

2.7

3.8

Yld

5yr

Av

3.9

3.6

5.1
The growth rate of dividends has been just adequate from AVB and ESS, but inadequate by MAA. However, the prices of the REITs have risen much more rapidly, producing low yields relative to history -- producing significant downside risk when ambient interest rates rise.
This chart compares the indexed growth of the three apartment REITs to the dividend growth of EPD (the largest pipeline MLP) and PEP (Pepsico). The weak relative growth becomes apparent in that comparison.
(click to enlarge)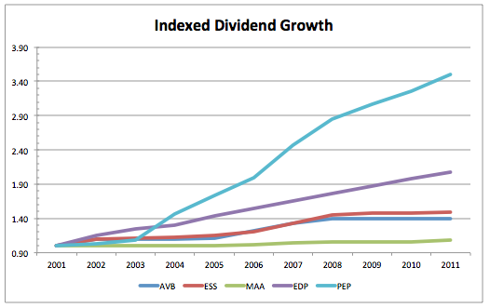 Important Risks for Apartment Investments:
Since apartments across the nation already have low vacancy, and boosted rates, they may not have much room to increase internal income when general interest rates rise.
Standard and Poor's says this:
Main demand drivers for apartments are household formation and employment growth. ... With apartment tenants on relatively short leases compared to those of commercial and industrial properties, we believe apartment REITs are generally more sensitive to changes in market conditions than REITs in other property categories. Results could be hurt by new construction that adds new space in excess of actual demand. Trends in home price affordability also affect both rent levels and the level of new construction, since the relative price attractiveness of owning versus renting is an important factor in consumer decision making.
Business Descriptions:
Essex Property Trust is engaged primarily in the ownership, operation, management, acquisition, development and redevelopment of apartment communities. As of December 31, 2011, the Company owned or held an interest in 159 communities, aggregating 32,753 units, located along the West Coast, as well as five commercial buildings (totaling approximately 315,900 square feet), and five active development projects with 1,235 units in various stages of development
Mid-America Apartment Communities focuses on acquiring, owning and operating apartment communities in the Sunbelt region of the United States. As of December 31, 2011, it owned 100% of 160 properties representing 46,872 apartment units. Three properties include retail components with approximately 93,000 square feet of gross leasable area.
AvalonBay Communities engaged in the development, redevelopment, acquisition, ownership and operation of multifamily communities in high barrier to entry markets of the United States. Its markets are located in New England, the New York/New Jersey Metro area, the Washington DC Metro area, the Midwest, the Pacific Northwest, and the Northern and Southern California regions of the United States. As of January 31, 2011, it owned or held a direct or indirect ownership interest in 173 operating apartment communities containing 51,693 apartment homes in 10 states and the District of Columbia, of which 142 communities containing 43,052 apartment homes were consolidated for financial reporting purposes and four communities containing 1,194 apartment homes were held by joint ventures.
Our View:
Because of the low yields and risks associated with future rising interest rates, as well as better yield and dividend growth opportunities in other areas, we would look elsewhere for income and income growth at this time, but these three look interesting if the prices come down.
General Disclaimer: This article provides opinions and information, but does not contain recommendations or personal investment advice to any specific person for any particular purpose. Do your own research or obtain suitable personal advice. You are responsible for your own investment decisions. This article is presented subject to our full disclaimer found on the QVM site available here.
Disclosure: QVM has no positions in any mentioned security as of the creation date of this article (May 14, 2012).