With gold up more than $12 on Wednesday morning to roughly $845 per ounce, the metal's seven-year gain does not seem to be fading.
Gold hit a record price of $850 in January, 1980. After rising 31% in 2007, bullion is expected to average $800 per ounce this year, according to a median estimate of 37 traders, analysts and investors in a Bloomberg survey.
Among the biggest gainers in the S&P/TSX composite index were Barrick Gold (NYSE:ABX), up roughly 5%, or C$2.06 to C$43.84 at around 10:15 a.m. ET on Dec. 2. Meridian Gold (MDG) was up more than 4%, or C$1.46, to C$37.03 and Goldcorp (NYSE:GG) also rose more than 4% to C$35.19.
ABX vs. MDG vs. GG 1-yr chart: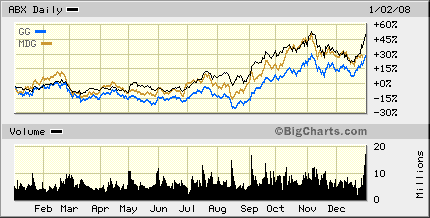 Last fall, Reg Ogden, vice president of Canaccord Capital, predicted that gold prices would climb to $1100 to $1200 per ounce late in 2008. Peter Grandich predicted a major short squeeze. James Turk forecasted that gold would reach the four-digit territory, and Greg McCoach predicted prices would be roughly $1200 early in 2008.