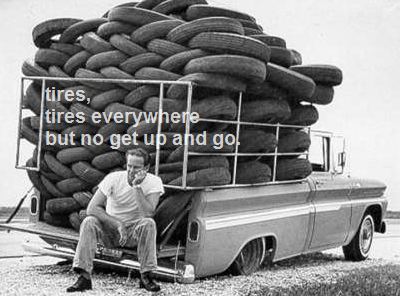 Angela Merkel's party suffered a severe rebuke in local elections to socialists and other left parties. This action demonstrates the tenacity with which the public in the eurozone demands to cling to government benefits versus austerity. It further complicates matters politically for the EMU and previously agreed financial arrangements and commitments. On Saturday, the troika agreed to give Greece an extra year (2015) to reach its budget and deficit goals. This shows weakness. All this means is the eurozone will remain a problem for months and years to come. Clearly, if austerity and reform are off the table then who will pick-up the tab-the Chinese? JP Morgan (NYSE:JPM) estimated if Greece were to bug-out of the eurozone and their commitments, it would cost the remaining bag holders $500 billion.
We see the same conditions in Wisconsin and now California facing a $16 billion budget shortfall. The fight with public unions and other entitlements is only just beginning as current and future benefits are too much to bear fiscally without reform.
As an aside let's review the reoccurring issues with mega-banks as just happened with JPM. I've been writing about the demise of the Glass-Steagall Act (GSA) for a long time. I featured it in my early 2007 book "Create Your Own ETF Hedge Fund" and frequently on ETF Digest. The GSA was made law during the Great Depression. Among other things it separated banks from brokers and federally insured bank deposits (FDIC) to $100K. This had meant banks were restricted in how they dealt with depositor funds which were widely insured by the public. In the late second term of the Clinton administration the law was allowed to lapse. At the core of this demise were a band of brothers (Phil Gramm, Chris Dodd, Alan Greenspan and Robert Rubin) led by Sanford "call me Sandy" Weill. He was the straw that stirred the drink and a major WS wheeler-dealer. It allowed his brokerage firm to merge with Citigroup putting the fox in the henhouse. Others quickly followed suit. It was great (for them) from the get-go but a financial disaster ultimately as the walls separating underwriting and trading from federally insured deposit taking came tumbling down. It created a regulatory mess as a multitude of agencies now had responsibility to oversee these new mega-bank combinations. Regulators were inadequate to the task.
When the financial crisis hit in 2008 suddenly trading the public's money meant the public had to bail out these new mega-banks. Rather than reinstituting various protections of the GSA the government just heaped more regulations atop those that weren't working anyway. The mega-banks and their congressional allies weren't about to let the toothpaste be put back in the tube. Therefore, we still have these JPM trading fiascos occurring because there aren't enough smart (emphasis added) regulators to oversee (herd cats) mega-banks. And, besides if they're bailed-out once they expect to be bailed-out again.
The solution is simple. Let bankers be bankers taking in government insured deposits within manageable rules and let brokers be brokers regulated separately. The latter can continue to do stupid things with their stockholders money but not with public funds. The financial world would be a better place.
Lower oil prices are a mixed blessing since it benefits consumers but is also a sign of serious trouble for the global economy as demand falls. We see much the same thing with most commodities. Priced in dollars (NYSEARCA:UUP), and with the dollar rallying, commodity prices continue to decline from that aspect as well. (Hmm, I wonder if rappers and Hollywood stars are still stashing their dough in euros and / or making it rain.) Gold (NYSEARCA:GLD) and other commodities (DBC, SLV, USO and JJC) also took a beating. Emerging Markets, more sensitive to commodity prices, were also much weaker.
U.S. equities fell sharply early but are now much oversold (at least short-term). The sell-off Monday, moderating midday, was widespread affecting most equity sectors. Some buying may be wasted buying power and a gamble that economic data later in the week and retailer earnings would provide a boost. By day's end stocks were in the toilet once again. What's good? Bonds from the big three: Germany, U.S. and Japan.
The bottom line is you can't lose the BRICs, the euro and the eurozone and expect U.S. markets or commodities to rally going it alone. No way, now how.
Volume once again on selling was relatively higher while breadth per the WSJ was quite light.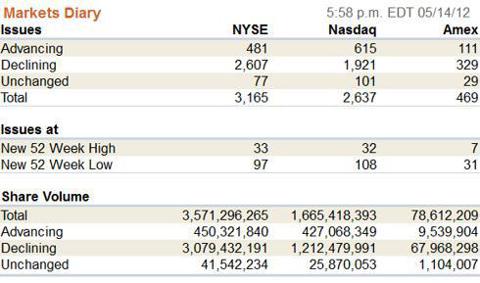 Join the banter on twitter and facebook.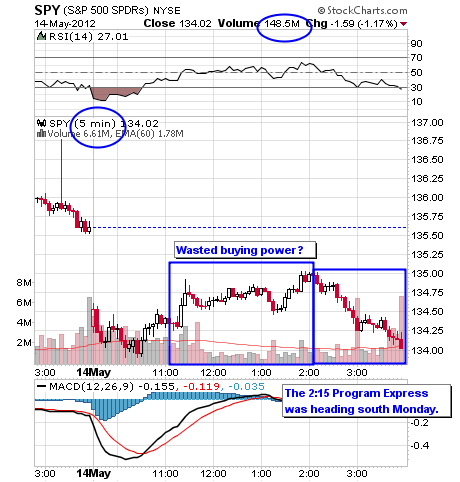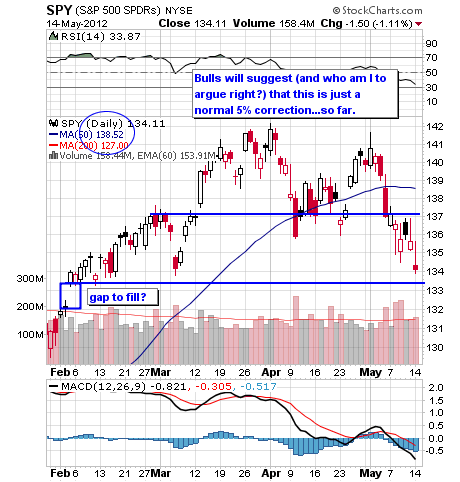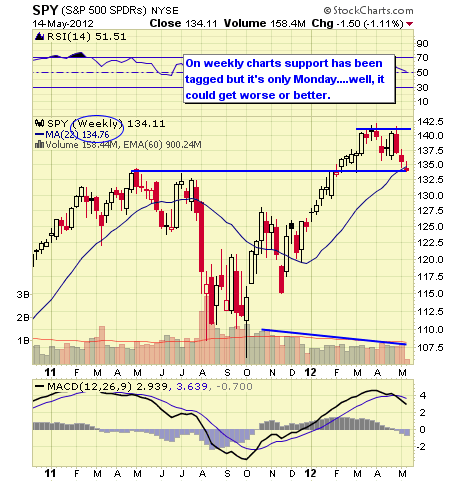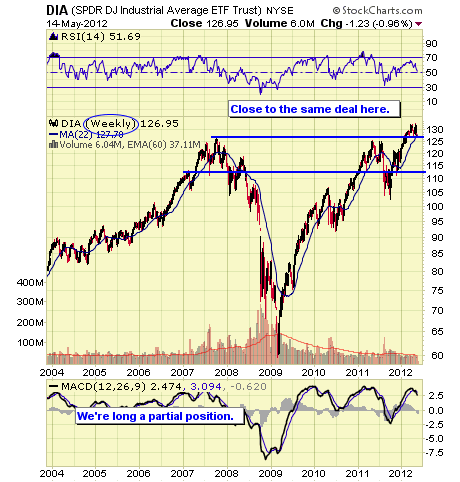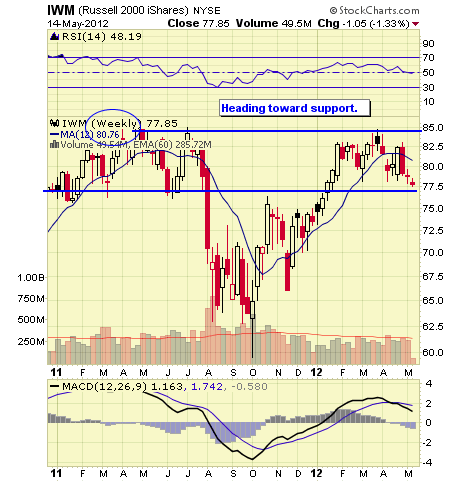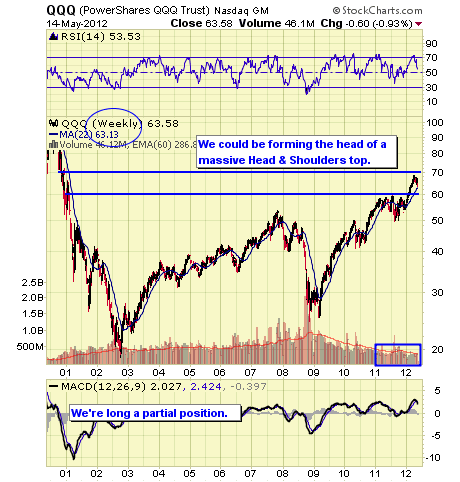 U.S. Sector, Stocks & Bond ETFs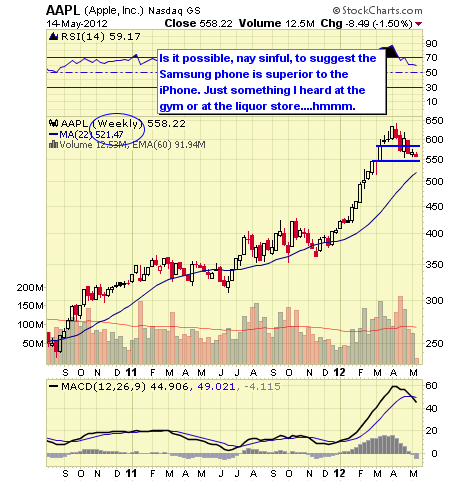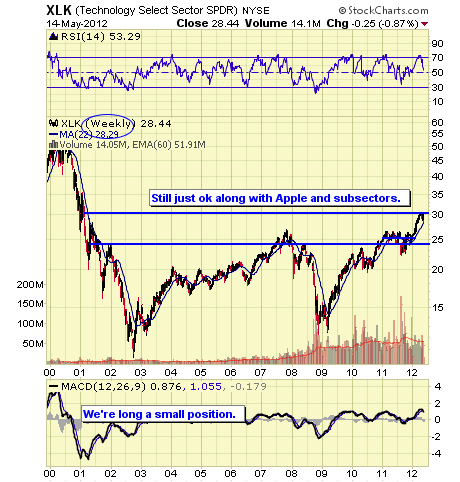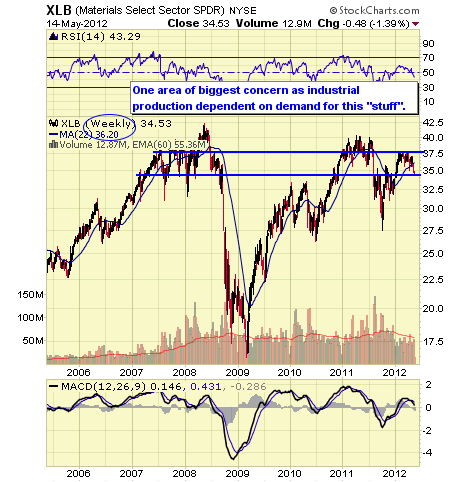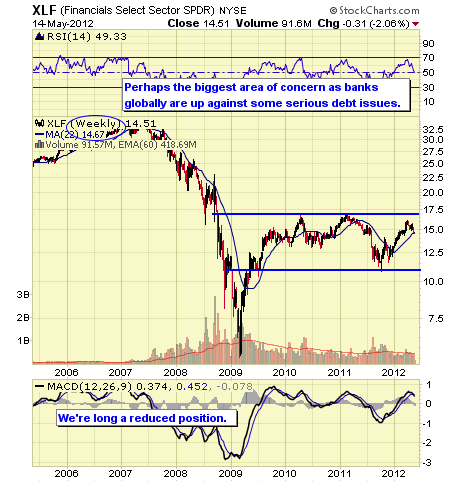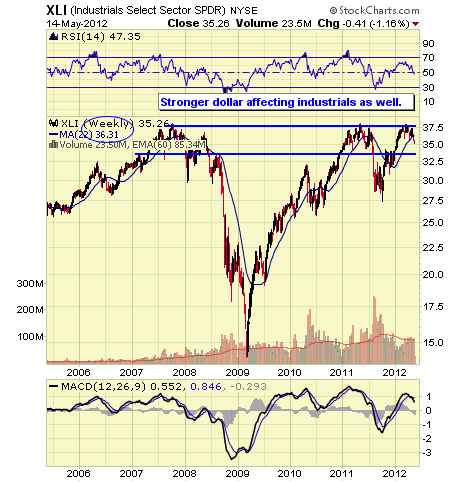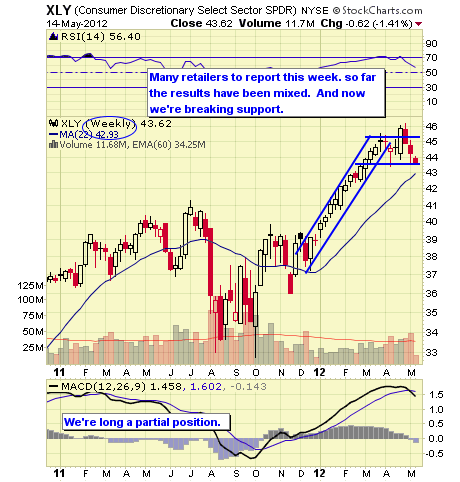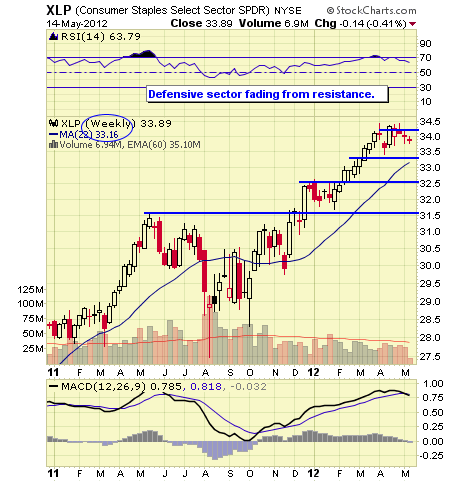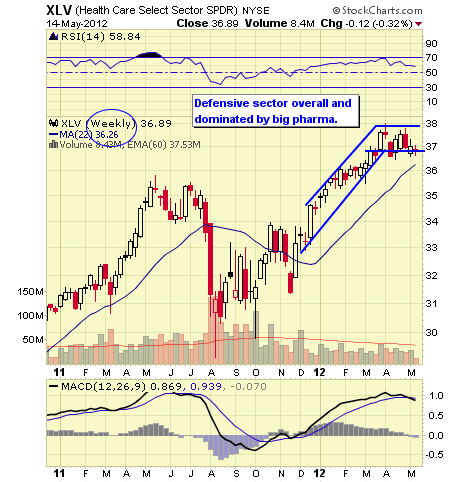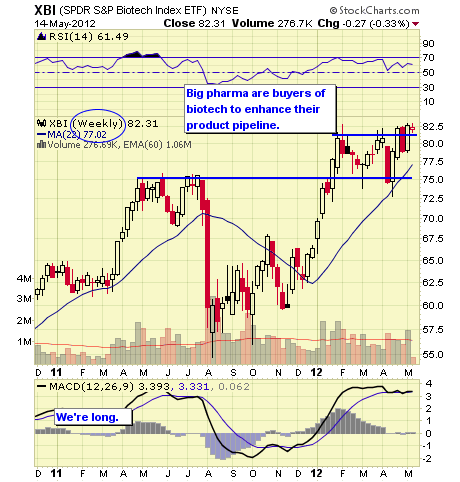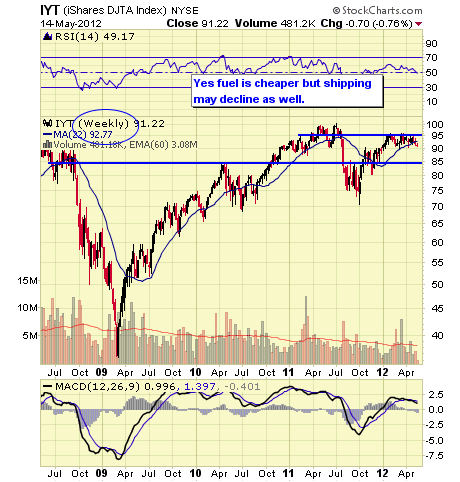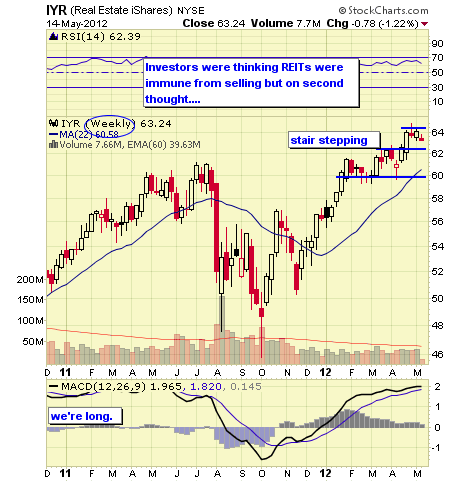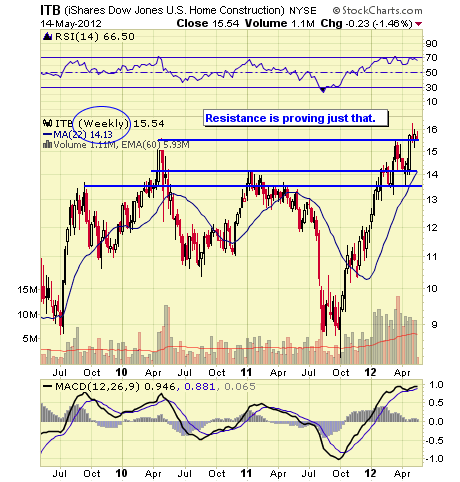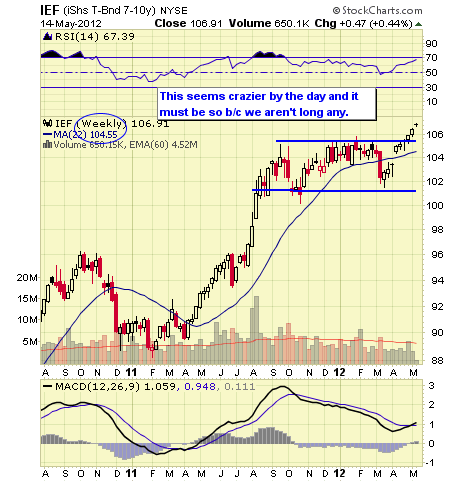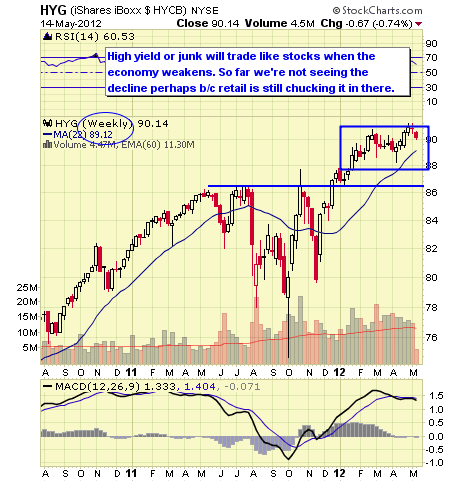 Currency & Commodity Market ETFs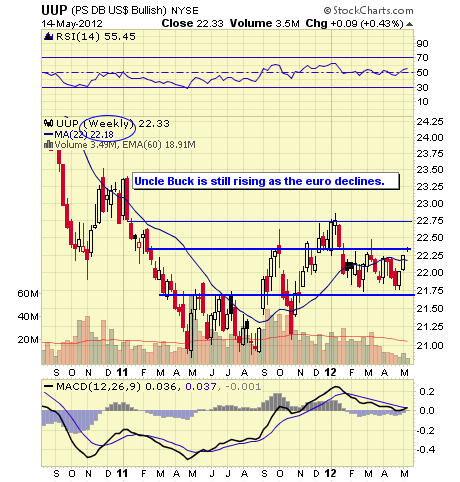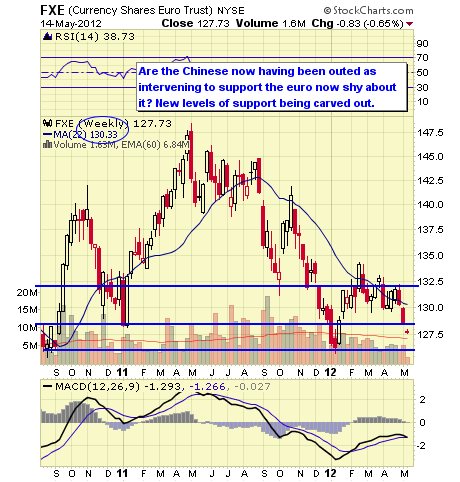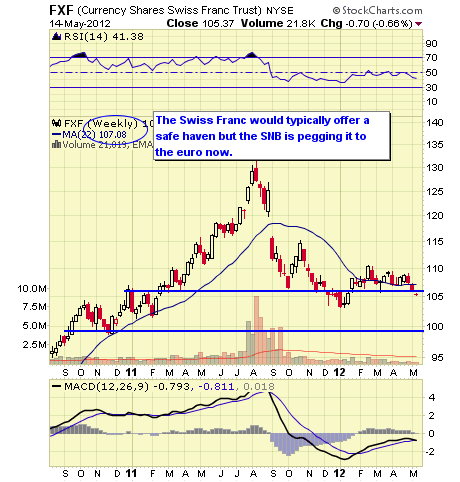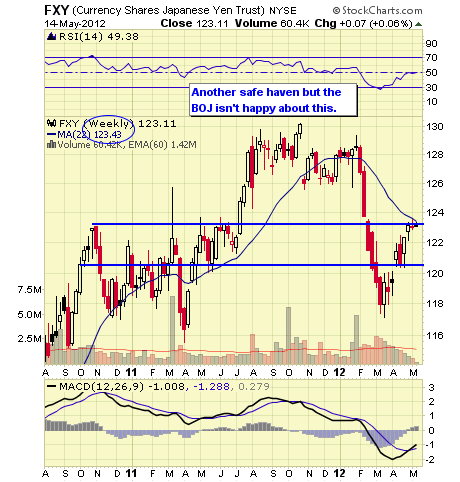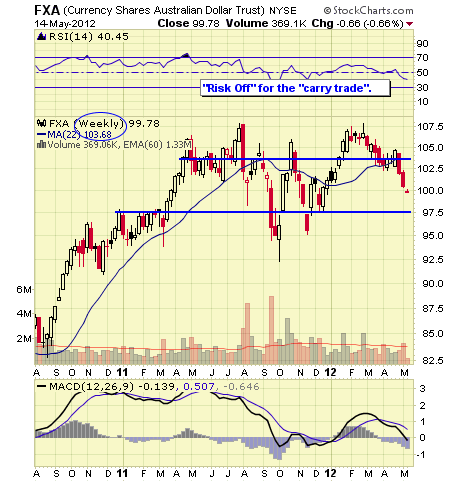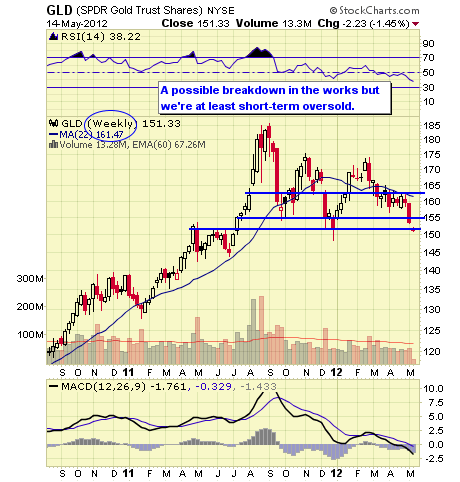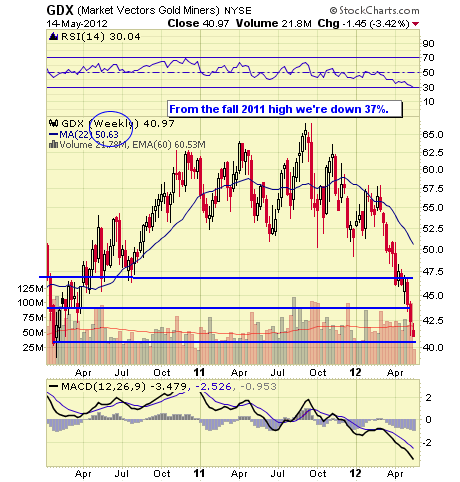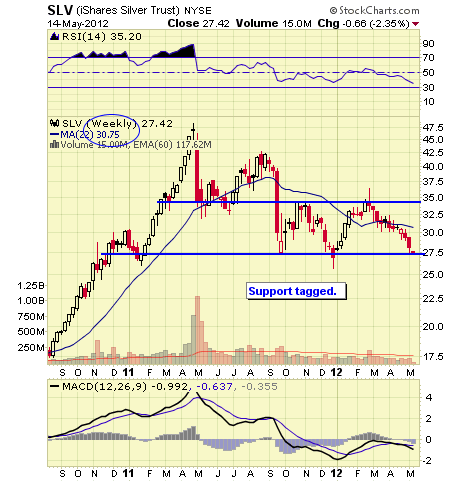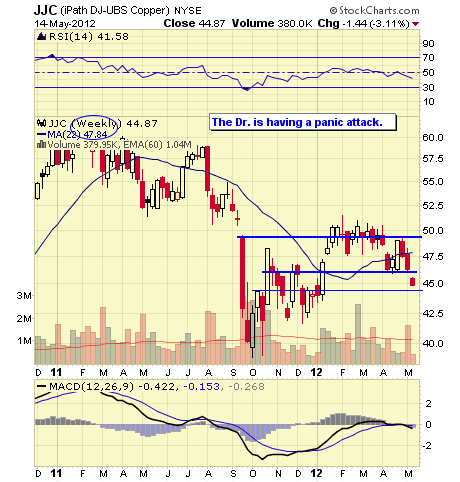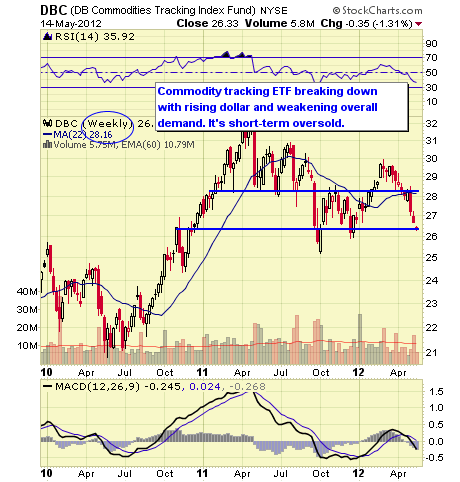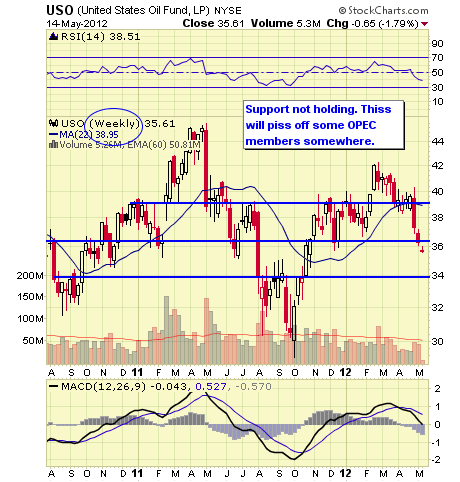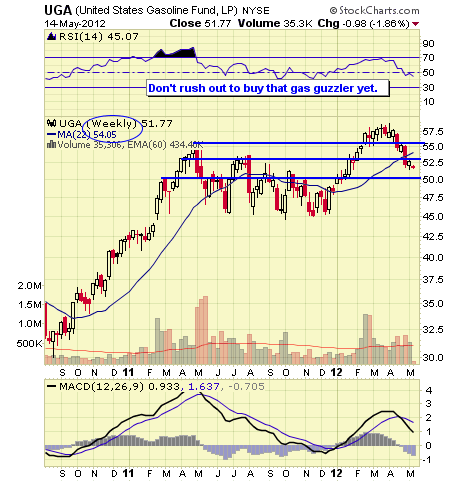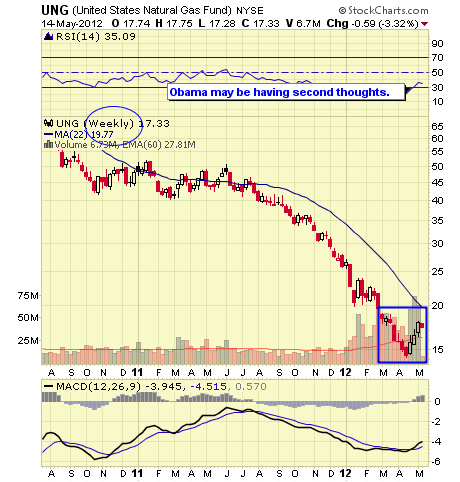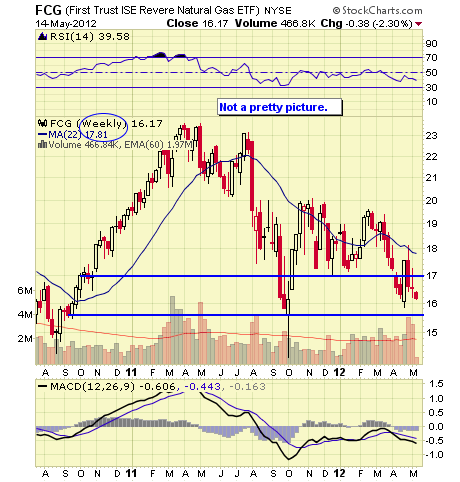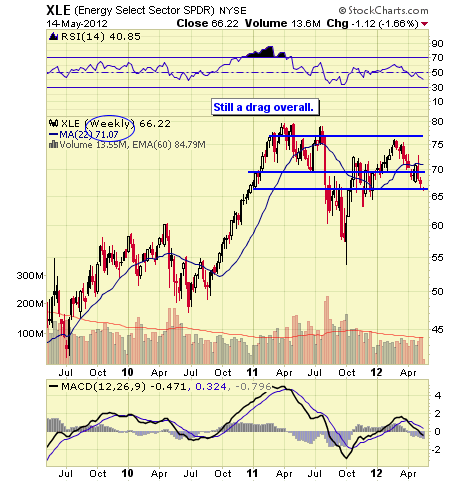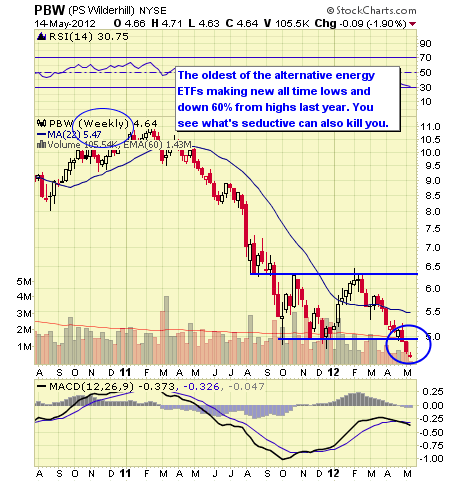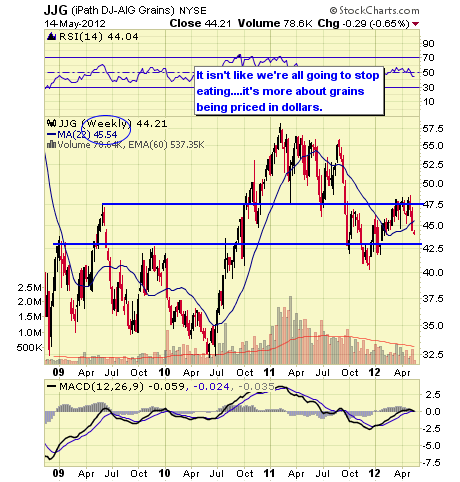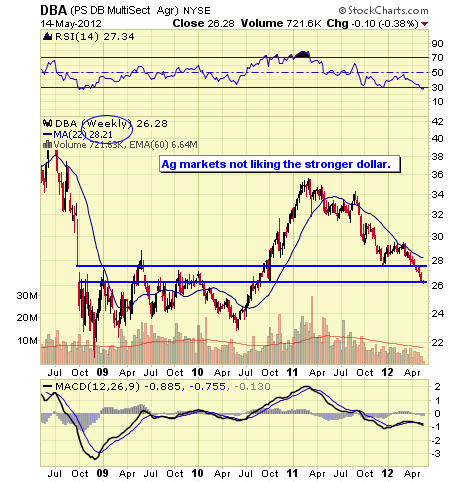 Overseas Sectors & ETFs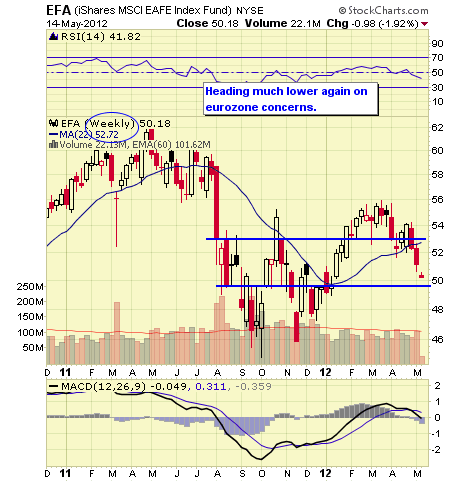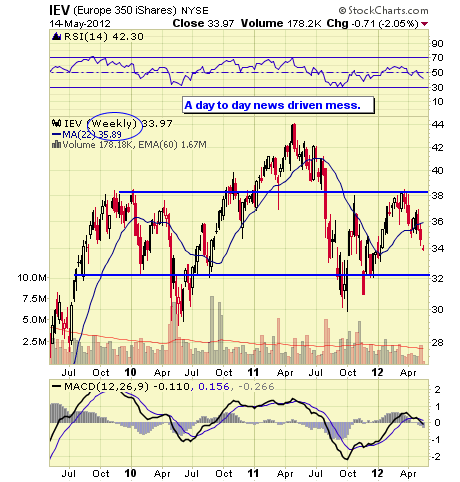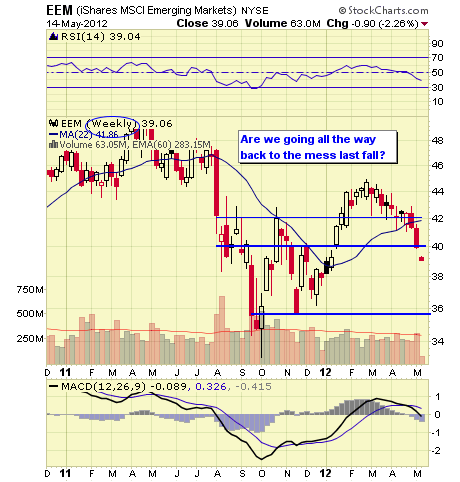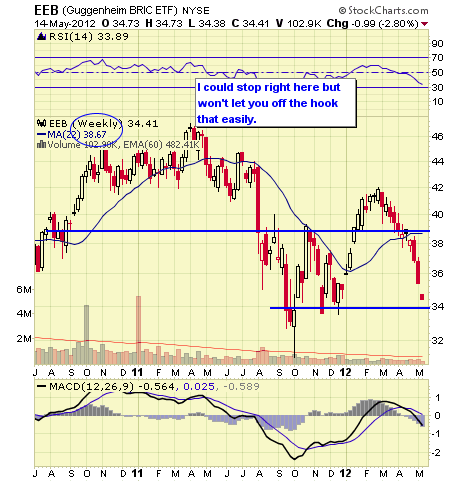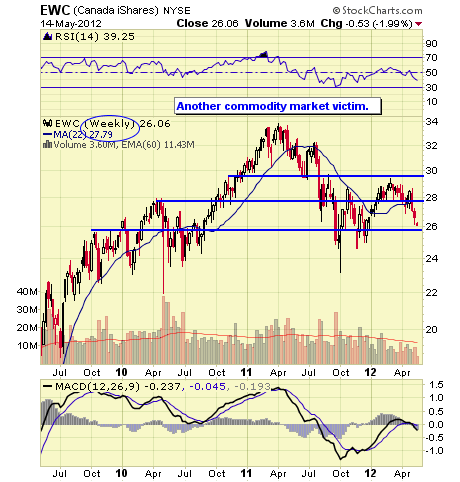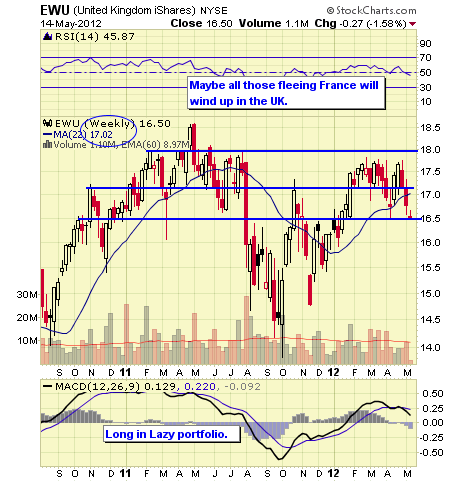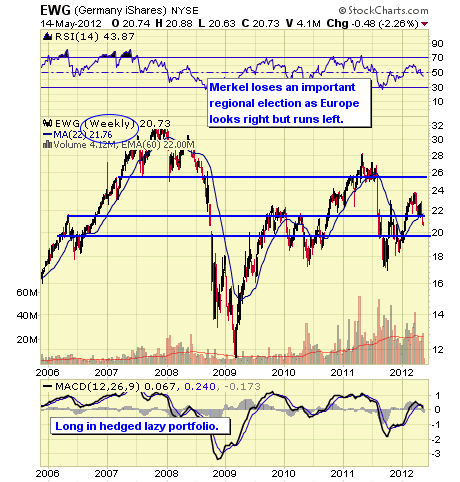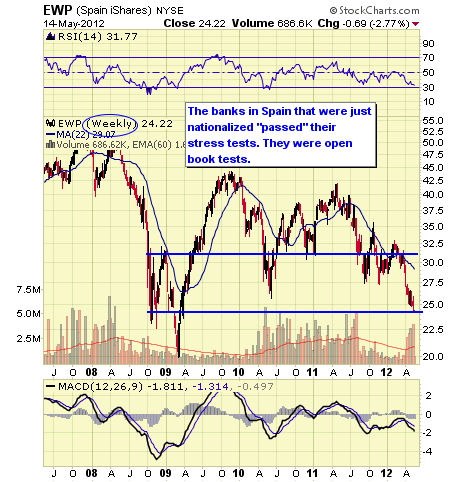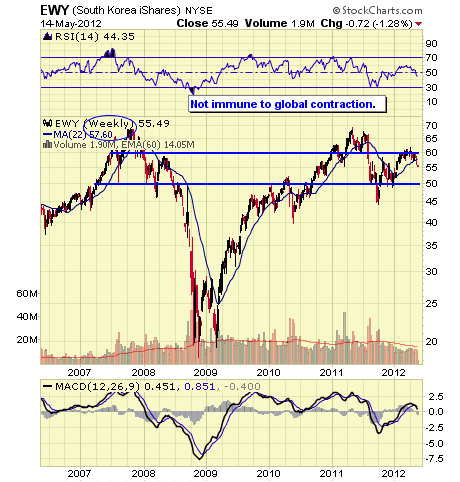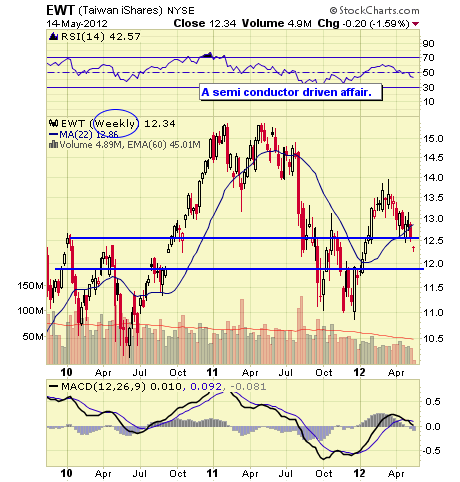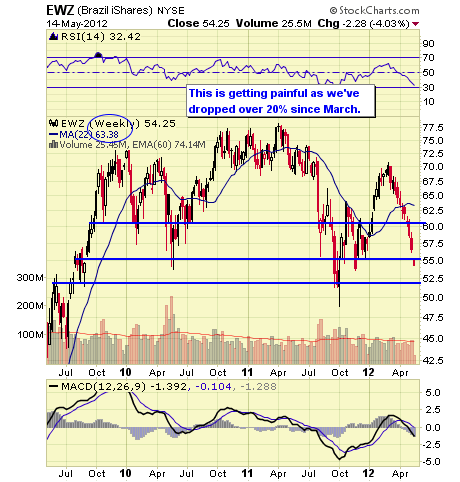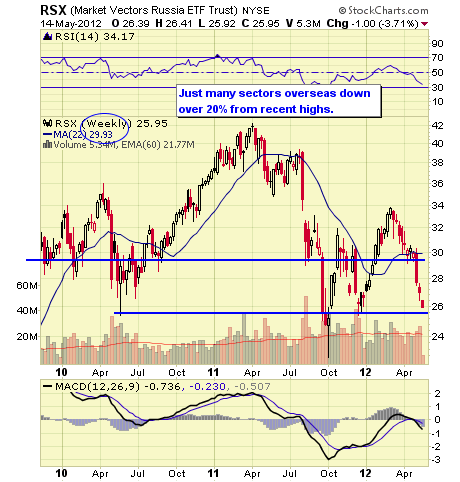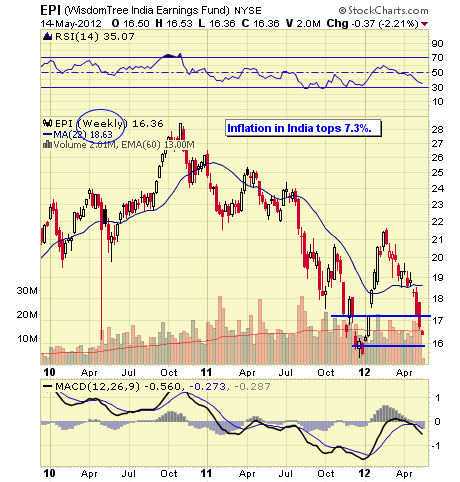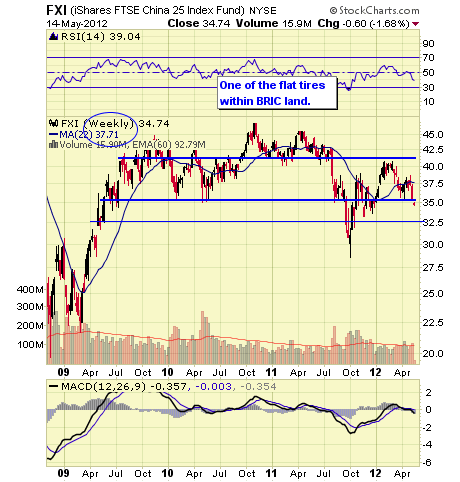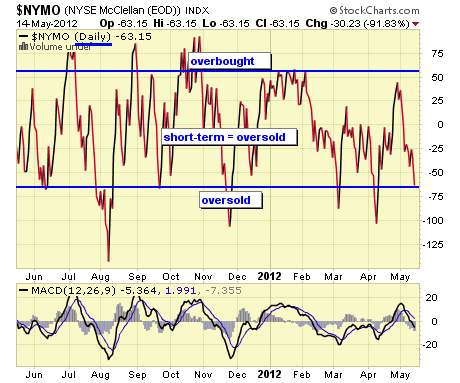 The NYMO is a market breadth indicator that is based on the difference between the number of advancing and declining issues on the NYSE. When readings are +60/-60 markets are extended short-term.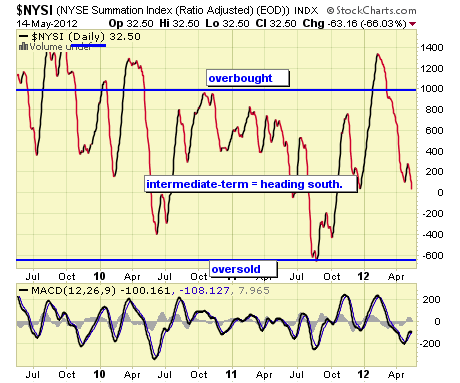 The McClellan Summation Index is a long-term version of the McClellan Oscillator. It is a market breadth indicator, and interpretation is similar to that of the McClellan Oscillator, except that it is more suited to major trends. I believe readings of +1000/-1000 reveal markets as much extended.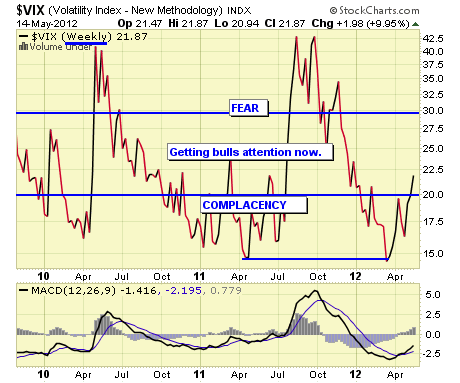 The VIX is a widely used measure of market risk and is often referred to as the "investor fear gauge". Our own interpretation is highlighted in the chart above. The VIX measures the level of put option activity over a 30-day period. Greater buying of put options (protection) causes the index to rise.
Conclusion
We're short-term oversold. I suspect barring more stunning news from the eurozone we might have a Turnaround Tuesday. This could be supported by better economic data on tap from Retail Sales, Empire State Manufactoring Survey, Business Inventories and the Housing Market Index.
Buckle up folks!
Disclosure: I am long MGV, BND, BSV, VGT, VWO, VNO, IAU, DJCI, DJP, VMBS, VIG, ILF, EWA, IEV, EWC, EWJ, EWG, EWU.