For the first time in months, the usual market share trends changed for Google (NASDAQ:GOOG) and for Yahoo! (YHOO).
Click to enlarge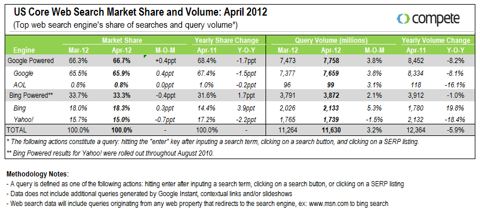 Google increased its share for the first time since December 2011 to 65.9% of the US core web search market.
Yahoo! had been experiencing small increases in share steadily since December 2011, but saw a decline of 0.7ppt's from March to April.
Bing continues to gain monthly share since October 2011, and experienced a gain of 0.3ppt's in April to represent 18.3% of the market.
Google Powered engines now represent 2/3rd of the US search market, while Bing Powered engines represent the other 1/3rd.
AOL (NYSE:AOL) remained flat this month, staying at 0.8% of the market.
The overall search market - as defined by these 4 engines - saw a slight increase in total query volume, also a reverse in recent month's trends. This is the first increase in query activity since December 2011.