A free, ad-supported WSJ.com would make huge waves in the online financial media sector, with significant impact on competitors' audience, content strategies and advertising sales. Yahoo Finance, CNNMoney, New York Times, TheStreet.com, and Seeking Alpha are watching closely and considering how a free WSJ.com - which Rupert Murdoch has openly endorsed - will alter the landscape.
To understand both the likelihood of that event and its impact, we need some clear numbers on what it would mean first and foremost to News Corp./Dow Jones. Does it even make sense for Rupert to set WSJ.com free?
Paidcontent.org
does a nice job summarizing a new note from Bear Stearns analyst Spencer Wang, who crunched numbers that he found indicate "a free site would require a 12x increase in traffic growth to offset the lost [subscription] revenue":
WSJ.com revenue is currently pegged at $78 million annually, based on an estimated 989,000 subscribers paying $79/year. Including non-subscriber traffic, the company claims 122.4 million monthly page views. Based on an estimated CPM of $6 and a few other assumptions about sell-through rate and ad impressions per page, Wang arrives at the 12x conclusion.... To really see direct revenue growth from going free, it would require the site grow as big as Yahoo Finance itself. [emphasis added]

A $6 CPM? Why in the world does Wang think a free WSJ.com would command only a $6 CPM? Eric Ashman, CFO of TheStreet.com - which publishes high-volume, ad-heavy content to a considerably less valuable readership than the WSJ's - shared his site's ad numbers in TSCM's last conference call (transcribed for free by Seeking Alpha, of course):
The combination of [high page views and seasonally weak ad spend] drove our sellthrough rate down to 78%, and our revenue per 1,000 page views down to $14.36, 25% lower than the $19.18 we delivered in the third quarter of 2006.
If TheStreet.com gets a $14 RPM and 78% sellthrough in a bad quarter, and a $19 RPM in a good one, then certainly a free WSJ.com would command northward of a $20 RPM - and probably much more.
Let's take a closer look at Wang's numbers - as per his chart (click to enlarge):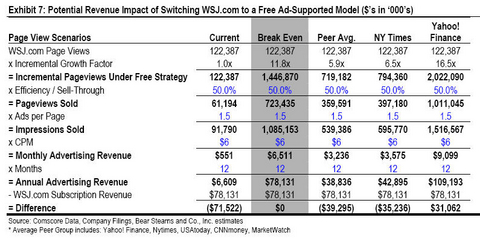 Wang assumes only 50% sell-through on ads, and 1.5 ad slots per page view. Two issues here:
1) Sell-through indicates direct sales that a site makes, but the remaining inventory is generally 'backfilled' by a third party ad provider. This segment of ad sales is less lucrative to the publisher, but it still contributes to overall revenue. Again, if TSCM gets 78% sell-through on a bad quarter, certainly WSJ.com would hit way north of the 50% sell-through that Wang assumes - more like 90%. And the backfilled remainder would be revenue-generating as well.
2) Assuming the $6 CPM and 1.5 ad impressions/page, Wang implies a $9 RPM (revenue per 1000 page views) for a free WSJ.com. But TheStreet.com's publicly stated numbers indicate WSJ.com would very easily hit $25 RPMs. Let's be conservative and say $20.
Applying these numbers - for a free WSJ.com to hit $78m (current WSJ.com revenue) in yearly ad sales, at $20 RPM:
$20 RPM x 325m pages = $6.5m revenue/month = $78m revenue/year
325 million pages is just 2.6x the current 122 million pages WSJ.com currently serves up (as per Wang and DJ statements). That's without the Murdoch marketing machine and the huge traffic benefits of aggregators, viral linking and search results. That's a far cry from Wang's numbers, very doable from WSJ's perspective - and with room for much more long-term growth than a subscription business.
Online finance sites, prepare yourself for a free WSJ.com. (And Mr. Wang, don't you read Seeking Alpha conference calls transcripts?)
Update: More thoughts on the matter from Chris Anderson and Mashable.