Investors mining the expanding bargain bin for undervalued stock gold should consider keeping an eye on a relatively new blue chip on sale, Arcos Dorados Holdings (NYSE:ARCO). It is currently trading at around 52 week lows at 13.65. ARCO is the largest global McDonald's (NYSE:MCD) franchisee operator by number of stores and overall annual sales. The name means "Golden Arches" in Spanish.
It primarily operates franchises in Brazil, Argentina, Chile, Mexico, and Venezuela. The company reported, in March, a comprehensive total of 1840 locations currently in business. The company also plans on opening 130 additional locations throughout the rest of the year.
I feel it is financially prudent to have some exposure to the more elastic growing economies and regions of the world. Simply put, Latin America, Asia and even Africa are poised to grow at a stronger pace in the next few decades than the United States and Europe because of a creation and expansion of a middle class.
The key is long-term regional growth from rising consumer incomes in these regions. This is not only a bet on Big Macs and fries. Management has developed a range of menu items in each country that cater to local taste. ARCO and its U.S. peer, MCD, continue to shine in offering affordable products relevant to the specific country. These local culinary innovations appeal to a wide range of income levels, benefiting from the structural growth in demand in its core markets.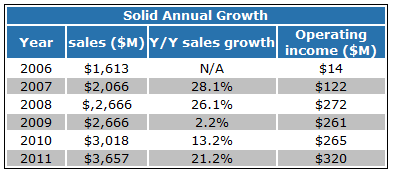 This stock wasn't always in the bargain bin. It had been one of the most anticipated IPOs of 2011, eventually approaching almost $30 this past fall. Now it trades for less than half of that top. Investors clearly got overzealous in their anticipation of incredible growth in such a fast-growing region. In reality, this is a company that expands its 1,800 stores base by 5% to 10% every year and generates modest same-store sales gains. ARCO has also agreed, per its prospectus, with MCD to build at least 250-new restaurants within the 2012-2013 timeframe. This growth will enhance the ARCO brand and accelerate future territorial growth. ARCO also offers a dividend yield of around 1.75%.
Even as the Brazilian economy, currently Arcos Dorados' largest market, is expected to post modest 3% gross domestic product growth this year, sales are still expected to rise 10% (to $4 billion), thanks in part to new store openings. The International Monetary Fund says Brazilian economic growth will likely move back up by 4% in 2013, which is why analysts say the country's sales could grow roughly 15% to $4.6 billion.
Conclusion
Despite the near-term nosedive, ARCO remains a strong long-term growth opportunity, sustainable dividend payer, and proven franchise story. The company is focused upon providing daily meals to a growing demographic in Latin America. Consumers with an increasing amount of free cash will only enhance the likelihood of ARCO success in the coming years.
Disclosure: I am long MCD.