It takes just one airline jaunt over thousands of square miles of the sun-burnt Great American desert to see where the new solar industry could lead if political will emerges to capitalize on our talents: an ideal geography and American technological prowess. A structural similarity exists between today's nascent solar industry and the early trajectory of the semiconductor sector in the 1980s and 90s. Like the chips back then, solar energy could evolve into the "investment idea" of the decade, and with it, a cultural impact akin to personal computing and broadband Internet.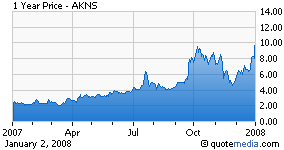 But where is Akeena Solar (AKNS) in all this and why am I so intrigued with it? As stated in a previous missive, I like what I see. I've listened carefully to their conference calls and presentations and I'm inspired at the investment thesis. But the recent conference call to analysts on November 17th brought up concerns about the "elephant in the room" (profitability) and those on the call kept querying management as to how they would get there. Akeena's responses were vague and the share price lost 50% in the ensuing weeks. Thus my thoughts and considerations today on the matter. I continue to think Akeena's a strong buy and here's why.
Akeena is situated at the most ideal place in the PV food chain, the customer's doorstep. A similar position would be the waiter bringing food out of the kitchen and on to the table. They can see - right then, right there - what's working, what's not; what's needed, what's not.
An established tech company in a similar situation is Cisco Sytems (NASDAQ:CSCO). They are so close to the customer - so in tune with emerging needs - that Cisco's acquisitions and intellectual property development move quickly before their competition. They concentrate on the customer's broadband experience, and on all things dealing with "delivery" of that experience - enhancing it, improving it, guaranteeing and sustaining it. Once a customer starts with Cisco they rarely leave them. It's a compelling business model - a technological and financial titan.
Akeena's CEO, Barry Cinnamon, has many years experience in the California solar industry. Their new solar panel (dubbed the "Andalay") is the fruit of that experience. I think Akeena has a unique opportunity - capitalization forthcoming - to become the Cisco of Solar.
This new product addresses the weakest link in PV installations -a high quality pre-fab panel ready to go; the individual units click together like Legos blocks on the customer's roof. It's a win-win on many benchmarks. It reduces the skill required to install a first-rate application, thus reducing labor costs. It's technologically superior: pre-tested and more reliable. It's aesthetically attractive - it doesn't look like a science project on the roof. And Andalay is primarily an intellectual capital investment, in much the same way that Cisco's early routers were.
You can see where this missive is leading to - intellectual capital is the forefront of the PV curve (R&D). That's where Akeena can find its profitability; not in sending crews of guys up onto roofs. The more a business relies on easy-to-reproduce labor installations, the less viable it will be going forward. Warren Buffett likes to say that labor-intensive businesses are doomed to extinction, because there will always be someone cheaper.
Now R&D is a dangerous thing - without a dash of good luck you can sink millions ($) into mistakes. Look, for example, at one of Akeena's competitors - Open Energy. $50ML dollars in private equity investment in 3 years and nothing to show for it but press releases and "somewhere over the rainbow". Their roofing tiles are too expensive, their acquisitions were out of date just a few months after they bought them.
There are several areas where Gordon Moore's law (smaller - yet more productive - and $ cheaper) can apply to the solar experience: the efficiency of the cells, the quality of the inverter, the reproducibility of the module and installation process, the software needed to monitor it.
Possibly Akeena will offer an "Andalay-certified" training certificate much like Cisco did with their early "Cisco-certified" router and software trainings. Apple has applied the "education model" very effectively with their I-Macs, getting schools hooked on Macs when the kids were young in the 1980s and 90s. The education market probably saved the company from extinction until the I-Pod came along. Now it's a cultural phenomenon.
Think about it - a roofer and a licensed electrician want to get in the solar business to augment their offerings in the community. They go through a five-day Andalay training and are up and running and ready-to-go, benefiting from Akeena's many years as installers. Akeena makes the best products, then licenses and trains you how to use them and install them. They sell axes to the gold rush (with an operator's manual), not the sweat. It's a compelling model that leverages knowledge of the industry, customers' evolving needs, and an ongoing commitment to R&D.
Referring back to my original comparison to Cisco, the early days of broadband had a lot of "geeks with screwdrivers and a great idea" but it quickly evolved into a commodity where meeting astronomical demand with superb efficiency was the primary goal. Customers looked for reliability, scalability, and staying power of the brand. Cisco today continues to look for the "next new thing", the next compelling piece of the puzzle that will enhance their customers' experience and thus their sales. Akeena can do the same. The solar industry has a compound growth rate of 50%/year.
Significant achievements in a person's life (and in a company's) are from those few decisions made at the beginning - when all things appeared to be equal but in retrospect were not - that make all the difference. Intellectual capital is what distinguishes Akeena (AKNS) and Sunpower (NASDAQ:SPWR) from the Chinese cell and wafer makers. If they are able to pursue the sales and franchising of their products - instead of the labor (installation) side of the business - it could lead to an American industrial giant. Management and vision will be the key. The Big Picture - the thinking behind the company's growth - is what will make or break Akeena's trajectory.
Two roads diverged in a yellow wood,
And sorry I could not travel both
And be one traveler, long I stood
And looked down one as far as I could
To where it bent in the undergrowth;
Then took the other, as just as fair,
And having perhaps the better claim,
Because it was grassy and wanted wear;
Though as for that the passing there
Had worn them really about the same,
And both that morning equally lay
In leaves no step had trodden black.
Oh, I kept the first for another day!
Yet knowing how way leads on to way,
I doubted if I should ever come back.
I shall be telling this with a sigh
Somewhere ages and ages hence:
Two roads diverged in a wood, and I-
I took the one less traveled by,
And that has made all the difference.

-Robert Frost