One stock that is the topic of much discussion is Apple Inc. (NASDAQ:AAPL). The story of Apple's turnaround and how it rose from ashes in 2002 was one of the most talked about stories in the past 10 years, and the story of Apple's decision to finally start paying a shareholder dividend is among the most talked-about stories this year.
Seeing the way revenue at Actions Semiconductor Co. Ltd. (NASDAQ:ACTS) is growing again, and with the increasing likelihood of additional share buybacks, I feel a déjà vu between what's happening at Actions Semiconductor and Apple's turnaround and dividend stories.
First, let's review Apple's turnaround story and how it relates to Actions. Table 1 chronicles major product developments at both companies - Apple since 1990 and Actions since 2006. The stories of both companies are strikingly similar in the first three periods, even though each period is in different years for the two companies. For Actions, Period 2 has not ended yet. Period 3 has just begun and will probably stretch to several years from today, because the market for smartphones still has a long way to go until maturity. Period 4 for Actions has not started and is left to be decided by the company in the future. However, as Apple has shown, just Periods 2 and 3 can give the company a long period of strong growth.
Table 1: Major Product Innovations by Apple and Actions

Apple

Actions Semiconductor

Period 1

1990

-

2001

Through the 1990s, Apple's Mac OS continued to lose market share to MS-DOS and Windows. Apple fell from controlling 20% of the total personal computer market to 5% by the end of the decade. Yearly revenue fell from over $11 billion in 1995 to about $5 billion in 2002.

2006

-

2009

From 2006 to 2009, margins in the MP3 player market were squeezed and new competitors, such as PDAs and iPods, took market share from other portable audio devices. The company saw a long, painful period of revenue decline and margin erosion.

Period 2

2002

The first-generation iPod was introduced and sent into full production. It helped Apple reverse the downward-sloping revenue trend and grew yearly revenue from $5 billion in 2002 to over $19 billion in 2006.

2010

GPS, high-end multimedia (VGA & QVGA), PMP, and gaming chipsets were introduced and went into full production. They helped Actions to reverse the downward-sloping revenue trend and grew yearly revenue by 26% in 2011. I expect them to help the company grow revenue by 27% in 2012 (see Financial Forecast section).

Period 3

2007

The first-generation iPhone was introduced and sent into full production. It helped propel the second wave of Apple's exponential revenue growth. Apple's revenue grew from $19 billion in 2006 to $43 billion in 2009.

2012

The new chipset ATM701x for Android-based mobile devices is expected to go into full production in Q3 2012. This new line of products meets the expected super growth of Android-based smart phones in the next several years.

Period 4

2010

The first-generation iPad was introduced and sent into full production. It helped propel the third wave of Apple's exponential revenue growth. Apple's revenue grew from $43 billion in 2009 to $108 billion in 2011.

????

Possible new breakthrough product lines: 5G wireless network, Apple compatible, 4D gaming/entertainment, and robotic AI chipsets.
Chart 1 illustrates Apple's product innovations alongside revenue and net profit trends from 1995 to 2012.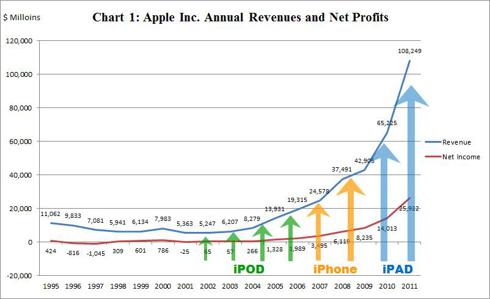 Chart 2 illustrates the same data for Actions from 2004 to 2016. The revenues and net profits from 2012 to 2016 are my estimates based on the potential I see in its multimedia, PMP (Portable Media Player), GPS, gaming, and Android chipsets. A forecast of detailed financials up to 2013 is shown in the "Financial Forecast" section of this article. Expected future revenues from Android chipsets are especially enormous.
According to CEO Zhenyu Zhou, in response to a question by Accretive Capital Partners analyst Rick Fearon during the Q&A session on the last conference call, the new ATM701x chipset could potentially contribute $50 million or more revenue per year. I take his words as meaning the revenue in the first year of full production of the product.
Considering the management team's track record of overly conservative estimates and the huge market for Android phones, I see a greater than 50 percent chance that the revenue from this product line will exceed $50 million in the first year of production.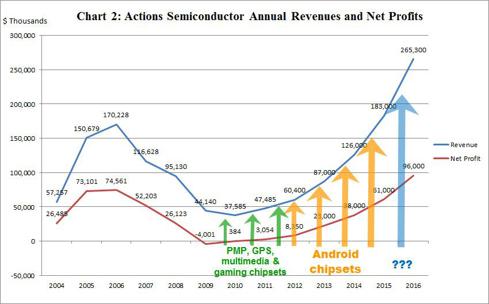 Let's move on to the story of Apple's dividends this year. Similar to Actions, Apple has quite a large portion of its assets in cash equivalents and marketable securities: short- and long-term investments. For years, many analysts and investors have criticized Apple for not returning some of the bloated cash pile to shareholders. Having a similar philosophy and mindset to that of Actions' former CEO Niccolo Chen, the late Apple CEO Steve Jobs preferred to keep the accumulated cash in the company rather than returning any to shareholders. His goal was to have an extra cushion for rainy days or for quick execution of an acquisition, should such an opportunity emerge.
After Apple's current CEO, Tim Cook, took over the helm last summer, the situation changed suddenly. Cook apparently is much more open to the idea of returning the company's retained earnings to shareholders. Apple announced its first dividend on March 19, 2012.
Actions' new CEO, Zhenyu Zhou, also seems to be more investor-friendly and open to the idea of returning cash to shareholders. During the last conference call, he said that the board of directors and management team are seriously considering all options to accelerate share buybacks. For a small-cap, high-tech company like Actions, if the company does announce buying back a significant number of additional shares (e.g., 20 million shares) this year, it will send a strong message to the market that it is not justifiable and not tolerable to put the stock below cash equivalents per share. That should create a dramatic and immediate positive impact on the stock price.
Based on these two points, Actions and Apple are very similar in their corporate cultures, management team personalities, top-notch R&D and innovation capability, and path of evolution in product offerings. In my opinion, Actions right now looks vividly like Apple in 2003. The next several years should therefore be very bright for Actions as long as its management team, R&D department, and support staff continue to work hard and do a great job of offering high-quality products for consumers.
Now, let's turn our focus to Actions' financials this year and next. Let me stress again a point mentioned in my previous article. Actions' executives, many of them humble, down-to-earth engineers and scientists, have a strong tendency to be overly conservative in their estimates of pro forma financials.
Updated comparisons of management estimates and actual results for the last nine quarters, including the just-concluded first quarter of 2012, are shown in Table 2.
Table 2: Estimated vs. Actual Revenues and Gross Profits over the Past Two Years

Q1 2010

Q2 2010

Q3 2010

Q4 2010

Q1 2011

Q2 2011

Q3 2011

Q4 2011

Q1 2012

Revenue Management Estimate

7,000,000

9,000,000

9,500,000

9,000,000

8,000,000

10,500,000

12,500,000

12,500,000

9,500,000

Revenue Actual

7,890,000

9,662,000

9,298,000

10,735,000

9,366,000

10,477,000

15,349,000

12,293,000

10,735,000

Gross Profit

Management Estimate

2,450,000

3,150,000

Less than 3,800,000

3,600,000

3,200,000

4,200,000

5,000,000

5,000,000

3,420,000

Gross Profit Actual

3,122,000

3,824,000

3,724,000

3,988,000

3,666,000

3,971,000

6,232,000

4,619,000

3,747,000
Actual revenue for the last quarter came in right in the range of my estimate of $10-$11 million, as I replied in answer to a reader's question in a comment on my last article. Both actual revenue and gross profit for the last quarter trumped the management team's estimates by a significant margin. But I think the management's revenue estimate of $12-$13 million for Q2 2012 is a rare occasion when their estimate might prove to be not too far off from actual results.
Table 3 shows my forecast of the company's financials from Q1 2012 to Q4 2013. Note that the numbers for Q1 2012 are actual results.
Table 3: Actions Semiconductor Pro-Forma Financials for Year 2012 and 2013

Q1 2012

Q2 2012

Q3 2012

Q4 2012

Q1 2013

Q2 2013

Q3 2013

Q4 2013

Revenue

10,735,000

13,096,250

19,953,700

16,595,550

15,029,000

18,989,563

28,932,865

24,063,548

COGS

6,988,000

8,250,638

11,972,220

9,791,375

8,566,530

10,824,051

16,491,733

13,716,222

Gross Profit

3,747,000

4,845,613

7,981,480

6,804,176

6,462,470

8,165,512

12,441,132

10,347,325

Opt Exp

7,735,000

7,400,000

7,150,000

6,900,000

6,700,000

6,700,000

6,700,000

6,700,000

Opt Income

-3,988,000

-2,554,388

831,480

-95,825

-237,530

1,465,512

5,741,132

3,647,325

Interest Income

3,447,000

3,461,624

3,438,285

3,424,820

3,366,147

3,282,819

3,252,271

3,275,192

Other Income/Expense

428,000

500,000

500,000

500,000

500,000

500,000

500,000

500,000

Income Before Tax

-113,000

1,407,236

4,769,765

3,828,995

3,628,617

5,248,331

9,493,403

7,422,517

Income Tax

536,000

145,368

638,518

204,125

646,247

244,965

995,291

310,420

Net Income

-649,000

1,261,868

4,131,247

3,624,870

2,982,370

5,003,366

8,498,112

7,112,098

ADR Shares Outstanding

68,986,835

68,486,835

66,486,835

64,486,835

62,486,835

60,486,835

58,486,835

56,486,835

EPS

-0.009

0.018

0.062

0.056

0.048

0.083

0.145

0.126

YOY Revenue Growth Rate

14.6%

25.0%

30.0%

35.0%

40.0%

45.0%

45.0%

45.0%

Gross Margin

34.9%

37.0%

40.0%

41.0%

43.0%

43.0%

43.0%

43.0%

Cash Equivalents

221,563,000

221,824,868

220,956,115

218,580,985

214,563,355

212,566,721

214,064,833

213,176,931

Net Shareholder's Equity

279,021,000

279,282,868

278,414,115

276,038,985

272,021,355

270,024,721

271,522,833

270,634,931

Cash Equivalents per ADR

3.212

3.239

3.323

3.390

3.434

3.514

3.660

3.774

Net Equity per ADR

4.045

4.078

4.188

4.281

4.353

4.464

4.642

4.791
Key Assumption: I assumed that the company will accelerate the buyback program to repurchase two million shares each quarter starting in Q3 2012. Its current buyback pace is about 600,000 shares per quarter. I also assumed an average price from $3 to $3.50 per share for share repurchases under this accelerated pace. The speed of the share buyback and the average price per share paid will have a material impact on the number of shares outstanding, cash equivalents, and net shareholders' equity at the end of each quarter. They will also have a small effect on interest income and net income each quarter.
Notes
1. Revenue and Year Over Year Revenue Growth Rate: Revenue grew 26.3 percent YOY in 2011. Even in the slowest season and a time when the Chinese economy hit a multi-year bottom, the company still eked out a YOY increase of about 15 percent in revenue. Going forward, with the company's popular new products-G1000, ATM701x, and more to come in the next several months - and the central government's consumption stimulation program going full throttle - the company's YOY revenue growth should go back to last year's level in Q2 and climb further to 30 percent-35 percent in the second half of this year.
In 2013, when the company's new high-end PMP and Android products gain full steam, I estimate that YOY revenue growth could break the 40 percent mark. A sanity check is that the estimated revenue for 2013 under my modeling is $87 million, or $39.5 million more than revenue in 2011 and $26.5 million more than estimated revenue in 2012. As noted earlier, even the conservative management team said in the last conference call that the new Android product line alone can add $50 million or more a year to the company's top line.
2. Gross Margin: Anticipating sales of Actions' VGA, QVGA, PMP, and Android products accounting for a greater percentage of the company's revenue in the remaining months of 2012 and into 2013, I estimate the company's gross margin will steadily climb back to 40 percent-45 percent by the end of the year and stay at that level in 2013.
3. Operating Expenses: The CEO said during the last conference call that the management team is working hard on optimizing operational support activities and trimming operating expenses. Some good results are visible in last quarter's financial results. Theoretically, the company could operate with operating expenses as low as $5 million to $5.5 million per quarter-the level it ran in 2006 and 2007. However, for the sake of conservatism and to give the management team more breathing room when the company's business is expanding, I'd target operating expenses to steadily decrease to about $6.7 million per quarter by end of this year and stay at this level in 2013.
4. Income Tax: Looking at the company's past income statements, one can easily see a strong seasonality in quarterly income tax expenses. The amount was significantly higher in Q1 and Q3 than in Q2 and Q4. This seasonality is very typical among Chinese companies, especially those in high-tech industries, because they are required to true up taxes due semi-annually and pay the balance for a half-year period in the subsequent quarter. I made this seasonal adjustment in my forecast of quarterly income tax expenses.
The modeling calls for forecasted revenue of $60.3 million for 2012 and $87 million for 2013, net income of $8.4 million for 2012 and $23.6 million for 2013, and EPS of 13 cents for 2012 and 40 cents for 2013. So, just on stand-alone basis, the company should not be valued below its current shareholders' equity on its balance sheet (about $280 million) and definitely not below its current cash plus marketable securities on its balance sheet (about $222 million), because it is expected to be quite profitable going forward.
As a side note, the company's property, plant and equipment and land-use rights should be worth more than the amount shown on the balance sheet, because the company bought these rights several years ago and the office buildings were built or bought over the past several years. Prices of land and buildings have been continuously appreciating at very fast rates in China over the past decade.
The company's value under arbitration scenarios such as a merger or acquisition deal is even higher. Listed below are additional values that two groups of companies could obtain by acquiring Actions and merging its assets and business into their own.
Electronic Equipment Makers: Apple , Amazon (NASDAQ:AMZN), Google (NASDAQ:GOOG), Samsung, HTC, Lenovo, Hewlett-Packard (NYSE:HPQ), Dell (DELL), Sony (NYSE:SNE) and others could reap huge savings on component costs by bringing Actions' chip design and production in-house. Take Apple, for example. Apple sells more than 150 million units of iPad, iPhone, iPod, and Mac computers a year and probably pays for more than 300 million units of audio, video, and communication chips a year. Actions currently does not make chips for Apple because Apple's platform is proprietary.
However, it is a very easy task for the company to make its current chipsets for portable multimedia and communication devices compatible with Apple products because it only requires modification to the assembly codes in BIOS. By using Actions' products and making Actions a subsidiary of Apple, Apple would save 40 percent or more on its annual costs for these chips. This cost saving alone is probably several times the value of Actions' total assets.
Chip Designers/Makers: Nvidia (NASDAQ:NVDA), Broadcom (BRCM), Cirrus Logic (NASDAQ:CRUS), Taiwan Semiconductor (NYSE:TSM), and United Microelectronics (NYSE:UMC) could reap returns from the acquisition of Actions by letting go a lot of sales, general, and administrative employees and even some R&D employees. This is a standard cost-reduction move after two companies in the same industry merge. Any of these companies can probably remove 30 percent or more of Actions' operating expenses after acquiring it. This cost savings alone could give them $8 million or more return per year on their investment.
These companies could also enjoy huge indirect returns and intangible benefits from merging with Actions. They could offer more complete and better solutions to their customers. They could expand in locations or with customer groups where they had difficulty before - this is especially invaluable for foreign competitors who want to penetrate the Chinese market. They could cross-sell between Actions and its products, and have a greater monopoly and increased purchasing power in the industry. These indirect and intangible benefits could amount to tens or even hundreds of millions of dollars a year.
In conclusion, this company should be valued at no less than its shareholders' equity on book, and it offers value of at least double or triple that amount for potential buyers in the semiconductor or electronics industry.
Disclaimer: Please read my standard disclaimer for my articles here.
Disclosure: I am long ACTS.