Imagine that there was a company whose net cash & marketable securities balance exceeds its market capitalization. Though this company has been unprofitable for several quarters, it posts consistent positive operating cash flow, due to the nature of its cost structure. As a result, its cash & marketable securities balance grows each quarter, and yet the stock does not rise in tandem. Doesn't this company sound like a great value proposition? Well, what if we told you that the company in question is Actions Semiconductor (NASDAQ:ACTS), a fabless Chinese semiconductor company? Would it remain a value proposition then, or would it lose its appeal? After researching the matter, we believe that in the long-term, Actions Semiconductor has a good deal of value, and we delve into this issue below.
If you are a believer in the theory of efficient markets, no company should trade below its net cash balance. Trading below book value (as in the case of many banks), is one thing, because book values can be inflated with intangible assets and goodwill. But cash is cash. Its value is supposed to be definitive.
Actions Semiconductor serves as proof that this theory is not always true. We delve into this mystery below.
Net Cash: Show Me the Money
Actions reported its first quarter 2012 results Tuesday, May 8. The company posted revenues of $10.735 million, up 14.61% from the previous year, but down 12.67% sequentially, due to the seasonality of the business. On the income side, Actions reported a net loss of $653,000, or $0.00941 per ADS, worse than the previous year's $5,000 net income. However, income tax expense, at $538,000, was far above usual levels, and had it been normalized, Actions would have reported a profit. These results, on their own say little. What exactly does Actions do?
Actions is a fabless semiconductor company that designs chips for portable media players, MP3 players, and now, Android tablets, which are the company's next growth engine. As the MP3 market ages, Actions' profitability has dropped. As recently as 2008, the company was posting revenues of well over $95 million, and net income of 31 cents a share. In fiscal 2011, however, revenue sagged to under $47 million, with the company posting EPS of just over 4 cents. And the company's stock price has reflected this trend, falling from nearly $12 in 2006, to just $1.67 as of this writing.

Even as Actions has reported narrowing profits and revenues, its cash balance has been growing. Actions currently has net cash & marketable securities of $221.563 million, per its most recent quarterly results. That works out to $3.21 per ADS in cash & securities. We should note that this figure does not include equity investments and other investments reported in the long-term assets section of the balance sheet. If those Before we answer the question of how can Actions trade so deeply below its net cash balance, we must first answer this question. How can Actions keep growing its cash balance if its revenue and income are dropping? The answer lies in the company's cost structure.
Actions' statement of cash flows yields a number on insights into where cash is coming from. In the last quarter alone, Actions had $1.769 million in depreciation, amortization, and stock-based compensation expense, which more than accounts for the company's net loss of $653,000. While operating cash flow may have fallen this quarter to $717,000, down from the $2.774 million level seen a year ago, the decline is due to Actions' accelerated paydown of accrued expenses. It is important to note that even with this elevated level of accrued expense reduction, Actions still posted positive operating cash flow. And in the quarters to come, Actions is set to streamline its cost structure, which should provide boosts to both net income and operating cash flow, according to CEO Zhenyu Zhou. We will delve into the operational aspects of Actions later in the article.
Actions posts consistent operating cash flow, and is growing its cash & securities balance. Yet the stock trades at deep discounts to its intrinsic value. Why is this happening? We delve into that issue below.
Mirror Mirror on the Wall, Which Chinese Company is the Most Honest of Them All?
Actions' stock has been weakened not only by its business issues, but by the sentiment surrounding Chinese companies listed in the United States. No one wants to be left holding the next Sino-Forest or Longtop Financial. Therefore, investors have taken to simply selling all Chinese stocks that are not blue-chip in nature, such as Baidu (NASDAQ:BIDU). We, however, think that there is no fraud going on at Actions. Our reasons for this start with the company's declining performance, both in terms of revenue and net income. If executives wished to enrich themselves and defraud unsuspecting retail investors, it is likely that they would have simply chosen to manipulate results and state that revenue and profits were higher than they actually were. That being said, we believe that there are several other reasons why Actions is not a fraud.
We believe that the points cited above provide a reasonable level of certainty that Actions is not a fraudulent company. Now that we have established that, we can delve into where Actions will go from here.
The Road Ahead: Transitioning to A Tablet World
Since its IPO, Actions' profits and revenue have fallen, due in large part to the fading relevance of MP3 players not made by Apple (NASDAQ:AAPL). However, we, in addition to Actions, see 2012 as being the year that the company finally turns its business around. For the second quarter of 2012, Actions has guided for revenues of $12-$13 million, and a gross margin of 36%. At the midpoint of revenue guidance, that implies a gross profit of $4.5 million, which would represent sequential gross profit growth of 20.1%, and 22.75% over previous year levels. For the past several quarters, R&D expense has been above average, due to the development of ATM701x chip line, which we will discuss a bit later. In 2011, R&D expense was $22.086 million, per Actions' 20-F filing. That represents a 27.48% jump over 2010 levels, indicating the company's confidence in its future, for companies that are withering away do not usually boost R&D expenses (it should be noted that Actions was profitable in 2011, posting a profit of $3.005 million, but that was due to the company's interest income)
Over the past 5 years, Actions has posted average revenue declines of 16.45%. Although revenue rebounded in 2011 to $47.485 million from 2010 levels of $37.585 million, it is a far cry from 2007 levels of $116.628 million in revenue. Furthermore, 2008 was Actions' last full year of operating profitability. Since then, the company's growing cash hoard has been supporting results, due to the non-cash nature of many of the company's expenses (as discussed in the cash flow section).
So what is Actions planning to do to return to revenue growth? The company is moving away from MP3 players and into the tablet market. Its newest chip line, the ATM701x, which was the product behind its jump in R&D expense, was released in April, and Actions is ramping up production starting this month. The chip line supports the latest Android operating system (Ice Cream Sandwich), has a 1.2 GHz core, 3D graphics, and 1080P video encoding. The company is targeting the low-end tablet segment, primarily in emerging countries. According to CEO Zhenyu Zhou (on the conference call) within a year there will be 3-5 million units sold each month with chips from this product line, at an average selling price of $5-$10. At the midpoint of those two figures, the ATM701x line alone will be pulling in $30 million of revenue each quarter. That represents a more than doubling of revenues from this most recent quarter's $10.735 million in revenue. Here, criticism may emerge once again. Actions does not supply chips for the iPad, so how can it succeed in the tablet market?
The simple answer is that consumers who can afford an iPad are not in Actions' target end markets. While the iPad may be the market leader in the United States and other developed nations, with overall global market share of 68% in the first quarter of 2012, the story is different in emerging markets. In 2011, 2 out of every 3 tablets sold in Southeast Asia were Android tablets. In addition, Actions has a great deal of potential in China as well. While the iPad may be in great demand in that nation, it is seen not just as a media device, but as a status symbol, similar to how a Coach (COH) purse or Hermes scarf might be seen. There are many consumers in China, however, that simply want a tablet device, for they cannot afford an iPad.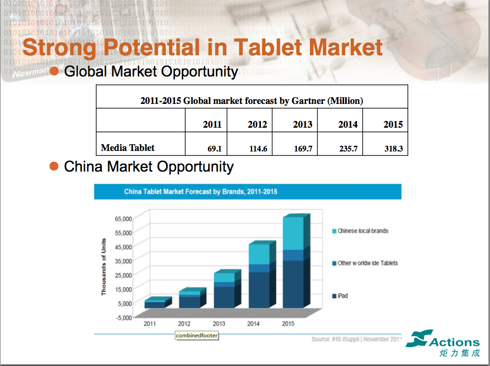 Actions estimates that on a worldwide basis, its total addressable market will expand to $920 million by 2013, from just $410 million in 2011. MP3 players, once Actions' core business, are set to become just a slim portion of its total market by 2013.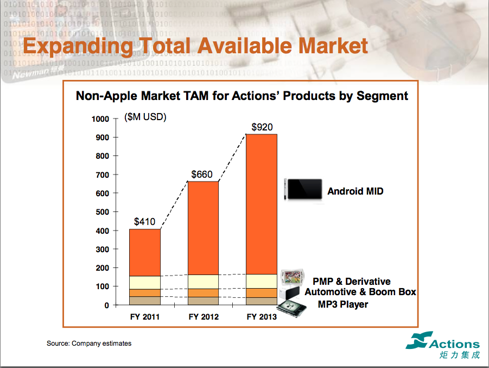 Actions is the market leader in non-Apple audio products, with global market share of 40% overall, and a 60% share at the OEM level. In addition, Actions is set to capture a good deal of share in the Personal Media Player sector, which is growing rapidly in emerging markets. It is important to remember that this is not an iPad vs. non-iPad story. There are simply customers in many emerging economies that cannot afford an iPad. For them, tablets with Actions' chips inside them are the answer to their computing and media consumption needs. Actions has a clear roadmap for 2012 and beyond.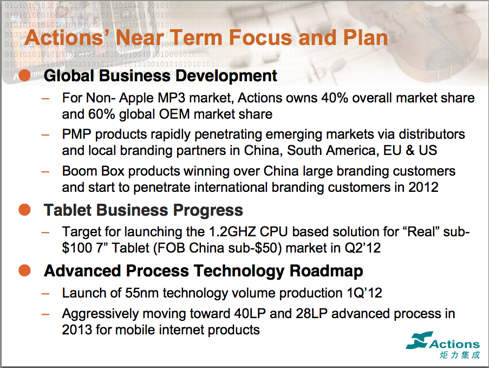 Production of the ATM701x line will headline 2012, and so long as Actions' results are consistent with the estimates of its management, the company will stage a dramatic turnaround by 2013. And in 2013, the company will move towards more powerful chips, under the 40LP and 28LP processes. Critics may scoff, and say that while this is all well and good, Actions' customers are small companies with no chance of ever selling product. We do not see it that way. Actions' downstream customers include LG, Disney (NYSE:DIS), iRiver, Coby, Aigo, and hundreds of Chinese brands. We see 2012 and 2013 as the years that Actions will turn around its business, and believe that as the company reports its quarterly results, the progress will be clearly evident.
Conclusions
We believe that Actions Semiconductor is a company whose best days are ahead of it, and believe that for investors comfortable with owning a Chinese-based company, now is an ideal time to add to or initiate a position in Actions Semiconductor. We see no evidence of fraud at the company. Actions results would have demonstrated consistent growth in both revenue and profitability if fraud was occurring. We have never seen a case where a company defrauds investors by manipulating its results in order to post lower revenue and operating profits. To us, Actions is a legitimate company that has been dramatically oversold, due to worries about its business and the general attitude towards Chinese companies trading in the United States. Our analysis, however, leads us to believe that Actions will turn itself around in 2012 and 2013, leading to growth in both revenues and operating profits. Add in the fact that the company is trading at a deep discount to its net cash & securities balance, and will likely accelerate its share buyback, and Actions Semiconductor has a great deal of value to offer long-term investors.
Disclosure: I am long AAPL, BIDU, DIS.
Additional disclosure: We plan on initiating a long position in ACTS this week. We own shares of BIDU via a mutual fund that gives it a weighting of 0.84%. We own shares of DIS via the SPDR Dow Jones Industrial Average ETF.