India's HDFC Bank (NYSE: HDB) reported strong first-quarter earnings growth of 30 percent year over year. Fee growth also picked up by 25 percent YoY. Loan growth was a little lower at 21 percent YoY, because of the slowdown and uncertainty in the Indian economy. That said, retail loans increased by 55 percent, indicating stronger than expected consumer demand.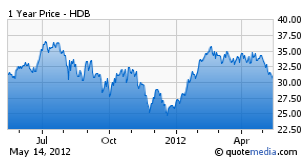 Franchise build-up continues at a healthy pace, with new branches increasing by 28 percent YoY to 2,544. Over the past four years, HDFC's branch network has grown from 760 in 2008 to 2,544 today in 1,400 cities. Moreover, the number of cities in which the bank now operates increased by 40 percent, with the focus on rural and semi-urban cities that have plenty of room for growth.
This expansion also pushed up costs, but rising expenses will be mitigated as branch expansion slows to only about 15 cities this year.
HDFC is one of the fastest-growing banks in rural areas, reflecting a wider trend. Bank branches in rural India increased from 21,000 in early 2010 to 138,500 so far in 2012. The Reserve Bank of India (RBI) has been pushing banks to establish a presence in 74,000 villages with populations above 2,000, a target that's almost been reached. The RBI now is looking at ways to incentivize banks to reach out to villages with populations of less than 2,000 people.
The Indian government also is emphasizing lending in the agricultural sector. India's economic plan closely mirrors China's, in which non-urban areas are provided assistance and incentives to grow faster and participate in the country's economic boom.
HDFC has a strong Tier-I ratio at 11.6 percent. Given its aggressive expansion plans, the company should deliver some of the fastest earnings growth in India's banking sector. Management also is well known for its conservative approach, with only 17 percent of the bank's loans in the risky sectors of the economy.
HDFC is one of Asia's best-run financial institutions and management has a good track record of producing steady growth without incurring excessive risk. From a longer-term perspective, the bank is a big beneficiary of a demographically young emerging market with rising incomes and strong domestic demand.
Disclosure: I have no positions in any stocks mentioned, and no plans to initiate any positions within the next 72 hours.