As an M&A investment banker focused on the web-only retail sector, a diverse group of constituents recently asked me to opine on Amazon's Q1 2012 earnings report.
Gross Margin Expands - Shares Rocket
As you know, within 48 hours of the report, Amazon (NASDAQ:AMZN) shares rocketed $36 and a party was thrown in honor of gross margin, which had increased from 22.82% to 23.95% of total net sales - the largest uptick in 10 years.
On revenues of $13.18 billion, the 113 basis points (1.13%) increase in gross margin translated into $148.9 million of new operating profit. Not only did this allow the company to come in above expectations, but it ultimately tacked on $13.9 billion of market cap.
Will Bulls Run and Bears Hibernate?
Unless you bought Amazon before the historic increase, the question becomes - can this be repeated or was this a one-time event? Below are the most important signals in my mind. I hope they inform your thinking to the point of questioning your own.
Revenue and Expense Recognition
I would encourage investors to focus on revenue and expense recognition - areas which Amazon is notoriously vague about (see earnings transcript). Most importantly, familiarize yourself with EITF Abstract Issue No. 99-19: Reporting Revenue Gross as a Principal Versus Net as an Agent.
#1 Signal Amazon May Keep Surprising on the Upside
EITF No. 99-19 is a revenue recognition accounting guideline / standard for companies that sell 3rd party (3P) goods and services to other companies, but never take ownership (like Amazon, Overstock, etc.). The guidelines deal with determining if revenue should be calculated as a gross number (full price of product to end customer) or only at the net level (payment company receives for enabling a transaction).
For Amazon, eBay (NASDAQ:EBAY), Overstock (NASDAQ:OSTK), Groupon (NASDAQ:GRPN), Google (NASDAQ:GOOG), Facebook (NASDAQ:FB) and other larger private companies, EITF 99-19 provides the reporting entity with eight (8) guidelines to consider in determining whether revenue should be treated as 'gross' and three guidelines as to whether it should be treated as 'net'.
In the case of Amazon Services sales represent 3P seller fees earned (including commissions) and related shipping fees, digital content subscriptions, and non-retail activities. Conversely, Amazon generally recognizes sales of items it sells from its inventory (1P) as gross.
As a result, EITF No. 99-19 allows investors to see net sales bifurcated from gross sales. Since we know Amazon is growing net sales faster than gross sales, we have a bullish signal about future gross margin expansion.
Signals 2 and 3 That Amazon May Keep Surprising on the Upside
It's important to listen carefully to the comments made by Amazon's CFO during the Q&A portion of the Q1 2012 earnings call. Specifically, I think he had bullish remarks about the trend in product and revenue mix shifts.
By revenue mix shift I believe that to mean 3P net sales are growing faster than first party (P1) sales. If this trend persists it implies that additional gross margin expansion. The related Q&A discussion follows:
Mark Mahaney (Citigroup) asked, "And just broadly on gross margins, is the real drive-up that you've seen over the last couple of quarters, is that primarily just due to product mix shifts or revenue mix shifts?
Thomas Szkutak, Amazon's CFO,
…we're not reporting gross margin specifically, if you take a look at the relationship between COGS and revenue, certainly, one of the things we're seeing, a number of different factors there, certainly mix of business is one.

But another factor…is around third-party growth. We saw very strong unit growth overall this quarter, up from last quarter, so we had sequential growth. Third-party units as a percentage of total units were up approximately 300 basis points over last year. And we saw just great third-party unit growth, so it was up over 60% again in Q1. And so those are factors that are certainly impacting our operating margins...
How 3P Expands Gross Margin under EITF 99-19
Although it does not change a businesses' EBITDA (earnings before interest taxes plus depreciation and amortization), the guideline to classify 1P sales gross or 3P sales net as an agent has important ramifications on gross margin.
Opportunities to increase gross margin are greater when the mix begins to favor 3P revenue. Thanks to EITF 99-19 we have visibility into the trend whereas without it, we would not.
Is the $36 Two-day Gain Repeatable?
When the CEO of an established web-only retailer comes to us and says his/her business is growing revenue quickly, valuation implications are dependent on the trend in gross margin.
In my opinion, Amazon's gross margin has bounced off of its inflection point. The Services Sales contributing to 3P revenue are becoming stronger so the business receives a clean bill of health.
Will we see more $36 per share jumps after earnings? In my opinion the answer is yes, since it may only take another 1% increase in gross margin. How big can the gross margin become? No one knows.
FOCUS Investment Banking Web-only Retail Index
Web-only Retail Index companies include Amazon, eBay, Overstock.com, United Online (NASDAQ:UNTD), Vistaprint (VPRT), 1-800-Flowers.com (NASDAQ:FLWS), Nutrisystem (NASDAQ:NTRI), Blue Nile (NASDAQ:NILE), U.S. Auto Parts (NASDAQ:PRTS), Vitacost (NASDAQ:VITC), PedMed Express (NASDAQ:PETS), Coastal Contacts (CSOAF.PK), Bluefly (NASDAQ:BFLY) and Stamps.com (NASDAQ:STMP).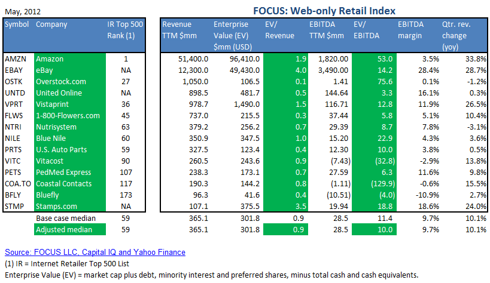 Disclosure: I have no positions in any stocks mentioned, and no plans to initiate any positions within the next 72 hours.