I sold all stock in Chromcraft Revington (NYSEMKT:CRC), a domestic furniture manufacturer that is in the middle of its multi year process of shifting manufacturing overseas and only doing some final assembly in the U.S. An adviser I used in 2001 purchased this stock for my account and this was a small position that I have ignored for many years. It has declined even further in value over the past 6 years and I finally sold it for a tax loss.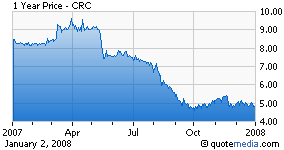 Here are some bright points to keep in mind for CRC: The company is moving in the right direction and has made significant progress in aligning its operations with todays realities. The business furniture segment is especially promising and is growing and the company is currently trading at about 1/2 of its tangible book value.
But there are many more negatives: The company has been bleeding for quite a while. It is competing head on with a furniture company operated by Warren Buffet's Berkshire Hathaway (NYSE:BRK.A) (NYSE:BRK.B) as well as with many no brand name Chinese importers. It is a tough environment for any furniture company to operate, with home sales in the rut and transportation costs rising significantly. This environment is especially bad for CRC, whose emphasis traditionally has been on larger bulkier quality brands of furniture. Customer facing presence for CRC is also in disarray with a diminishing number of retailers displaying Chromcraft (and similar) brands, their website is not properly maintained with links on the front page (click on "home" after navigating your browser to here.) pointing to defunct websites for sub brands. In addition, virtually no information is publicly available on CRC these days. Analysts don't bother with CRC, there are no quarterly meetings being broadcast and their CFO did not bother returning my call.
Bottom line: I sold CRC at 5.05 (near its all time low) before the year end.
Disclosure: Author has a long position in BRK.B