All direct selling businesses have enjoyed good growth over the years, first in the US, now in the emerging parts of the world. Most of the direct selling companies such as Avon (NYSE:AVP), Herbalife (NYSE:HLF), Nu Skin (NYSE:NUS), are trading at least 5 times book value and more than 12 times their earnings.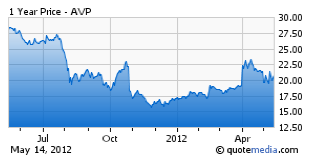 Recently, the industry paid a lot of attention to Avon, when the most successful investor of all time, Warren Buffett, backed Coty Inc's bid for the company. Coty offered Avon $10.7 billion, 6.5% increase from earlier bid of $10 billion. Even though the deadline for Coty's bid was on Monday, 14th May, Avon has said that its board will respond to Coty's offer within a week. However, Coty withdrew its offer upon its deadline, and it said that it was time to "move on and pursue other opportunities".
Avon is famous for paying a consistent growing dividend. Over the past 10 years, its dividend enjoyed the compounded growth of nearly 8.7% per year. Now it is paying 25 cents per quarter, or $1 annualized dividend. With the share price of $20.2, the dividend yield is 4.95%. With $9.4 billion of market capitalization, along with $1.2 billion in cash and $3.3 billion of debt, the enterprise value stays at $11.5 billion.
Over the past 10 years, Avon has been consistently generating good positive free cash flow, with the range of $310 - $690 million annually. In 2011, the amount of free cash flow being generated was $380 million. So the offer has valued the business at 28x its TTM free cash flow, 16.3x its TTM operating cash flow, 20.5x trailing P/E and 6.75x its book value
Fundamentally, I think Avon is a good business with its footprints in many emerging economies. Around 70% of its sales come from those areas such as Latin America, Asia Pacific and Eastern Europe. Cosmetics, skin care and fragrance businesses have double digit market shares in countries such as Brazil, Turkey, Russia and Mexico. In addition, a lot of growth is promised there when the population still has low spending per capita on beauty products, especially in China. Following Euromonitor International, China is considered to be one of the most valuable markets for beauty and personal cares, accounting for 1/5th of global value growth of the world's market. Beauty and personal cares value is predicted to reach $34 billion by 2015.
The offer of $10.7 billion to acquire the direct selling business, which had $11 billion in revenue and consistently generated free cash flow for over a long period of time, is not the crazily expensive price, but not an undervalued price either. Coty's offer can be considered the proxy for Avon's business worth and the direct selling industry multiples.
Disclosure: I have no positions in any stocks mentioned, and no plans to initiate any positions within the next 72 hours.