Recently, I authored an article that demonstrated that the S&P 500 Dividend Aristocrat Index has produced higher average returns with lower variability of returns over its twenty-two year history than the broader market. The constituents of the Dividend Aristocrat index are fifty-three companies in the S&P 500 (SPY, IVV) that have paid investors increasing dividends for a minimum of twenty-five years. Since late 2002, Standard and Poor's has also produced a Canadian version of the index for companies that have the same minimum tenure of increasing dividend payments. This article discusses the performance of the Canadian index, and lists constituents that trade on exchanges in the United States.
Below is a graph of the total return of the S&P/TSX Canadian Aristocrats Index versus the S&P/TSX Composite Index, which is a market capitalization weighted index of most of the largest companies on the Toronto Stock Exchange.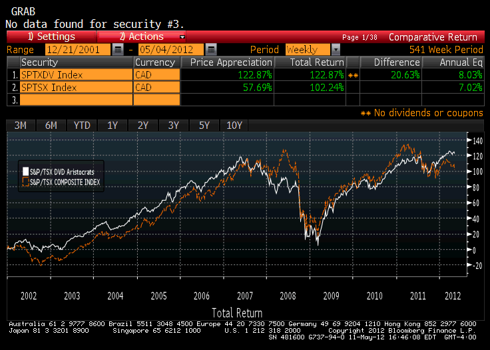 Source: Bloomberg; S&P (as of EOD 5/11/12)
Like its U.S. counterpart, the Canadian Dividend Aristocrat Index has outperformed its broader benchmark (by just over 1% per annum) while producing less variable returns. When the Canadian Dividend Aristocrat Index is compared to a total return index of the S&P 500 in U.S. dollar terms, the outperformance is even more remarkable as seen below. The Canadian Dividend Aristocrat Index has outperformed a total return index of the S&P 500 by over 9% per annum since the former index's advent in late 2001.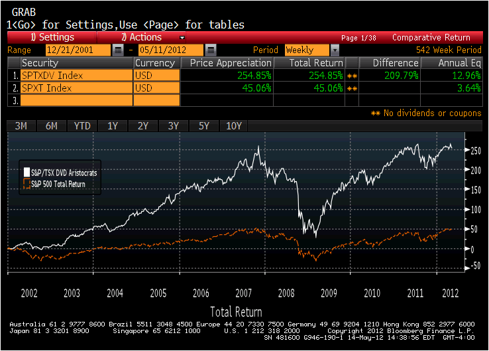 Source: Bloomberg, S&P (5/14/2012)
Constituents of the S&P/TSX Canadian Aristocrats Index that trade on U.S. exchanges include:
Bank of Nova Scotia (NYSE:BNS), Canada's third largest bank;
Barrick Gold (NYSE:ABX), the world's largest pure gold miner;
Cameco Corp (NYSE:CCJ), the world's largest publicly traded uranium company;
Canadian National Resources (NYSE:CNQ), an oil and gas E&P based in Alberta;
Canadian Pacific (NYSE:CP), a Class I railroad owning 14,000 miles of track in the U.S. and Canada;
Enbridge (NYSE:ENB), an Alberta-based company focused on crude oil and liquids pipelines and natural gas transportation;
Imperial Oil (NYSEMKT:IMO), Canada's second largest oil and gas company, and 70% controlled by Exxon Mobil (NYSE:XOM);
Methanex (NASDAQ:MEOH), the world's leader in the supply of methanol, a chemical compound commonly converted to formaldehyde, blended into fuel, or used as an additive in other chemicals, plastics, and paints;
Ritchie Bros. Auctioneers (NYSE:RBA), auctioneer of industrial equipment worldwide;
Rogers Communications (NYSE:RCI), telecommunications giant, which features leading positions in wireless communications, cable television, and internet services;
Shaw Communications (NYSE:SJR), provider of telephone, internet, and television services:
Suncor (NYSE:SU), integrated energy company focused on the production of synthetic crude from oil sands;
Telus (NYSE:TU), British Columbia-based telecommunications giant;
Thomson Reuters (NYSE:TRI), business data provider majority owned by the Thomson family of Canada;
Tim Hortons (THI), fast casual restaurant chain known for its coffee and doughnuts;
Toronto Dominion Bank (NYSE:TD), second largest Canadian bank, and;
TransCanada Corp (NYSE:TRP), one of North America's largest providers of gas storage and a major pipeline operator.
Stocks with long track records of increasing dividends have proven to produce higher risk-adjusted returns in both the United States and Canada over meaningful trailing periods. With fixed income yields in the developed world at historic lows, the stocks above should be considered for investors seeking a diversified basket of global stable dividend payers.
Disclosure: I am long SPY.