April 2012 was another positive month for most data center related stocks, with Internap (NASDAQ:INAP) and both CDN players representing the only exceptions to the rule.
Here is a quick look at how all stocks under our coverage behaved last month: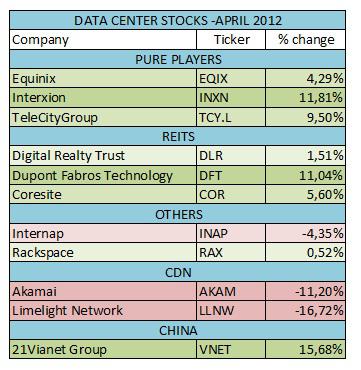 (click to enlarge pictures)
Akamai's (NASDAQ:AKAM) performance was certainly impacted by the negative reaction to the company's Q1 2012 results, with the stock losing almost 15% after earnings.
On the positive side, both Equinix (NASDAQ:EQIX) and Dupont Fabros Technology (NYSE:DFT) benefited from a positive market response to their Q1 earnings, having enjoyed an 8% and 13% upswing after their reports, respectively.
If we take a wider look at performances since the start of the year, we realize that the sector delivered, on average, outstanding results, with most stocks easily in the double-digit category.
Limelight Network (NASDAQ:LLNW) is the only stock in the red since the start of 2012, while network neutral colocation players represent the strongest category in our coverage, with share price increases ranging from TeleCity Group's 25% to InterXion's (NYSE:INXN) 49% and Equinix's 62%.
Among the best performers, Chinese data center provider 21Vianet (NASDAQ:VNET) is due to release its quarterly results later this week.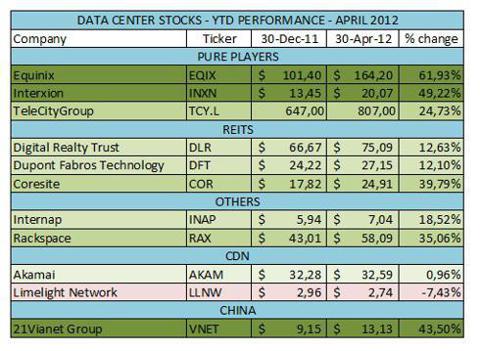 Disclosure: I am long EQIX.