Energy stocks pulled off yet another year of stellar returns in 2007, making the natural resources sector one of the hottest corners of the market for the fifth straight year. iShares Dow Jones US Oil and Gas Exploration and Production ETF (BATS:IEO) has only been around for about 18 months of that multiyear rally, but it seems to be making up for lost time. The ETF soared almost 41% year to date through December 28—ranking among the top quarter of funds in Morningstar's natural resources category and 18th among all ETFs that Morningstar tracks. IEO's performance during the last year also looks good when compared to its energy sector peers—the Amex Oil and Gas index gained about 30% in 2007—and looks stunning beside the S&P 500's paltry 2007 return of about 5%.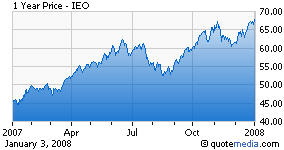 It's been a good year for energy companies in general and for many firms in IEO's portfolio in particular. Oil prices rose nearly 60% in 2007, which was especially good news for companies involved in exploration and production. It takes enormous investments of capital and resources to locate oil deposits, remove oil from the earth, and process it. When oil prices are low, there's little payoff for the companies engaged in that upstream side of the oil industry. That hasn't been the case lately. Oil prices hovering close to $100 a barrel have made investors in oil exploration and production stocks confident that the companies will earn a handsome profit, despite the steep costs of doing business.
The Alberta tar sands operations of IEO number three holding Devon Energy (NYSE:DVN) offers a good example of the formidable challenges companies are willing to take on in order to produce oil. There is no conventional oil for Devon and other companies to extract from the tar sands; rather, they convert deposits of a type of hydrocarbon called bitumen into synthetic crude oil. Producing that petroleum involves digging up millions of tons of soil every day, sorting out the small amount of bitumen in it, putting it through an extremely costly conversion process, and piping it across the continent to special refineries where it will be converted to usable fuels.
Until recently, the final product of that process wasn't worth all the trouble. But now, mostly due to soaring oil prices and improved technology, it is so economically feasible that Canada recently became the top source of imported oil for the US. It costs about $30 to produce a barrel of synthetic crude from the tar sands—a hefty sum compared to other means of production, but low enough to leave a comfortable profit margin when oil trades north of $90 a barrel.
Devon, which gained more than 35% year to date through December 28, was recently singled out by Morningstar as one of the most promising and undervalued stocks in the energy sector. Analysts were particularly impressed with the potential of the firm's reserves in the Gulf of Mexico and its extensive access to natural gas through its properties in Texas's Barnett Shale. Things may be getting harder for Devon in Alberta, however. The provincial government has decided to charge higher royalties, and environmental groups are calling for tougher environmental regulations. Many companies, including Devon, are considering scaling back production.
IEO number one holding Occidental Petroleum (NYSE:OXY), which recently accounted for about 11% of the fund's assets, returned more than 62% year to date through December 28. That strong showing is largely due to Occidental's finely honed ability to wring every last drop of oil out of reserves that other firms leave behind. Although Occidental's extensive reserves in the Permian Basin and California are largely depleted, the firm believes it can use its expertise to pinpoint the remaining high-quality oil. The firm also took a significant risk recently by reentering Libya after having been booted out by US sanctions in the 1980s. There is plenty of high-quality oil for the company in the North African country, but the government wants the lion's share of the profits—a development that reflects a broader trend toward governments demanding more from companies that extract their nations' natural resources.
IEO was highly volatile throughout 2007 and experienced several significant declines. The fund ricocheted between the 40s and the top five on the ETF Momentum Tracker sector rankings even as other energy funds stayed fairly close to the top. But during the last few months of 2007, IEO cranked out returns that brought it to position number two on the table, surpassing all the other energy funds. By last week, IEO had outperformed all the funds on our Sector Momentum Table, other than the gold and silver funds, for both the trailing three- and six-month periods.
If oil prices remain elevated, IEO might manage to hang on to its top-performer status. But many analysts are predicting at least some pullback in prices sometime in the coming years. Moreover, finding and producing oil is likely to only become more expensive and difficult than it already is, especially if political instability continues to plague much of the Middle East. If prices ease, production and exploration will quickly become a much less attractive subsector and this fund will likely slip back from its recent all-time highs.