Futures have fluctuated between being up 0.5% and 1% mainly due to a combination of better than expected growth in Germany and stronger than expected demand for the Facebook (NASDAQ:FB) IPO. The Facebook IPO will give a good perspective on the "animal spirits" on Wall Street and a strong showing will portend good things for the rest of 2012.
The never ending Greek soap opera continues its newest phase as leaders are scrambling to put together a government which if unsuccessful would require another round of elections. One possible bright spot for Greece is hints of euro leaders acquiescing, if they are able to successfully form a government.
In today's market action, I will continue to focus whether bulls can take back the 134 level on the SPDR S&P 500 ETF (NYSEARCA:SPY). The risk off assets such as bonds (NYSEARCA:TLT), currencies (NYSEARCA:UUP) and volatility (NYSEARCA:VXX) instruments have been on a tear. The question on everyone's mind is whether the market is topping or a healthy correction.
This chart from Tom McClellan which is comparing Treasury prices and headline news events is a warning that historically jumping into the safety trade is not wise after such events.
(Click to enlarge)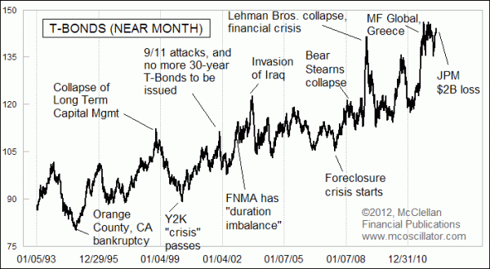 Charts in Focus
(Click to enlarge)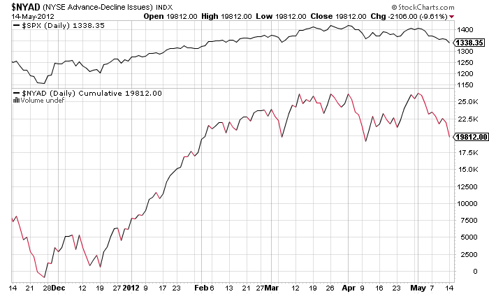 Overnight Action
Globex, High:1346.75 Low: 1332.45
DAX +0.22%
Spain +0.04%
China +0.71%
Market Moving Releases
Retail Sales, estimate: 0.2%
Core CPI, estimate: 0.2%
Empire Manufacturing, estimate: 8.4
Business Inventories, estimate: 0.3%
Earnings
Disclosure: I have no positions in any stocks mentioned, and no plans to initiate any positions within the next 72 hours.