When searching for stocks that offer high shareholder remuneration through cash dividends, one of the first and most important factors that investors should research is the company's country domicile. A political, economic, and financial stable and strong country provides a best business environment for companies and they can reward theirs shareholders accordingly.
One of the main consequences of the current European sovereign debt crisis is that even companies with strong fundamentals can put in jeopardy their shareholder remuneration policy due to macroeconomic and fiscal weaknesses. In this view, Norway offer one of the best environments for investments given the crisis in Europe, a possible hard landing in China and an American economy that slowly recover.
Norway is a country with the best fundamentals in the world, to a great extent due to its largest oil & gas reserves. It is the world's 8th largest oil exporter and their oil revenues are mainly used to finance its sovereign wealth fund that is greater than $350 billion. Norway isn't part of European Union and has its own currency (Norwegian krone). By staying out of the Eurozone, Norway also limited the impact of the Eurozone crises on its economy. As a result, it should be able to weather the crises fairly well, especially considering that its biggest export market, the UK, is also not a part of the Eurozone.
In 2011, the government's budget had a 12.5% of GDP surplus and since 2005 the annual surplus was always above 10%. The GDP growth rate was 1.6% in 2011 and inflation is very low at 1.31%. The unemployment rate is also remarkably low at 3.29%. It remains one of the few countries in the world with an AAA credit rating and is the cheapest European country to insure against default.
For income investors looking for yield within a country with a very strong backdrop like Norway, the following five stocks can be a good starting point for further research. Note that the yield data is before tax, the Norwegian withholding tax for non-resident investors is 15%.
| | | | | |
| --- | --- | --- | --- | --- |
| Company | Market Cap ($m) | Div. Yield (%) | Payout Ratio (%) | P/E Ratio |
| Statoil | 80.3 | 4.33 | 26.6 | 6.14 |
| Telenor | 27.14 | 4.88 | 140 | 28.7 |
| Seadrill | 16.96 | 7.91 | 100 | 16.5 |
| Orkla | 6.74 | 6.21 | 62.3 | 10 |
| Aker Solutions | 4.02 | 4.44 | 67.6 | 15.2 |
Source: Bloomberg
Statoil ASA (STO): Statoil is an international energy company with operations in 36 countries. The company explores for, produces, transports, refines, and trades oil and natural gas. It's headquartered in Norway with approximately 21,000 employees worldwide, and is listed on the Oslo stock exchange since 2001 and on the New York Stock Exchange through its ADR programme. The Norwegian State is the biggest shareholder with a 67% equity stake. It has an AA- credit rating from S&P, reflecting Statoil's low credit risk.
Statoil pays its dividends annually, and after a series of cuts the company has resumed its dividend growth in the last two years. Note that from 2001 to 2006, the annual dividend growth rate was a very impressive at 26%.
charts listed in Norwegian krone (NOK)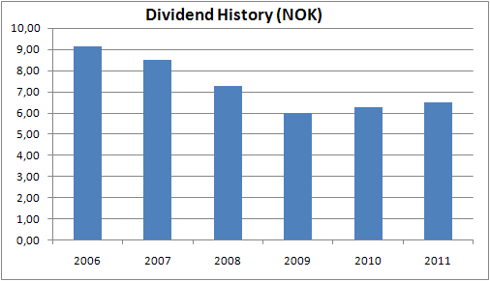 Source: Statoil
Telenor ASA (OTCPK:TELNY): Telenor ASA researches, develops and provides telecommunications, information and media services. The company offers telephone services, as well as installs and operates complete IT systems. Telenor Group is one of the world's major mobile operators with 146 million mobile subscriptions, and has mobile operations in 11 markets. In the first quarter of 2012, 45% of Telenor's revenues were in Asia an 40% in the Nordic countries.
Telenor's dividend policy is to distribute a dividend which is equal to 50-80% of normalized annual profits, and the Group will be aiming for an annual nominal growth in the ordinary dividend per share. Telenor's annual dividend growth rate from 2006 to 2011 is close to 15% but in 2008 the company didn't paid any dividend.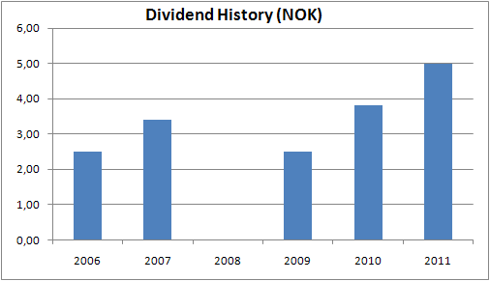 Source: Telenor
Seadrill Limited (NYSE:SDRL): Seadrill Ltd. Provides offshore deepwater drilling. The company operates a fleet for operations in shallow to ultra-deepwater areas in harsh and benign environments. Seadrill is listed on the New York Stock Exchange and the Oslo Stock Exchange.
Seadrill has an objective to generate competitive returns to its shareholders. This objective is supported by frequent distribution of a cash dividend, which Seadrill do very often on a quarterly basis. Taking into account the last four quarterly payments, Seadrill's shares currently yield around 8%.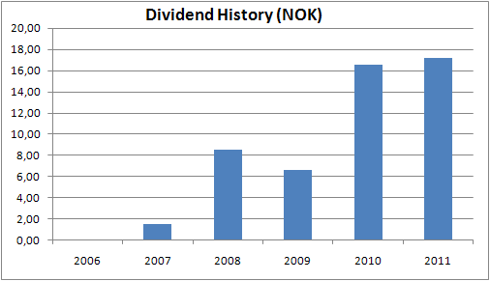 Orkla ASA (OTCPK:ORKLY): Orkla is the leading branded consumer goods company in the Nordic region. At present, Orkla operates in the branded consumer goods, aluminium solutions and financial investment sectors. The company's strategic focus is on growth in its branded consumer goods operations. The Group has 30 000 employees in more than 40 countries and a turnover of NOK 61 billion. In 20101, around 80% of revenues were based in Nordic countries.
Regarding dividend policy, Orkla has pursued a strategy that focuses on predictability and stability. As long as Orkla's underlying performance is satisfactory, shareholders will experience a steady, stable increase in the dividend payout. The company also has a programme for share buybacks and an employee share purchase programme. In 2011, the company has paid a special dividend of 5 NOK per share.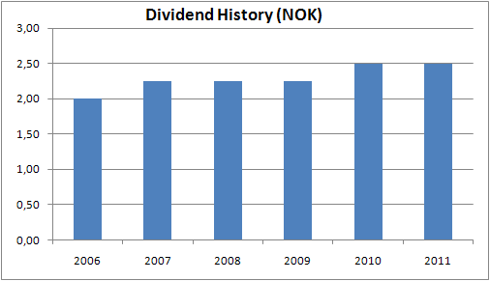 Source: Orkla
Aker Solutions ASA (OTCPK:AKKVY): Aker Solutions through its subsidiaries and affiliates is a global oil services company that provides engineering services, technologies, product solutions and field-life solutions for the oil and gas industry. The company aims to create value for shareholders, customers, employees, and society in general. According to Aker Solutions, shareholders' investments should provide a competitive return over time in the form of dividend payments and share price growth.
The Board of Directors considers that the average dividend payments, over time, should amount to 30 - 50 percent of the net profit, either through cash dividend and/or share buy-back. Decisions as to dividend payments depend on considerations such as alternative use of assets and further strengthening of the company's financial structure. Over the last four years the company has provided a growing dividend with a low payout ratio. The last five years average payout ratio is only 42%.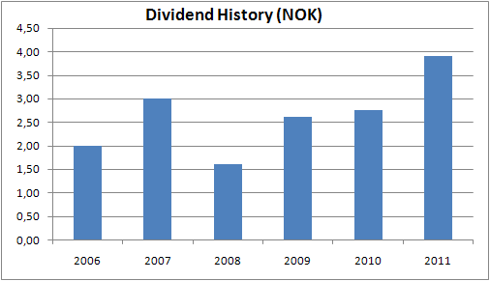 Source: Aker Solutions
Disclosure: I have no positions in any stocks mentioned, and no plans to initiate any positions within the next 72 hours.