Since I wrote Darkest Star in the Commodities Boom, things have lined up for a historic coal bull market. Natural gas (NYSEARCA:UNG) is up 30% from the low. On May 8 James River Coal Company (JRCC) dropped to $3.59, only 3 cents above the Aug. 16 low of 2007 when it started the rally to reach $62.83 on Jun. 19 of 2008. Is history repeating? Is JRCC going to $62.83 again, delivering 1665% gain in 10 months?
Some say the incredible gain in the 2007 coal rally won't repeat. I disagree. Things are lined up much better this time for an imminent coal rally. To recap why:
The coal and natural gas industry is quick to rebalance supply and demand, due to physical limits of inventory spaces.
The US coal sector is cyclical. A mere 2% imbalance in supply and demand can tip the market to either side, moving coal prices radically higher or lower.
The low price/revenue ratio means coal stocks can move a lot with a small coal price change.
China was a coal exporter in 2007. Export volume was not a big factor in the 2007 US coal rally. China is No. 1 coal importer today. India and Japan is not far behind.
While international coal demand is growing rapidly, major coal exporters cannot catch up. The USA is the only source of extra coal.
In previous coal rally, a number of factors were looming to kill the bull, including the production ramp-up and a financial crisis looming in 2008. Today I see nothing that could kill the bull. US coal producers can not ramp up production fast enough to quench international demands.
Unprecedented outstanding short interests present in many US coal stocks. No such high concentrations of short interests were present at the start of the 2007 coal rally. The stand-off has to be resolved by a fierce short squeeze eventually.
The market data indicates that history is repeating. The previous coal rally was only a rehearsal. The 2012 rally is much bigger. I studied EIA data on coal and natural gas productions. Surprise! There is nothing obvious in the supply and demand data that could explain the 2007 coal rally.
Net US coal exports were 19.5M (in 2005), 13.4M (2006), 22.8M (2007) and 47.3M (2008) tons. They were small compared with one billion tons annual supply/demand. Exporting was not the bullish factor. There were no unusual coal inventory numbers either.
The 2007 rally must be due to production and consumption numbers. I made a chart to learn the 2007 coal rally, to see where we are going today:
Click to enlarge.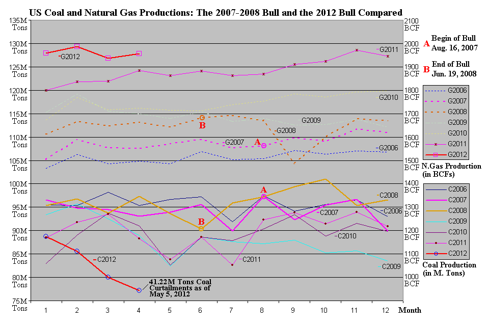 It shows coal and natural gas month productions in million tons and BCFs. C stands for coal and G for natural gas. The 2007 coal rally goes from point A to B. The lower portion curves are coal productions. The upper portion is for natural gas. Looking at natural gas, there was nothing unusual from point A, start of the rally, to point B. The production was flat, up slightly in long term. Higher natural gas supply cannot be a bullish reason.
Coal production peaked at A in Aug. 2007. At the time, coal supply reached a peak while coal prices and coal stocks were at bottoms. Producers drastically cut production in September 2007, thus the bull started. The production floated down in the next few months, and dropped to the lowest level at point B, top of the rally. Production was drastically boosted the next month, killing the bull. It peaked in October 2008, setting up the stage for a huge plunge amid the financial crisis.
That was the life story of the 2007-2008 coal bull. It was created when coal producers cut productions, based on the price signal they received. The production high was 100M/month at point A, and the low was 90M/month at point B.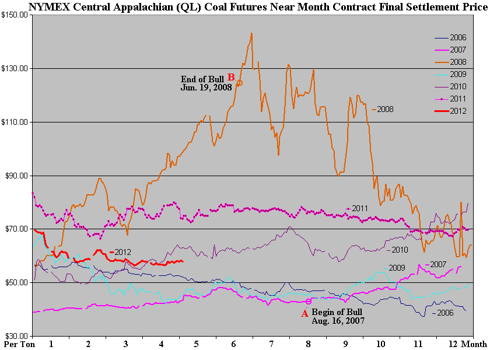 Going from A to B, coal production was cut by 10M/month. Such an unremarkable cut was all it took to deliver the baby bull. It sent CAPP coal price from $42.70 (Aug. 16, 2007) to $143.25 per ton (Jul. 1, 2008), a 235% gain. JRCC gained much more: a 1665% gain from $3.56 to $62.83.
Had the high coal price lasted, JRCC would have a $100/ton profit margin. Each share owns 1/3 tons annual production. A moderate P/E = 10 can justify JRCC at $333.33 per share!
The market did not expect the high coal price to last. So JRCC only went up to $62.83. It peaked 12 days before the coal price did.
Then in July, 2008, production jumped up 9M to 99M tons, about the level when the bull started. The coal bull was thus killed.
Today, the playwright of the coal story was revised. It is replayed on a grander stage, with China, India and Japan invited as guest stars. Folks: sit tight to enjoy the show, but prepare for this:
The prologue is depressive, with the Nomura Group screaming "Nowhere to Run, Nowhere to Hide!"
Making things worse, a record warm winter cut coal demand.
The shale gas boom & burst leads to natural gas oversupply, further depressing prices of both natural gas and coal.
The EPA clean air regulations could not come at a worse time.
If you read only headlines of news stories, coal can not be more bearish. To me, there can not be a better opportunity to invest in coal. The bearish factors in coal are all either one time events, or temporary. But they prompted very dramatic coal production cuts: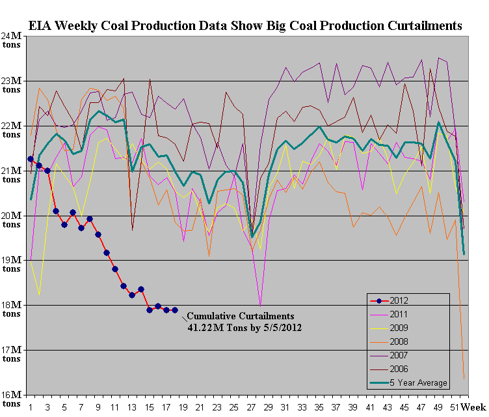 The US coal industry has never before taken such swift and massive production cuts to support price. The total cuts can top 159M tons for 2012 even if the industry does not cut further.
Peabody Energy (NYSE:BTU) projected a domestic demand reduction of 100M tons and predicted coal exports up 15M tons. Patriot Coal (PCX) planned to export 6.5M tons in 2012, up 70% from 3.8M in 2011. So exports up 40% from 107M last year is reasonable. That is an extra 43M tons exported. Domestic demand reduction was 19.5M in Jan. and 10.7M in Feb., dropping as the weather returns to normal. I estimated the domestic demand reduction to be 45M, with 6M in March, 4M in April, the rest in May & June. Back to normal in July.
So 43M rise of exports combined with 45M drop of domestic demand will result in a 2012 demand flat with 2011. But the coal industry is already cutting 159M in production.
Where do you expect coal price to go? It has only one way to go: Up!
In 2007 there was no visible production cut in the chart. No worker was laid off. Production drops were temporary and reversed the next month. Yet coal price rallied big, due to so small a supply tightness I could not detect it from historic data.
I think the coal industry over-reacted today. They took massive production cuts. They idled mines and lay off good mining workers. The industry is serious in price protection. When you see workers laid off, it is not the kind of half-hearted cut we see too often in other industries. For example OPEC often loudly calls for production cuts. But they will quietly produce more, prompting some analysts to vacation in Dubai harbors for weeks to count the passing oil tankers to figure out how much oil was produced.
EIA counts rail cars instead to estimate coal production. The rail cars counts drop by about 20%. This tells the industry's production cut is for real. The cuts are several times bigger than needed to send coal prices flying.
In hindsight, things do not look so pessimistic. The coal price is near $60/ton. It is higher than 2006, 2007 2009 and early 2010 levels. BTU is still profitable; JRCC is only $4.5/ton coal price away from break even; PCX lost only $5 per ton of coal, excluding one time items. Other industries could be in a much worse shape, yet their share prices hardly bend.
The coal industry executives must be bombarded repeatedly with so much bearish information, and must see their stock prices plunged. They must felt the urge to act drastically to save the world. That's why they cut production so massively, much more than needed.
It's good for coal investors. Let them keep cutting. Let the coal prices as well as stock prices fly.
If the 2007/2008 coal rally story is repeating, now is certainly a great time to consider buying some US coal mining stocks.
But people do have concerns. People are more willing to buy BTU, the biggest US coal mining company, because it is stronger, it is diversified, and it has overseas operations.
On the other hand, people are more concerned about the financial status of JRCC, PCX, Arch Coal Inc. (ACI) and Alpha Natural Resources (ANR). They have heavy debts. If the current depressive coal market last for long period of time, like for a few years, some of the weaker coal mining companies may go under. Especially JRCC had a bankruptcy history. There is no guarantee it won't happen again.
I believe if the sector remain depressed for a long period of time, the weaker players can go bankrupt, unless they are swallowed up by bigger players. So that possibility does exist, at least theoretically.
But my view is the coal sector will not remain depressed for long time, for reasons I already discussed above. Bankruptcy rumors on JRCC were rampant back in 2007. The fear pushed the stock from $16 a few months ago to $3.56 in August. It turned out it was fearmongering at the time. The sector quickly rebounded and the stock price flew.
I will leave you to study the specific financial situations of these coal mining companies, and to gauge the risk of a possible long period of depressive coal sector, versus the huge rewards of a quick rebound. Investment is always about risks versus rewards. I can not promise you rewards without risks. If I do I will be selling snake oil. It is my opinion that gauging rewards versus risks, these are great values:
James River Coal Company [JRCC] (50.2% of float shorted)
Patriot Coal [PCX] (26.10% shorted)
Arch Coal Inc. [ACI] (26%)
Cloud Peak Energy (NYSE:CLD) (10.2%)
Alpha Natural Resources [ANR] (10.3%)
Consol Energy (NYSE:CNX) (11.3%)
Black Hills Corp. (NYSE:BKH) (7%)
Walter Energy (NYSE:WLT) (6.5%)
Westmoreland Coal (NASDAQ:WLB) (4.3%)
Peabody Energy (3%)
Nacco Industries (NYSE:NC) (3%)
Alliance Resource Partners LP (NASDAQ:ARLP) (0.9%)
Market Vectors Coal ETF (NYSEARCA:KOL)
Time is also running short for shorts to cover!
Disclosure: I am long JRCC, PCX, ACI, ANR, BTU.