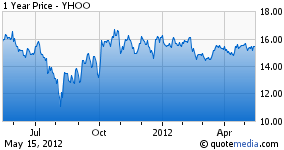 With Ross Levinsohn now at the helm of Yahoo (YHOO) and a new board in place, the real question is what can he do to put Yahoo back on the map. Yahoo needs a differentiated strategy and an approach that protects it from the emerging web that is led by the Google (NASDAQ:GOOG), Facebook (NASDAQ:FB) and Twitter traffic fire-hoses. It needs to stand for something unique and engaging. In addition, Yahoo needs to become a place that talent wants to go to and that leading innovative companies want to be acquired by.
With the this latest CEO change, Mark Mahaney at Citi calls it "yet another unfortunate set of developments for YHOO." Henry Blodget stated that resume-gate was the best thing to happen to Yahoo because now it can hit the reset button and focus on what it is really good at: digital media. Broadly, I agree with Henry. But what does that mean and what can Yahoo do to win at digital media? Below is a four-step plan for Yahoo.
1. Digital media is not traditional media. This may sound obvious but it is not. Web content and, increasingly, mobile content is consumed differently than traditional media. It is a different experience in many ways from the media, to length of experience to the creation method. Generically, Yahoo should return to its roots. Remember when Yahoo was a human curated index of the web. Well, now, Yahoo should embrace curation (human and machine) and become the curated media center of the web. There is so much information and entertainment out there that we need curators and curated experiences. Yahoo should do that beyond the home page. Everything from news to sports to finance to games to social conversations should be curated with a strong emphasis on quality. In a great blog post today that explains his new investment in Quora, Josh Hannah of Matrix Partners points out that high quality content is what makes Quora so special. From my own board experience, I would say the same about Seeking Alpha, where both the core content and user generated content are quality controlled, creating a great user experience. Yahoo should be a mix of proprietary short form text, image, audio and video content and content curated from around the web and it should be very high quality much like the original Yahoo index.
2. Yahoo must focus on the other two screens. Mobile and the Living Room Television are becoming increasingly important channels for content consumption. Through curation and distribution, Yahoo needs to enable and create unique digital media experiences for mobile and television. These are different than the web. This also means making a big technology push in HTML5 to create more cross platform content. By creating 3 screen experiences (yes. the same experiences should track me and engage me across 3 screens) Yahoo can differentiate itself from web centric Google and mobile heavyweights Twitter and Facebook.
3. Yahoo needs to own a browser and get out of communication. Being the window behind the browser is a dangerous spot. Browsers are actually the home screen of the Internet because they set the default search provider, the default home screen and define the browsing experience. They also provide direct links to content from the browser itself. Google has taken the browser world by storm with Chrome and as such has helped fend off Bing's inherent advantage from being the default search provider on Internet Explorer. It has also made the Chrome appstore a business and a destination for developers. Apple (NASDAQ:AAPL), by virtue of owning a desktop, a browser and a mobile top (and iTunes which is a browser) has made apps the focus of the developer universe and made itself kingmaker of mobile search. Microsoft has maintained user traffic to MSN (a pretty lousy experience) because of IE. If Yahoo does not develop or buy a browser, they are at risk of being disintermediated or rendered irrelevant by the other browser providers. The Yahoo browser should be unique. It should lead and bleed into the curated content experience. If Chrome is about search and apps, IE is about Bing and MSN and Firefox about extensions and developer community, then Yahoo's browser should be about content creators (Media companies) and content curation. A browser tuned for content consumption and creation would look different than the current crop of browsers but I will leave that to your imagination.
While they are getting into the browser business as both an offensive and a defensive move, Yahoo should get out of the communications business. Email and Messenger are being eaten by Gmail and Facebook at a rapid rate and the low-monetization page views they provide do not jive with a high quality digital media experience. I do not know the internal numbers for traffic feeding to other Yahoo properties but I bet it is pretty low at least on quality and level of monetization. These products can be sold with their accounts and a business development deal both to raise cash and to get traffic referrals if need be. Frankly, I think a cleaner break would be better so Yahoo can focus on quality and what it can be best at.
4. Yahoo needs to turn the tide on "talent." Digital media is still digital which means it cannot live on content alone. It needs engineering talent in areas such as mobile, automated content creation, algorithms, search optimization and HTML5 per above. Yahoo needs to find great engineering talent that can bring Yahoo into 2012 and beyond. This talent needs to live the social web, curated content, user generated quality content and other areas that do not seem to be Yahoo's forte. In Silicon Valley Yahoo is competing for this talent with Facebook, Google, LinkedIn, Twitter, Quora, Square ... you get the point. This leaves Yahoo two options: The first option is to overpay for a high quality and super innovative start up in Silicon Valley. They will then need to lock down the founders and engineers with platinum and gold-plated handcuffs and hope that they recruit more talent into Yahoo. Yahoo's other alternative is to look to Russia, The Ukraine, Israel or India and see if they can compete more effectively there for top flight talent. Apple's (AAPL) acquisition of Israeli start up Anobit is instructive in this regard. Apple bought Anobit for its flash memory and semiconductor talent and then doubled down on an Israeli R&D center, using the Apple brand to attract talent in a less competitive foreign market.
Yahoo's much talked about Asian assets are a side show. The real question is what is Yahoo and how will it matter going forward. This requires intense focus, bold and unpopular leadership moves and new thinking to own three screen digital media going forward.
Full disclosure: Benchmark is an investor in Seeking Alpha, Twitter and Quora.
Disclosure: I have no positions in any stocks mentioned, and no plans to initiate any positions within the next 72 hours.