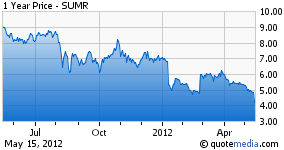 Experienced growth stock investors know to expect a few bumps and bruises along the way, but the lack of growth at Summer Infant (NASDAQ:SUMR) is starting to put the company's very status as a "growth stock" in serious question. Companies with a truly standout array of products find a way to grow in even the toughest of times, and management's go-to strategy of blaming a challenging retail environment is frankly wearing thin.
I liked this stock about four months ago, and thought aggressive investors could look past some of the issues with margins, debt, and organic growth. At this point, I am wrong, Wrong, and WRONG about this stock. Although I can still see a path to better results and returns, it would frankly take a leap of faith to buy the stock here ahead of actual improvement in organic growth.
A Little Bit Of History Repeated
Summer Infant's first quarter story reads a lot like the last quarter, but not in a good way. Revenue rose 8% to $63 million, which actually wasn't bad given the average Wall Street guesstimate of $65 million. That said, all of the growth was from acquisition and there wasn't much in management's commentary to suggest improving trends in the business.
Margins were a big disappointment. At 33.5%, not only were margins lower than in the year-ago quarter, but they were more than a point below expectations. This flowed through the rest of the reported metrics; while operating income and adjusted EBTIDA both grew (24% and 7%, respectively), they came in well below expectation.
A Reminder That Debt Matters
It's hard to say exactly what fueled the big sell-off in these shares on the day after earnings (down 25% as of this writing). Missing earnings by a wide margin is certainly a good reason for a sell-off, as is unimpressive guidance. Add to that a base of frustrated investors and you are probably also seeing some exasperated give-up selling today.
I wonder, though, if the news on the company amending its debt agreement is also playing a role. The restructuring is actually pretty favorable to Summer Infant (I didn't see any particularly punitive terms added in), but the fact that the company was in technical default is a pretty stark reminder that Summer Infant has relied heavily on debt to grow the business. With growth stagnating, it's now a more relevant question as to whether Summer Infant can outrun the tiger and grow fast enough to meet its obligations.
Tough Markets Or Undistinguished Offerings?
Summer Infant has talked about a tough retail environment before, and I'm not going to completely excoriate management for that. Shoppers are spending less and retailers like Toys R Us (a major Summer Infant retailer) are having a tougher go of it. Moreover, rivals like Mattel (NASDAQ:MAT), Hasbro (NASDAQ:HAS), and Newell Rubbermaid (NYSE:NWL) have reported pretty unspectacular performance in their relevant competitive categories.
But that's not all that's going wrong. The company has had some real issues with getting new products on the shelves on schedule, and the issues with the Prodigy line don't speak well to management's ability to execute. Along similar lines, I have to wonder if lower retailer inventory levels are a warning sign that retailers are pulling away a bit and reducing their risk exposure to the company's products. Given how critical distribution, shelf space, and in-stock position are to a company like Summer Infant, that's no idle worry.
I also feel as though I have to mention the departures of the COO and CFO over the last half-year or so. Sure, executive turnover is part of life in corporate America, but the CFO (Joseph Driscoll) left after six years to become the CFO of PC Connection (PCCC) - a slow-growth, barely-followed direct marketer of IT products. Let me put it this way - if you thought you were working for the next Hasbro or Fisher-Price, would you make the same decision?
The Bottom Line
Hell hath no fury like an analyst/writer scorned, and I'm sure a lot of my disappointment and frustration with Summer Infant is fueled by the expectations I had for this business not that long ago. And to be clear, I still believe this company can get itself together and be a good growth story - a few solid new product launches, good shelf space at a store like Target (NYSE:TGT) or Wal-Mart (NYSE:WMT), and the growth trajectory could take a more positive shape pretty quickly.
All of that said, this is a story with impressive potential fair value on one end (upwards of $7 on less than $400 million in revenue by 2017), but a lot of risk and execution challenges on the other end. Fortune favors the bold, but I have to see some signs of internal growth re-acceleration and margin leverage before I buy shares for myself. I know that means I leave potential gains on the table, and the valuation is tempting, but I suspect there's another bad quarter or two to go before the turnaround.
Disclosure: I have no positions in any stocks mentioned, and no plans to initiate any positions within the next 72 hours.