Few companies can generate buzz comparable with the euphoria radiating from beloved consumer electronics giant Apple (NASDAQ:AAPL). This industry bellwether stole the headlines in the first few months of 2012, and for good reasons to. Shares of Apple rallied 55% from the start of the year up to their most recent peak at $644 a share on 4/10/2012, as investors have been impressed, to say the least, with the company's stellar earnings results and optimistic outlook. However, this tech giant has been losing steam recently as resurfacing eurozone debt woes have paved the way for profit taking pressures across equity markets. The recent correction in Apple has lead many to wonder if the top has been set, or if the stock is merely taking a breather before its next leg-up.
With Apple falling out of headlines in recent weeks thanks to its sluggish performance, many investors and traders alike are looking for the next "hot stock" so to speak to add to their portfolios. As such, below we take a closer look at Intuitive Surgical, Inc. (NASDAQ:ISRG), an innovative medical equipment manufacturer that boasts impressive fundamentals along with robust price performance.
Inside ISRG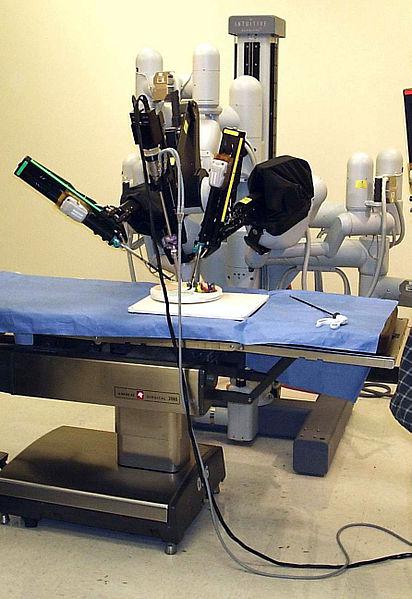 Intuitive Surgical is something of a hidden gem on Wall Street, boasting tremendous growth potential while at the same time retaining a certain degree of "safety" that is often times associated with companies in the healthcare industry. This California-based medical equipment company designs and builds robotic surgical systems, with its flagship product being the da Vinci Surgical System; this robotic system marks a major stride forward for surgical procedures all around the globe.
The da Vinci Surgical System is controlled by a surgeon from a console, which corresponds to micro-movements of instruments positioned inside the patient. Simply put, this robotic system is designed to assist doctors in facilitating complex surgical procedures using a minimally invasive approach. Da Vinci has a wide range of applications in the medical field and is commonly used for prostatectomies, cardiac valve repair, as well a host of gynecologic procedures.
Intuitive Surgical's innovation in the medical equipment field has translated into healthy profit for the company. ISRG has consistently surpassed analyst expectations for the last four quarters; in fact, the company posted a stellar EPS of $3.5 versus the expected $3.14 during its most recent quarterly report on 4/17/2012.
When it comes to fundamentals, Intuitive Surgical's balance sheet shines bright. Just like Apple, this company boasts high profit margins and rapidly growing sales; furthermore, Intuitive Surgical has an increasingly positive operating cash flow and no long-term debt. That's right, this medical equipment manufacturer boasts zero long-term debt just like tech-giant Apple. One area of concern however is the sky-high P/E ratio, which potentially makes ISRG overvalued, although this metric is often times misinterpreted as should not be used as the sole indicator for making investment decisions.
Ways To Play
From a price performance perspective, ISRG has gained upwards of 300% over the last five years and is up close to 20% year-to-date. ISRG offers lucrative growth potential comparable with Apple, however, its recent price performance may also suggest that it serves to offer valuable diversification as well. Considering the sluggish performances on Wall Street over the past month, ISRG has clinched a rather impressive 1% gain in the past four weeks, whereas shares of Apple have lost nearly 8%, showcasing the stability and relative safety offered by investments in the healthcare sector.
Aside from direct investment in the stock, investors can also utilize ETFs to gain exposure to this hot healthcare company. Unlike Apple, which accounts for 20% of total assets in a number of funds, Intuitive Surgical receives far less attention from ETFs by comparison. The Dow Jones U.S. Medical Devices Index Fund (NYSEARCA:IHI) makes the greatest allocation to ISRG, dedicating roughly 8% of its total assets to the stock, making it the third largest holding in the portfolio. ISRG also accounts for roughly 2% of total assets in a number of other Health & Biotech ETFs, including PTH, XHE, and FXH.
Disclosure: No positions at time of writing.
Disclaimer: ETF Database is not an investment advisor, and any content published by ETF Database does not constitute individual investment advice. The opinions offered herein are not personalized recommendations to buy, sell or hold securities. From time to time, issuers of exchange-traded products mentioned herein may place paid advertisements with ETF Database. All content on ETF Database is produced independently of any advertising relationships.