New Gold (NYSEMKT:NGD) is an intermediate gold mining company. The company has a portfolio of three producing assets and three significant development projects. New Gold's most immediate development project, New Afton, is scheduled to begin production in mid-2012, and together with the Mesquite Mine in the United States, the Cerro San Pedro Mine in Mexico and Peak Gold Mines in Australia, the company is forecasting between 405,000 and 445,000 ounces of gold production in 2012. In addition, New Gold owns 30% of the world-class El Morro project located in Chile and 100% of the exciting Blackwater project in Canada.
Click to enlarge.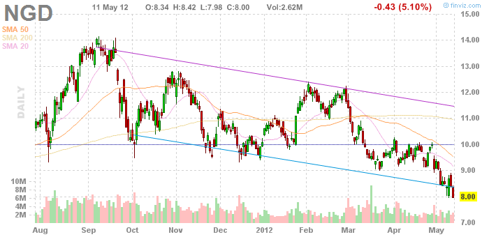 I see at least 5 reasons to buy the stock currently.
1. Strong financials and outlook for second half of 2012
The company forecasts gold production of 405,000 to 445,000 ounces at a total cash cost per ounce sold, net of by-product sales, of $410 to $430 per ounce for the full year 2012.
Gold production is anticipated to be steady in the first two quarters of the year and then move higher with the benefit of production from New Afton in the second half of 2012. The first quarter was scheduled to be the highest total cash cost quarter of the year with future quarters benefiting from Cerro San Pedro and Peak moving into higher grade areas of their respective ore bodies, Peak Mines selling down its concentrate inventory and New Afton's commercial production start. As both gold production and total cash cost bettered the company's first quarter forecasts, New Gold is pleased that 2012 is off to such a strong start.
The company finished the first quarter with gold production of 99,274 ounces at a total cash cost per ounce sold, net of by-product sales, of $543 per ounce. The combination of this gold production, well below industry average cash costs and the continued strength of the gold price led New Gold to another strong quarter of financial results. During the quarter, earnings from mine operations were $78 million, net earnings increased 36% to $34 million, or $0.07 per share, and adjusted net earnings were $44 million, or $0.10 per share.
2. Pierre Lassonde is accumulating shares
During the interview at King World News on May 6th, 2012, Pierre told Eric King that he has been accumulating shares but did not specify what company. During the interview he discussed about his three companies, Franco-Nevada (NYSE:FNV), Olivut (OTCPK:OLVRF) and New Gold.
One can see from Canaccord Precious Metals Weekly that there has been insider buys in New Gold in 2012 for CAD 3 Million.
3. New Afton Remains on Track for Targeted June 2012 Production Start
New Gold's most immediate development project, New Afton remains on schedule with milling starting in June 2012 and the ramp-up to commercial production expected to take two months, resulting in an August 2012 commercial production start.
As New Afton is now less than two months from its production start, the company is pleased to report that the final stages of development are coming together as planned. The underground operations are up and running and the drawbell development, mining rate and stockpiling of ore on surface are all meeting or exceeding their respective monthly targets. At the same time, the mill tie-in is in its final stages with commissioning tests of various components already underway.
4. Low cash costs
The company's cash costs have steadily declined since its three-way merger in mid-2008. The decrease in costs has been a result of increased gold production as Mesquite and Cerro San Pedro have hit their stride after starting production in 2008; increased silver and copper production at Cerro San Pedro and the Peak Mines, respectively; as well as increased prices of silver and copper. Looking forward to 2012, the trend of declining costs is expected to continue as the start-up of the low-cost New Afton mine should help move the company's costs lower, to the $410 to $430 per ounce range - well below the industry average. Similar to the anticipated increase in gold production from a full year of operations at New Afton in 2013, costs in 2013 are expected to decline further, to below $300 per ounce at today's silver and copper prices.
Assumptions used in the 2012 guidance include gold, silver and copper prices of $1,600 per ounce, $30.00 per ounce and $3.50 per pound, respectively, and Canadian dollar, Australian dollar and Mexican peso exchange rates of $1.00, $1.00 and $13.00 to the U.S. dollar, respectively. The diesel price assumed for 2012 is $3.30 per gallon, which reflects recent prices.
Based on the above gold and copper price assumptions and the estimated gold and copper sales at New Afton, the co-product cost ranges for New Afton are forecast to be $630 to $650 per ounce of gold and $1.35 to $1.45 per pound of copper, respectively. Both the by-product and co-product costs at New Afton are expected to reduce significantly in 2013 and beyond as the mine reaches full design capacity.
5. El Morro and Blackwater expected to more than double New Gold's gold production by 2017 at low cost
Blackwater project, British Columbia, Canada
In June 2011, New Gold closed the acquisition of Richfield and its flagship Blackwater project. New Gold added to its property holding with the subsequent acquisitions of silver quest and geo minerals in December, 2011. Blackwater is a bulk-tonnage gold project located approximately 160 kilometres southwest of Prince George, a city of approximately 80,000, in central British Columbia, Canada, where New Gold already has an established presence through the continued development of its New Afton project. The project area covers 670km2 and is located near infrastructure. Blackwater has a mineral resource estimate of 5.4 million ounces of indicated gold resources and an additional 1.9 million ounces of inferred gold resources. As part of the Silver Quest acquisition, New Gold also acquired a 100% interest in the Capoose property, located adjacent to Blackwater, with an established gold and silver mineral resource. The Capoose property has an estimated mineral resource separate from the Blackwater deposit. The Capoose indicated mineral resource is 400,000 ounces of gold and 26.6 million ounces of silver. the inferred resource is 400,000 ounces of gold and 29.5 million ounces of silver.
El Morro project, Atacama Region, Chile
El Morro is an advanced-stage gold-copper development project located in north-central Chile, Atacama region, approximately 80 kilometres east of the city of Vallenar. The El Morro project is a world-class project with low expected cash costs and great organic growth potential in what the company believes to be one of the most favorable mining jurisdictions in the world. The board of Goldcorp (NYSE:GG), New Gold's 70% partner, approved commencement of construction of El Morro. Attributable to New Gold's 30% share of the project are proven and probable gold reserves of 2.5 million ounces, proven and probable copper reserves of 1.9 billion pounds, and 3.0 million ounces and 2.2 billion pounds of gold and copper measured and indicated resources, respectively, inclusive of reserves.
Conclusion
I believe the company is a buy at current levels. I believe gold is still in a secular bull market and I would not bet against the veterans, like Pierre Lassonde.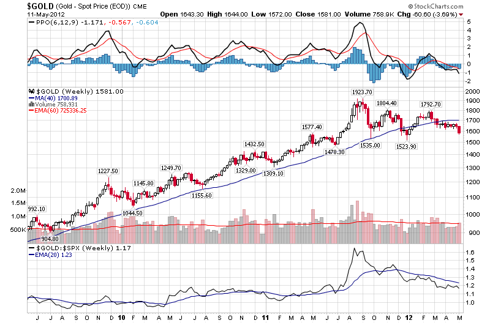 Disclosure: I am long NGD, OTCPK:OLVRF.