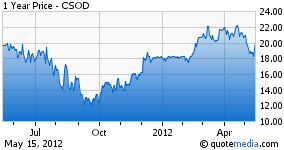 Cornerstone OnDemand (NASDAQ:CSOD), a cloud based provider of human capital management software reported a huge upside beat to q1 bookings estimates. CSOD reported bookings of +67% vs street expectations of +40%, and showed 52% revenue growth yoy. One of the most bullish calls I have listened to in a while, I would encourage everyone to read the transcript. A few key highlights:
CSOD has 8mm users, making it one of the top cloud vendors out there

No slowdown in Europe

Financial vertical remains strong

Recent consolidation in the space playing to their favor

Pricing actually improving

Huge opportunity for CSOD to penetrate the mid-market, especially given recent disruption from Oracle (NYSE:ORCL) and Sap (NYSE:SAP)

Seeing strength in alliance pipeline, announced extension of ADP partnership until 2017

New recruiting module very well received, cutting edge tied to social recruiting (Facebook, LinkedIn), expect traction to grow throughout the year

Total market opportunity is approx. 400mm seats; CSOD has 8mm, so lots of runway
Now a look at the numbers to prove this stock is now cheap on 2013 estimates:
CSOD raised 2012 rev guidance from $112-114mm to $114.5-116.5mm (53% growth yoy). Given a robust start to the year in terms of bookings, I am modeling $118-120mm in 2012 revenues. CSOD should easily average 50% bookings growth in 2012 given all the vectors of growth opportunities in front of them as well as the recent consolidation in the space. Based on a 50% bookings number for this year (they just did 67% in q1 alone), and basing off my $118-120mm estimate for this year, CSOD should easily track toward $170mm in 2013 revenues (with likely upside to $175mm). With the stock closing before earnings were announced at $18.31 and an enterprise value of $835mm (market cap of $915mm less $80mm in cash), CSOD is trading at 4.9x 2013 revenues (using $170mm). Even using the current street estimates of $160mm for 2013 (which should see those estimates rise tomorrow), CSOD is trading at 5.2x those estimates.
My 2014 revenue estimate is $240mm. Based on that conservative estimate, the stock is trading at 3.47x 2014! (Recall that SFSF recently got bought for 9x revenues by SAP). The beauty of the CSOD story is that their long-term margin structure is off the charts. On their guidance of 115mm of revenues for 2012 the company guided to $7mm in free cash flow. The cash flow will begin to explode in 2013 and beyond. I think $20mm and $50mm are very reasonable over the next 2 years. So in 2014 CSOD could be generating a $1 a share in free cash flow; typical cloud vendors trade at 30x cash flow but given CSOD's superior long-term margin structure (I think they can reach a 30%+ operating margin) as well as the big runway this space is exhibiting with only 2 real competitors it wouldn't surprise me to see CSOD get an even bigger multiple. If the likes of Microsoft (NASDAQ:MSFT), HP (NYSE:HPQ), Dell (NASDAQ:DELL), etc., want to get into this space, CSOD is literally the only one left. Given CSOD's leadership position, strong growth profile, best in class long-term margin structure, they would have to pay big time.
Disclosure: I am long CSOD.