I've been watching the financial sector closely for some time and I've come to the conclusion that it may be time to pull the trigger. Valuations are as good as it is going to get. The best time to get in is when a sector is about to turn-around. The trick is to do this without trying to catch a falling knife.
Financials have been beaten down due to the sub-prime mess. You have to ask yourself if it is over. It is difficult to time a bottom, but you have to admit financials have fallen quite far this year. The question isn't if it is over, but how close.
4 Financial Picks

Bank of America (NYSE:BAC)
Let's look at the first stock - Bank of America. I expect BAC to trade in the $41 to $46 range for the next 2-3 months. This would be a good opportunity to trade the stock in this range. Right now there is low trading volume due to the holidays, but come January we should see some consolidation around the $42 mark. If it breaks out of the range it should easily hit $50, but I don't expect that to occur until Q2 '08. In the meantime you'll get paid a hefty 6.2% dividend on today's price.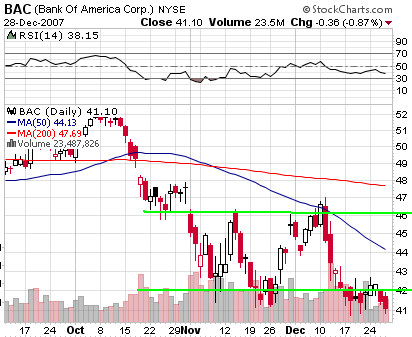 First Horizon (NYSE:FHN)
If you're brave enough, you'll get paid with a 9.8% dividend (unless they have to cut it like Citi did). I wouldn't be a buyer right now, but I would buy a Feb $17.50 put at around $1.45. I would get out in the next 2-3 weeks with a stop at $1.25. Come February you can reassess see if it is worth opening a long position.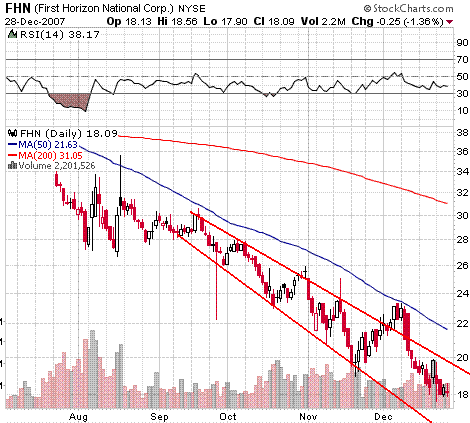 Lehman Brothers (LEH)
Lehman Brothers' chart is much more comforting. It experienced tremendous drops with great volatility. The volatility seems to be decreasing and the stock is consolidating nicely to around $64. This stock is down from a 1 year high of near $86, but should see the $70's again come q2 '08. All the bad news has been priced in now.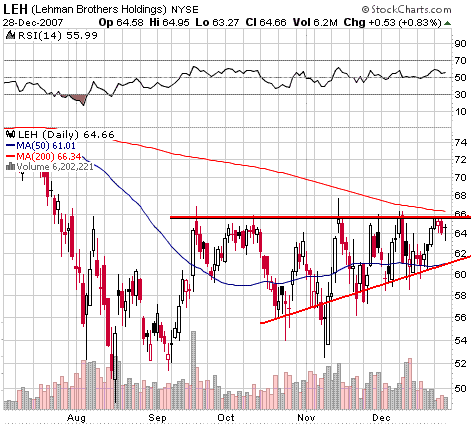 Financials Select Spider (NYSEARCA:XLF)
If you don't have the patience to watch the above 3 stocks, then XLF is for you. This ETF tracks the financial sector. As expected, it has been beaten down as well. Its downward movement has changed course. The slope of descent is not as great and it looks to be forming a handle at $29. I'll be watching it. If it breaks $28 than all bets are off. If it stays above $28 until the end of January, I'll be picking up some XLF.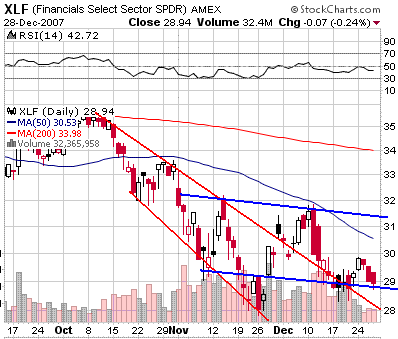 Disclosure: none