Our January stock selection is DivX (DIVX), a San Diego-based video codec software platform provider.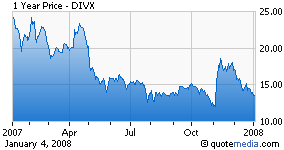 A much heralded IPO at the time of its 2006 offering, the company has plunged to new lows on worries over declining DVD player sales, management turnover and uncertainty regarding the future of its video sharing community, Stage6. Throughout this turmoil, DivX has managed to steadily grow revenue and gross margins while posting record net income in 3Q07.
We believe disappointment that DivX has thus far been unable to spinoff Stage6 has become an overhang on the stock. We see tremendous opportunity for DivX to expand its platform into next generation digital devices and, fully discounting Stage6, we believe these shares are attractively valued at current prices.
Business
Since its inception in 2000, DivX has risen to become an important standard in video compression technology. The company's codec (compression-decompression) allows users to easily compress and burn movies and videos sourced from the Internet, digital cameras, mobile phones and other devices directly onto a DVD. This DVD can be played on any DivX certified electronic device. While the DivX codec can be downloaded free over the Internet, electronics makers pay the company a license fee to become certified to support DivX encoded media. With 220 million downloaded codecs since January 2003, DivX is a highly sought after standard by endusers thus providing a compelling factor for OEMs to gain certification. DivX also operates the Stage6 video sharing community, an Internet site similar to YouTube. We believe Stage6 offers a better quality viewing experience but sorely lacks the brand recognition of its much larger rival.
Opportunity
The share price of DivX has fallen sharply since reaching its post IPO euphoria high of $31.89.
We believe two main factors are presently accounting for this weakness:
First, the company's huge success with DVD player OEMs has come with a cost. An estimated 78% of all U.S. households own a DVD player and this saturation led to a 15% industry decline in DVD player sales in 2007.
Second, the company announced in July 2007 that it would spin-out Stage6 into a separate company by year-end led by then CEO Jordan Greenhall. The year closed without a spin-out and Mr. Greenhall abruptly left in December.
We believe these factors have created a buying opportunity for investors due to a large decline in share price.
While the decline in DVD player sales is troubling, the company has significantly increased its penetration of the overall DVD market. Its DVD penetration now stands at 37% worldwide, up from 25% in 2006. This share increase has more than offset category declines.
Regarding Stage6, the company has engaged an investment banker to assist in the evaluation of alternatives for the company. At the end of October, Stage6 generated 11.7 unique visitors versus 34 million unique visitors for YouTube at the time it was acquired by Google (NASDAQ:GOOG) for $1.6 billion (YouTube currently has 63 million unique visitors). Though DivX announced it would spend $10 million in the second half of 2007 to fund Stage6, we believe there is value here.
Reasons To Buy Divx
We believe DivX shares are compelling for three reasons:
The stock is cheap on both a forward PE and enterprise value multiple
Significant adoption of new digital media, particularly in mobile, provides a major growth opportunity
We see the separation of Stage6 being consummated prior to the end of the first quarter of 2008.
DivX is currently trading with a forward PE of 18.5x on 2008 EPS estimates of $0.73. Based on its current growth trajectory we believe there could be significant multiple expansion. The successful jettison of Stage6 would also provide a major lift to cash flow.
The company signed a key agreement with Qualcomm (NASDAQ:QCOM) in Q3 to incorporate DivX opening up a potentially huge market in mobile handsets, a market 7x larger than DVD. The company is also hoping its new DivX Connected, a service to access content from PCs or the Internet, will ultimately become the operating system of the digital home. And, importantly, the recent acquisition of MainConcept adds a key competitive video codec, H.264, to its portfolio.
Stage6 remains an issue DivX must contend with expeditiously. Our contacts at the company have confirmed that a major announcement related to Stage6 will likely come before the end of March 2008. Whether a successful spin or ultimate shutdown of the unit (highly unlikely) we believe this will be an important catalyst that will move the stock.