Buy Stocks You Know
For years some investors have promoted the "buy what you know," philosophy. Though some agree and others disagree, it is an important discussion for both experienced and inexperienced investors. Because a popular product does not always beget an effectively run business; whose shares will gain steadily. It is up for you to decide whether the stock is as worthy as the product.
People go to the store and buy 'what' (products & services) they know. That does not necessarily translate to the company's stock. You must get to know the stock, then decide if it is a good investment. Activision Blizzard (NASDAQ:ATVI) is a prime example of a stock younger investors buy because they know their products.
Activision is a Hold in my book and is a buy under $12.10 a share; ideally the stock should not exceed 1% of an entire balanced portfolio. One way to raise the overall percentage is to use an Activision Centered Strategy, detailed below.
Activision Blizzard
Some gamers who like Call of Duty and Activision's popular video games, also adore the Activision stock. As you will see there are some great aspects to Activision Blizzard's business; though it is important investors be diversified.
My analysis shows that Activision Blizzard could benefit from a better fiscal policy; and the stock could be affected by the direction of the European economy. The dividend yield is only 1.4% and the stock could be restrained from raising the dividend in the future.
In order to analyze Activision Blizzard (or any company properly) let's look at revenue and income: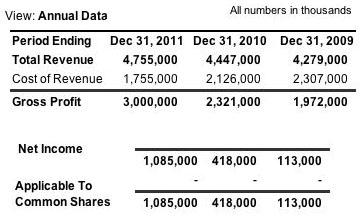 Source: Yahoo! Finance Income Statement
Cost of revenue declined and gross profit rose, as did net income applicable to common shares. That is really great to see and is rare these days. In effect it cost Activision Blizzard less to make more, a lot more; over twice the previous years net income.
Cost of Management
The top three executives of Activision make more than the top five executives at Kellogg (NYSE:K) and Coca-Cola (NYSE:KO).
| | | | | |
| --- | --- | --- | --- | --- |
| | Market Cap. | Executives | Total Employees | Total Exec. Pay |
| Activision | $14.16B | CEO, COO, CEO of Blizzard make $18.86 million | 7,300 | 3 executives make $18.86M combined |
| Kellogg | $18.23B | CEO, CFO, Sr. VP International, Sr. VP North America, General Counsel | 30,700 | 5 executives make $7.14 million dollars combined. |
| Coca-Cola | $174B | CEO, CFO, COO Latin America, COO Eurasia, CEO of Refreshments | 146,200 | 5 executives make $18.52M combined |
So far Activision's management has raised income and lowered cost of revenue, this is a good sign. The management is being paid top dollar, and are earning their keep. One consideration however is the proportion of the executive pay to the dividend paid to the largest shareholder, relative to a potential constraint on dividend growth.
So the argument for Activision stock is there is value in the merchandise over the amount gained by the executives and the largest owner. The argument against (and for diversification into related businesses) is the company needs to continue the rate of growth -- look at the increase in net income from 400 million dollars to over 1 billion dollars. This would be very difficult to repeat in the near future.
I still believe however Activision is a long term buy because of such stellar performance. Because not only are they well known for 'what' they make; their stock gives exposure to a very unique and profitable business: video game creation.
Vivendi (OTCPK:VIVHY)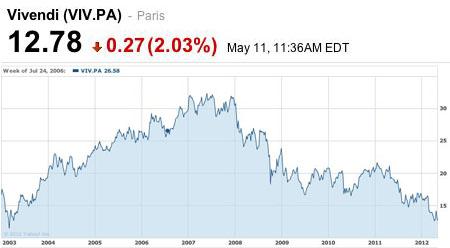 (Yahoo! Finance)
In 2007 Paris based Vivendi merged their game company with Activision. Keep in mind the European economy has struggled recently and Vivendi's chart above shows four years of prolonged weakness.
Vivendi owns 683 million shares and generates 123 million dollars a year in dividends from Activision stock. The top ten institutional holders, by comparison own 174,514,285 shares, they make over 31 million in dividends. Vivendi sold 35 million shares of Activision for $12.05 a share in November 2011.
If Activision goes up 20% to $15.18 in order to keep the yield at 1.4% the dividend must be raised to 0.21 from 0.18. So Vivendi would make $20.5 million more ($143 million total in dividends) and the top ten institutional holders would make $36.6 million total (5 million more.) So the management must continue to lower cost and raise income; because three employees make enough to raise the dividend slightly.
There are both strong points and critical points to any stock. The revenue and income are strong incentives to study the stock, so let's look at one potential layered position.
Activision Centered Strategy
Please check out my article, "Strategic Investing In Equity And Debt (Target 2042)," to see how this single company centered strategy compares to my overall core strategy. The Activision Centered Strategy could complement a long term portfolio or income strategy well, and reduce risk.
Let's work with an amount comfortable for both experienced and inexperienced investors. The total investment is $2,104 (plus $50 commissions.) To achieve balance let's include a US Treasury and Guggenheim Bulletshares 2020 Corporate Bond Fund ETF (NYSEARCA:BSCK).
| | | | |
| --- | --- | --- | --- |
| Stocks | Price | Shares | Dividend |
| Activision | 12.64 | 20 | 0.18 |
| Vivendi | 16.70 | 10 | |
| PepsiCo (NYSE:PEP) | 67.15 | 6 | 2.15 |
| Wal-Mart (NYSE:WMT) | 59.07 | 6 | 1.59 |
| General Electric (NYSE:GE) | 18.60 | 10 | 0.68 |
| Exchange Traded Fund | | | |
| Guggenheim Bulletshares 2020 Corp. Bond Fund | 20.37 | 12 | 0.54 |
| Bond | | | |
| US Treasury SEC STRIPPED INT PMT 0.00000% 02/15/2035 | 49.65 | 1 | 3.1% |
Think of the gamers waiting for the newest Activision video game. Many customers watched PepsiCo's newest commercial featuring Call of Duty and go to Wal-Mart to get the game (though newer games are being made available online, many customers still pick and choose from the shelves.) General Electric helps to anchor the equity positions with a 3.6% dividend, as well GE is recognized by Activision's Call of Duty Endowment for employing thousands of veterans.
Let Your Shares Prove Themselves
"Buy what you know," is a good start, though 'what' you are really buying is the stock of course. Stocks will move up if the market rises and fall if the overall market declines. I believe there are constraints on Activision in the short term, however in the long term exposure to Activision Blizzard is worth considering.
Next year reevaluate whether to accumulate more of any component of the strategy, and you will not be stuck just in case Activision stock is not as fast paced as their video games. Also you will be poised to benefit if the company does keep up the pace.
For additional Seeking Alpha analysis on Activision check out "The Buying Opportunity For Activision Blizzard Shares Is Now" & a counter opinion "Why I Left My Cheerleader Pom-Poms At The Door And Sold Activision."
Disclosure: I am long ATVI, K, KO, PEP, WMT, BSCK, GE, OTCPK:VIVHY.