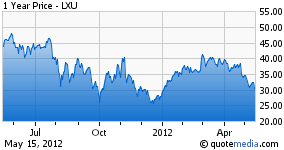 LSB Industries (NYSE:LXU) was supposed to present at the BMO Farm to Market agricultural conference in NYC today.
Instead, they cancelled the presentation, because its El Dorado, Arkansas, Chemical plant exploded. This is a report from a local news service (Arklamiss):
"Greg Withrow, El Dorado Chemical Plant Manager, says the explosion happened after a high pressure reactor failed and caused a sulfur fire.

The fire has been since put out and crews are working to secure the area. Fire crews from the El Dorado and Norphlet Fire Departments responded to the scene.

Employees were on site during the explosion. Three workers were taken to the hospital for high blood pressure and shock.

The plant that exploded produces nitric acid used for fertilizer and it could be six to 12 months before its back open again.

Union County law enforcement is still blocking off the road leading up to the entrance of the plant.

Minor injuries are being reported after an explosion and fire at El Dorado Chemical. It happened around 4:00 Tuesday morning.

Residents in the area said the explosion was so intense it knocked pictures off her wall.

Officials are saying no chemicals were released from the explosion, and no evacuations were needed."
According to the LSB website,
"The company is the second largest supplier of ammonium nitrate in the South Central United States and is the largest domestic merchant/supplier of concentrated nitric acid in the United States. The company is also a key manufacturer and supplier of blasting agents and commercial mining products.

The El Dorado Chemical Plant is located in El Dorado, Arkansas. It is freight logical to key markets for its products which include nitric acid in concentrations up to 98%, sulfuric acid, ammonium nitrate solution, and both high and low density ammonium nitrate prills."
The stock was halted up until a few minutes ago, and was down about $6.26 or 19.5% at $26.11 on 855,000 shares traded.
(Click to enlarge)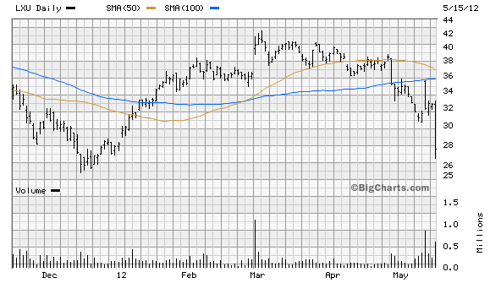 This is is a case study of how agricultural nitrogen companies stocks can react when there is an explosion.
LSB has three fertilizer plants, one in Oklahoma, Arkansas and Alabama, plus a chemical plant at Baytown, Texas, which provides feedstock to Bayer Ag.
The El Dorado is the largest fertilizer plant of the company, producing 470,000 tons of nitrogen based products per year, including high purity ammonium nitrate, UAN and nitric acid for industrial purposes.
Company-wide, LSB Industries only produced 421,000 tons of UAN and 157,000 tons of AN in 2011, so it is a small regional player in the Southeast United States. Still, there will be a regional shortage of nitric acid and ammonium nitrate products as it sounds like the plant will be down for several months.
The LSB press release issued an hour or so ago states that the Arkansas facility "suffered significant damage to its DSN concentrated nitric acid plant and surrounding equipment early this morning when a reactor at that plant exploded."
According to its materials statement, the El Dorado Chemical Company produces high quality virgin white fuming, concentrated (>98%) nitric acid (HNO3) via the Uhde or direct strength nitric (DSN) process. Unlike NACSAC units that use sulfuric acid to concentrate weak nitric acid, the DSN process oxidizes NO2 and weak HNO3 under high pressures to produce concentrated nitric acid. Consequently, CNA produced from the DSN process does not contain the high sulfate concentrations that are inherent in CNA produced from a NACSAC process.
At least three questions are raised by this recent accident in my mind:
Do single plant company investors really know how volatile and explosive nitrate compounds are? I think investors in MLPs such as CVR Partners (NYSE:UAN) and Rentech (NYSE:RNF) really don't take in to account the well documented chance of explosion these plants have. CVR experienced a UAN reactor explosion September 30, 2010, for example. Terra Industries' ammonium nitrate plant at Port Neal, Iowa, was devastated in December 1994, with significant loss of life.
Who supplies the ammonia to the El Dorado, Arkansas, plant? The facility upgrades ammonia, but doesn't produce it. They buy 200,000 tons per year via pipeline from the Gulf. My guess is Koch Industries or another Gulf producer will have more 200K ammonia than expected temporarily, causing a short-term surplus in the Gulf area.
CF Industries has said they are not the supplier of the ammonia. But CF's Yazoo City, Miss., ammonium nitrate facility would be the nearest beneficiary from any local shortfall in this product.
Finally, LSB says they have insurance for the plant explosion replacement cost, less a $1 million deductible. The market has lopped off $7 times 22.3 million or $156 million off the market cap of LSB Industries so far.
I think the stock is a buy here, with the insurance proceeds covering the reconstruction of the nitric acid plant. There appears to have been no environmental release, with a long EPA action as a result.
The lost sales business during the busy growing season will no doubt cause a significant operating loss for the chemical segment next quarter. But LSB has business interruption insurance that kicks in after 30 days.
Disclosure: I am long LXU.