This article discusses the recent trading loss at JPMorgan (NYSE:JPM), updates the bank valuations and the share price forecast. The $2B trading loss is factored into our Q2 2012 forecast.
Net sales year-over-year for the big four banks declined. This is at least the second consecutive quarter where year-over-year revenue declined. Revenue declined in the fourth quarter and the first quarter compared to the year-ago quarters. Combined revenue has been between roughly $69 billion and $84 billion. First quarter revenue was reported at roughly $79 billion.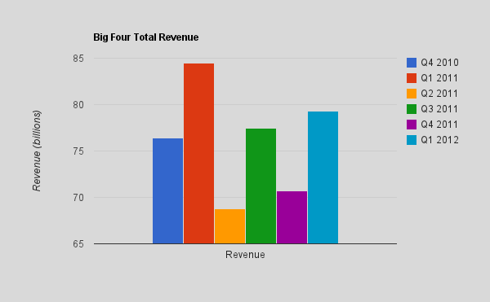 Recently, JP Morgan reported a trading loss of US$2 billion. The forecast for Q2 2012 book value of equity is now $188.1 billion compared with $189.7 in the first quarter.
Share price has declined some and so has the price-sales ratio, although, the enterprise is still overvalued.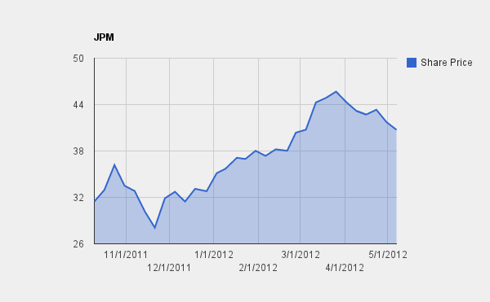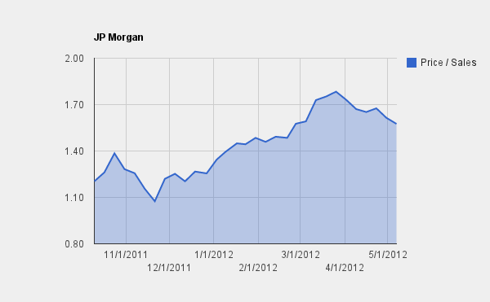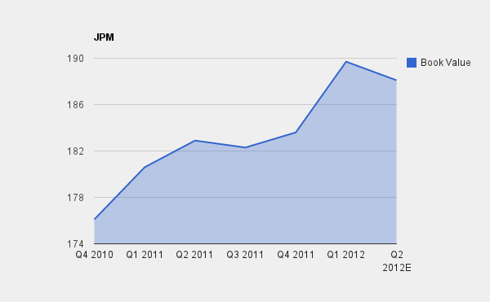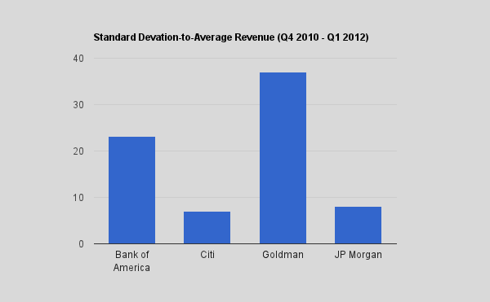 Between Q4 2010 and Q1 2012, JPMorgan and Citigroup's (NYSE:C) revenue was the most stable, while Goldman Sachs (NYSE:GS) had the least stable revenue.
The big four investment banks have been increasing in share price while net sales per share has declined. Price-to-Sales, a key valuation metric, has increased substantially, without the investment banks bringing in more money through the doors. The fundamentals and share prices are diverging, meaning shares prices will fall unless the fundamentals improve.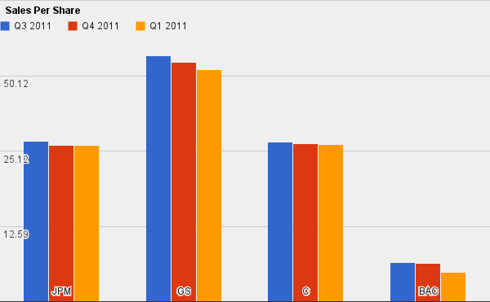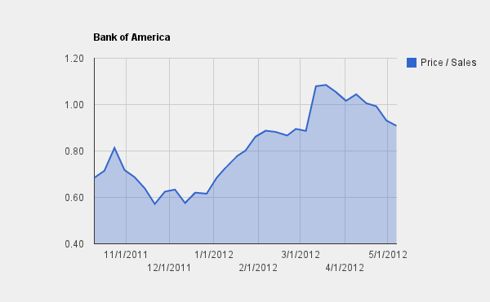 Bank of America (NYSE:BAC) is roughly 20 percent cheaper than it was earlier this year on a price-sales basis. Although, the firm is still trading well above end of 2011 levels.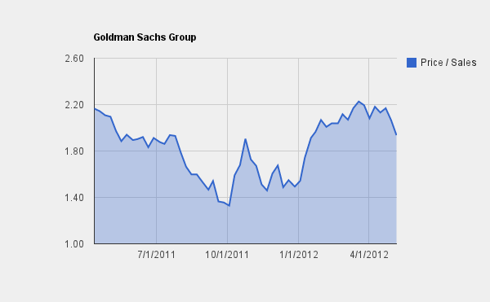 The last two months Goldman Sachs Group has become less expensive on a price-sales basis. However, the price-sales ratio is well above the 1.4 level of October 2011.
The share price of Citigroup has declined relative to sales to a point that could be considered fair value. Although, the share price of Citigroup will probably continue to decline.
Conclusion
Financials typically lead the business cycle. The service sector has weakened in recent months as the price-to-sales ratio has declined. The banks are coming off of a peak in valuation and investors should be positioned short JPMorgan, Goldman Sachs, Citigroup and Bank of America.
Disclosure: I have no positions in any stocks mentioned, and no plans to initiate any positions within the next 72 hours.