Citigroup's Tom Fitzpatrick asserted that the U.S. market is emulating the pattern of a 1970s-style bear. The company's chief technical analyst suggested that stocks would likely fall 20% or more on economic factors like skyrocketing oil, declining economic activity, rising unemployment and a collapse in housing.
There are quite a few problems with Mr. Fitzpatrick's assertion. Unemployment is woefully high due to a low participation rate, but unemployment has held steady. Oil prices are high, yet they've been falling recently. Gasoline prices have dropped 16 cents in May.
Declining economic activity? Manufacturing and service sector activity are expanding, even if that expansion is tepid. Housing collapse? That one already happened.
Don't get me wrong. I'm not playing devil's advocate for the game. I've been warning folks for months about Europe's potential to drag risk assets into the proverbial toilet. Review:
1. March 16. Relatively Tight Credit Weighing On Overseas Stock ETFs
2. April 18. 5 Influential ETFs Hold Back U.S. And International Stocks
What I am saying is that fewer and fewer pundits are willing to say that U.S. stocks can avoid buckling under the weight of Europe's economic troubles. In fact, business writers are producing features that read like obituaries.
So are U.S. stocks already dead? In truth, U.S. large caps have only corrected 6.5%. And the three-month lows for the S&P 500 haven't infected each and every sector.
Some Sectors Have Been More Resillient Than Others
Approx 3-Month %
Real Estate
iShares DJ Home Construction (NYSEARCA:ITB)
9.6%
SPDR DJ REIT (NYSEARCA:RWR)
4.8%
Vanguard REIT (NYSEARCA:VNQ)
4.5%
Pharma/Healthcare
First Trust AMEX Biotech (NYSEARCA:FBT)
9.2%
iShares NASDAQ Biotechnology (NASDAQ:IBB)
4.1%
SPDR Pharmaceuticals (NYSEARCA:XPH)
3.8%
Consumer
Guggenheim Equal Weight Staples (NYSEARCA:RHS)
3.4%
SPDR Select Sector Consumer Staples (NYSEARCA:XLP)
3.4%
SPDR Select Consumer Discretionary (NYSEARCA:XLY)
2.4%
S&P 500 SPDR Trust (NYSEARCA:SPY)
-1.0%
My guidance to readers resembles what I am actually doing for my Pacific Park Financial clients. In the equity arena, we have little to no exposure to foreign equities at this time. Meanwhile, we are holding domestic ETFs, including dividend ETFs, consumer ETFs and pharma ETFs.
I have explained the rationale with charts. The chart for Vanguard All World excl U.S. (NYSEARCA:VEU) clearly demonstrates a downtrend, while the chart for Vanguard Total U.S. Market (NYSEARCA:VTI) still shows an uptrend.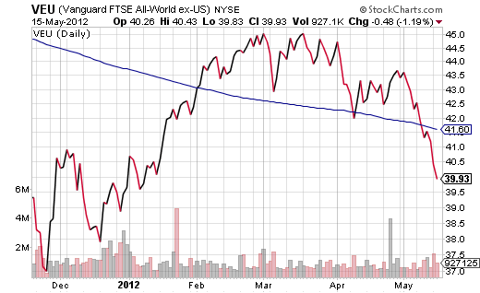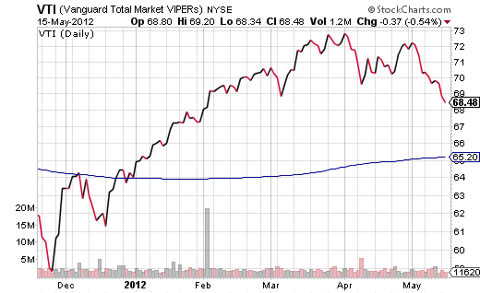 In essence, it is more sensible to let unemotional stop-limit orders or trend identification determine when to sell U.S. stock positions. Assets like PowerShares S&P 500 Low Volatility (NYSEARCA:SPLV), SPDR Select Consumer Staples (XLP) and Vanguard High Yield (NYSEARCA:VYM) simply haven't "stopped out" or fallen below moving average support.
Disclosure: Gary Gordon, MS, CFP is the president of Pacific Park Financial, Inc., a Registered Investment Adviser with the SEC. Gary Gordon, Pacific Park Financial, Inc, and/or its clients may hold positions in the ETFs, mutual funds, and/or any investment asset mentioned above. The commentary does not constitute individualized investment advice. The opinions offered herein are not personalized recommendations to buy, sell or hold securities. At times, issuers of exchange-traded products compensate Pacific Park Financial, Inc. or its subsidiaries for advertising at the ETF Expert web site. ETF Expert content is created independently of any advertising relationships.