Wynn Resorts Limited (NASDAQ:WYNN) recently reported their Q1 2012 results. Earnings per share (EPS) came in a little light, as they netted $1.33/share on estimates of 1.41/share, a miss of $.08/share. Net income fell to $140.6mm, or $1.23 a share, from $173.8mm, or $1.39, compared to the year earlier. Wynn's revenue for the quarter rose 4.2% to $1.31b, missing analysts' projections of $1.34b. Revenue totaled $1.26b for Q1 2011 as a comparison. Overall, nothing stellar about Q1 and it would appear that WYNN should be one name to avoid.
That being said, I'm willing to place a bet on the recovery for WYNN's share price, and I plan on doing this with a fundamental approach backed by consumer sentiment in China. There is a "tug-of-war" of sorts for the gaming industry, depending on location. In Las Vegas, the company noted revenue declined 8% to $363mm and casino operations alone realized a 19% drop. In Macau, the gambling sector rose 26% to roughly $12.4b since January 2012, according to the Gaming Inspection and Coordination Bureau Macau. Furthermore, WYNN saw 70% of Wynn Resorts' 2011 revenue coming from Macau. Q1 2012 sales rose 9.8% to $951mm for Wynn in Macau which, coincidentally, is where Wynn does more of its business. Finally, Wynn Resorts received Macau government approval for Cotai casino development where new revenue streams are soon to be found.
With that said, building the bull case for WYNN can prove to be quite difficult with the current economic conditions looming, i.e. a China "hard-landing" or Europe's recession fears. China's continued strength and growth will prove to be a leading indicator as Macau is responsible for generating a majority of the casino business revenue (noted above). So stepping away from fundamental thought process, an investor will need to ask themselves: What is the state of mind of a consumer in China?
Well, we could look to the retail sales of high-end products. It's no secret that China is a large consumer of such names as Tiffany & Co. (NYSE:TIF), Coach Inc. (COH) and Ralph Lauren Corp (NYSE:RL). Adding to this, the IMF China Representative said that strong consumer spending would cushion China's economic growth. He went on to note that, "There will not be a hard landing in China in the short term because of domestic consumption that is more robust than we had thought." If an investor can marry the thought of casino play to spending on high-end retail, the thesis can be made that one is a leading indicator of the other. After all, in resorts such as ones operated by WYNN, many of the retailers located inside are of the high-end breed.
Click to enlarge.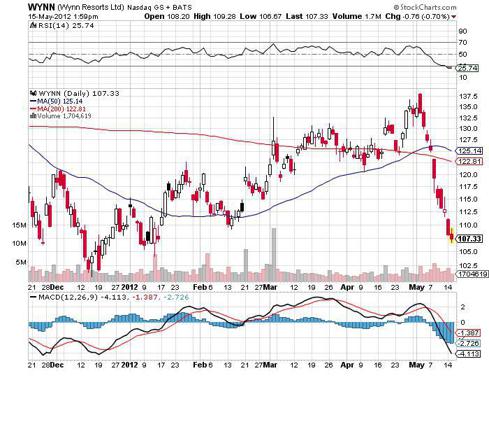 Finally, while technical analysis can be a murky "tell" on what the immediate future holds in the cards for WYNN, there have been some notable flags thrown. What we have noticed is a substantial break of both the 50 & 200 DMA, but an RSI which is deep within the "oversold" range at 26. An RSI of 30 has been held as the average indicator of an oversold condition and may prove to be undervalued at this point.
As already stated, much of what happens from here will depend on a few key announcements. First, we're looking for the final details going into the new casino WYNN has already been granted approval on. These notes should be out in the coming weeks. Another hurdle will be Europe and China. Any news, good or bad, will drive a beta (2.4) stock like WYNN in either direction with conviction. I'm leaning toward a relief bounce in the near future. Once we have details on the Macau project, any uncertainty pertaining to WYNN should be cleared up. It's always the unknown that will drive volatility.
Disclosure: I have no positions in any stocks mentioned, and no plans to initiate any positions within the next 72 hours.