The U.S. Energy Information Administration revealed a smaller-than-expected increase in natural gas inventories, stoking a rally in natural gas futures that have languished near a decade low. Prices have risen amid increasing concern among gas traders and analysts that low prices are spurring a surge in usage among utilities and manufacturers eager to use the cheap fuel instead of more expensive alternatives. UNG, a natural gas ETF, is up 20% in the past month and was up 9.0% last week. UNG has recently moved above its 50-day moving average. These changes are supported by the UNG, RSI and MACD shown in the chart below.
Click to enlarge.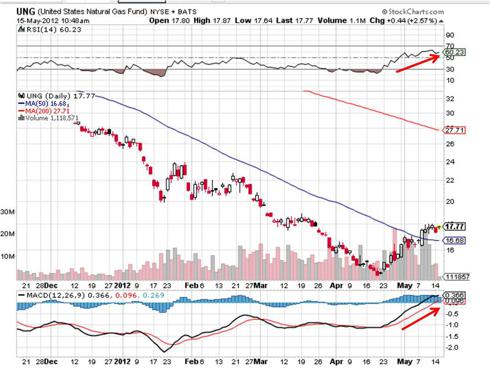 These developments may indicate a bottom in natural gas. Being at a 10-year low in the past few months, natural gas may be a place to look for value and dividends in an uncertain market. The UNG ETF is based on future derivatives so it attempts to duplicate the price of natural gas. This type of investment is not for everyone so here is a list of stocks showing strong price gains in the last month.
Niska Gas Storage Partners LLC (NYSE:NKA) owns and operates natural gas storage assets in North America. NKA had its price cut in half in 2011 due to lowered earnings and a potential dividend cut. However, several investment houses have upgraded NKA in the past few months. NKA is up 16% in the past month and offers an extremely high dividend yield of 12.6%. NKA will benefit from an increase in high natural gas prices as more companies will need additional storage to house their natural gas for their clients.
Canada's largest natural gas producer Encana Corp (NYSE:ECA) said first quarter net operating income rose 10% to $240 million, or 33 cents per share from a year earlier. Cash flow, a key measure of the company's ability to fund development, rose 6% from the previous corresponding period to $1 billion, or $1.39 per share. ECA is up 15% in the past month and delivers a 3.77% dividend yield.
Cross Timbers Royalty Trust (NYSE:CRT) provides tax-advantaged cash distributions from net profit interests in royalties and working interests from oil and gas properties in Texas, Oklahoma and New Mexico. CRT is holding steady as earnings have increased from $2.80 to an estimated $3.01 over the past 5 quarters, they have shown no acceleration or deceleration in quarterly growth rates. CRT is trading just above its 52-week low of $36.15. CRT is up 11.7% in the past month. CRT pays monthly dividends with an annual dividend yield of 7.5%.
Cheniere Energy Partners, L.P. (NYSEMKT:CQP) is a limited partnership formed by Cheniere Energy, Inc. (Cheniere). Through its wholly owned subsidiary, Sabine Pass LNG, it owns and operates the Sabine Pass LNG terminal located in western Cameron Parish, Louisiana on the Sabine Pass Channel. The Sabine Pass LNG terminal has regasification capacity of approximately four billion cubic feet per day and five liquid natural gas (NYSEMKT:LNG) storage tanks with an aggregate LNG storage capacity of approximately 16.9 billion cubic feet along with two unloading docks capable of handling the LNG carriers. CQP is a play on increasing use of liquid natural gas not on the price of natural gas. However, as long as natural gas prices continue to be a low-cost energy compared to oil, LNG uses will continue to grow in the future. CQP is up 8.6% in the past month and has a current dividend yield of 6.6%.
ONEOK Partners, L.P. (OKS) is one of the largest publicly traded master limited partnerships, and is a leader in the gathering, processing, storage and transportation of natural gas in the U.S. and owns one of the nation's premier natural gas liquids (NYSE:NGL) systems, connecting NGL supply in the Mid-Continent and Rocky Mountain regions with key market centers. OKS announced first-quarter 2012 earnings of $0.91 per unit, compared with $0.58 per unit on a split-adjusted basis for the first quarter 2011. Net income attributable to ONEOK Partners increased 58 percent for the first quarter 2012 to $238.8 million, compared with $150.9 million for the same period in 2011. OKS also reaffirmed its 2012 net income guidance range of $810 million to $870 million and its distributable cash flow (NYSE:DCF) range of $925 million to $985 million, provided on Feb. 20, 2012. OKS is up 6% in the past month and has a current dividend yield of 4.5%.

Disclosure: I have no positions in any stocks mentioned, and no plans to initiate any positions within the next 72 hours.