Online personal sites are a lot like social networks; the most critical factor for a site's success is people. More specifically, the volume and activity level of members needs to be high enough for users to make connections, and for visitors to be enticed to join. But despite the online personals market becoming increasingly crowded with newcomers, the top dogs of the industry seem to be as strong as ever.
The chart below compares total site traffic to total active members for the top U.S. online personal sites. By comparing these two numbers, it's possible to see how factors such as acquisition efforts, site design, and audience, impact site usage.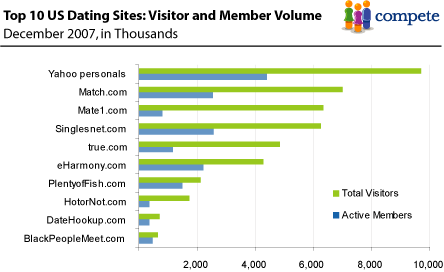 Mate1.com and True.com both do a terrific job of driving visitors to their sites, but this traffic simply doesn't convert. Members represent 13% and 24% of total visitors (respectively).
HotorNot.com members also make up a small share (21%) of total visitors, but this results from the fact that visitors can rate members (the main draw of the site) without being a member themselves.
Plentyoffish.com, a service built on ad revenue, is a great success for all involved. More visitors become members because the service is completely free, and the site generates a great deal more money because members consume considerably more pages.
Niche dating site BlackPeopleMeet.com also sees a large number of members as a share of total visitors (71%) due to a very targeted audience.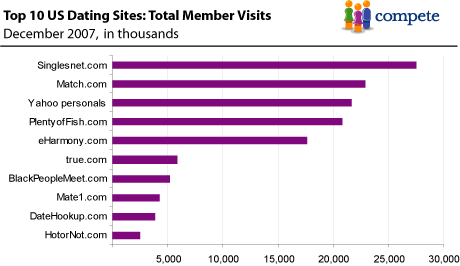 The next step in the love equation is member usage, and if repeat visitation is any indicator, consumers find a great deal of value in free (or at least open) services. The chart above shows overall member involvement (measured as the total number of times a member accessed each site). Since this metric is a function of both total members and member activity, it paints a more accurate picture of each site's base.
SinglesNet.com, ranked 4th in terms of UVs, ranks first in total member visits at over 27 million in December. A fairly open platform and free trial membership help encourage registrations and an average of 10.7 monthly visits per member.
PlentyofFish.com, despite having around 1/5 as many visitors, nearly ties Yahoo (YHOO) Personals in terms of total visits. The entirely free service encourages users to communicate, and drives Plentyoffish members to visit the site an average of 14 times a month.
While they represent major dating services in terms of total visitors, both True.com and Mate1.com look like they compete more with niche site BlackPeopleMeet when compared on the basis of member visits. Aggressive acquisition and sales tactics (such as requiring a subscription for any type of user-to-user communication) are prime factors in their equally low repeat visitation (around 5 times per month per user)
With social networking providing much the same service as a dating site, it's interesting that pure online personals sites continue to grow. But then again, "looking for anything I can get" doesn't really mean anything on Facebook, but it will probably get you a full inbox on Mate1.