The United States Ninth Circuit Court of Appeals affirmed the lower District Court's decision to dismiss a lawsuit alleging that the U.S. Army Corp of Engineers had improperly permitted NovaGold Resources' (AMEX: NG) Rock Creek project in Nome, Alaska (Fig. 1). The news of the decision occurred during heavy buying which may have included short covering as well as earlier owners moving back into the stock having recognized an opportunity following excessive tax-loss selling in December.
It appeared to us that the lawsuit was frivolous on several levels, but predicting court decisions with confidence is problematic by nature. As the court ruled in favor of NovaGold on all counts, the decision is positive not only for the Corp of Engineers, but for the future of mining in Alaska as well. This may also provide additional confidence in NovaGold management (having successfully permitted the Galore Creek project in British Columbia) for permitting the Donlin Creek project in Alaska, which is owned on a 50-50 basis by NovaGold and Barrick Gold Corporation (NYSE: ABX).
Figure 1 - Aerial View of Rock Creek Project

Source: Analyst
The most immediate result of the decision by the court is to vaporize concerns clouding the start up of the Rock Creek project. The project is scheduled to achieve full commercial production in 2Q08 and process 7,000 tpd producing 100,000 ounces of gold annually. It was financed without forward sales of gold and fully leveraged to current gold prices is forecast to generate $25 to $30 million annually. The additional cash flow should mitigate additional dilution for advancing NovaGold's other projects and lead to valuation of the Company's resources as a gold producer.
Figure 2 - Rock Creek Project and Friends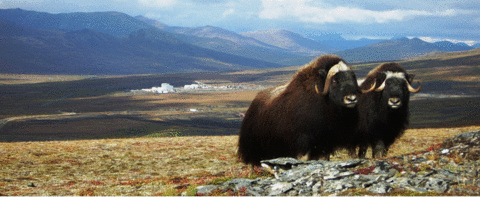 Source: NovaGold
Expansion Potential in the Nome Gold District
The court's decision has additional importance as NovaGold completed 10,220 meters of reverse circulation exploration drilling around the Rock Creek project in 2007. The decision may also encourage NovaGold to accelerate the potential of restarting placer gold mining operations on its expansive land position in the Nome. About 5 million ounces of gold has been produced from gold placers in the Nome area. We believe NovaGold has very good potential to increase the gold resource and mine life of Rock Creek beyond the known gold resource.
Figure 3 - Nome District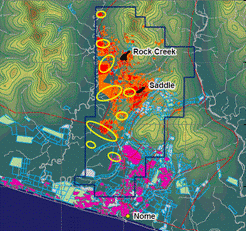 Source: NovaGold
NovaGold presently controls about 34,000 acres. The areas contained within the light blue lines in Figure 3 are partly owned by the NovaGold, and the areas within the blue lines with white centers are 100% owned. The area within the dark blue line outlines the lease with Bering Straits Native Corporation [BSNC]. NovaGold controls exploration opportunities and much of the land surrounding the City of Nome. Magenta colored areas show a gold soil anomaly while orange colored areas indicate a gold bedrock anomaly. Areas within the yellow circles are areas of interest requiring further exploration.
Comments on Stock Price Appreciation Following 2007 Tax Loss Selling
NovaGold's stock has appreciated significantly from the $6.00 level on December 18, 2007 following the release of nearly two-years of drilling (156,000 meters) at Donlin Creek completed by Barrick. The results from that drilling demonstrate the world-class nature of the deposits with some of the best intercepts for the industry in 2007. While very pleased with the dismissal of the lawsuit, we continue to believe that Donlin Creek may be the story for the mining industry in 2008. The drilling by Barrick in 2006 and 2007, combined with drilling in 2008 under NovaGold's purview, with completion of a Feasibility study mid-year, should lead to an expansion of the Measured and Indicated gold resource to over 30 million ounces.
Based on comparable trading values for other development stage assets of $100 per Measured and Indicated ounce, NovaGold's share of gold ounces at Donlin Creek alone would be valued at more than $14 per share. While Galore Creek has been temporarily placed on hold by Teck Cominco Ltd. (NYSE: TCK), Teck is scheduled to spend several hundred million additional dollars over the next 12 months to maintain ownership and develop alternative development strategies for the project. We believe that the Galore Creek project continues to hold significant value. Combining Donlin Creek and Galore Creek with a producing mine at Rock Creek, plus an updated resource estimate at its Ambler project, we are confident events to unfold during 2008 should support our case that NovaGold shares at this level remain significantly undervalued.
Disclosure: The author is long NG and has no positions in any other stocks mentioned in this report. An affiliate of the author's employer provides corporate advisory services to NG.