by Ulysses de la Torre

Brazil's policy of weakening its currency to make exports more competitive has worked – maybe too well.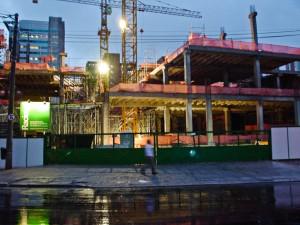 Night construction in Brazil
The real has lost 13% of its value against the dollar since March 1, to trade at just about 2:1. The Bovespa stock index has slid by almost exactly the same amount during that time, making the currency's future an all-important indicator for equity and ETF investors, but one subject to contradictory forces.
Even the president of the Brazilian Exporters Association said last week he prefers a stronger real in the 1.80-1.85 range. Yet unnamed currency speculators told Forbes they see a further nosedive to 2.2.
What's driving bearish sentiment on the real is President Dilma Rousseff's determination to push domestic interest rates lower. Earlier this month, she issued a decree removing the floor on interest paid by a popular form of savings account, although this controversial move requires congressional approval within 120 days. This should allow the Brazilian central bank (BCB) to continue cutting its prime rate for commercial lending, known as the SELIC rate, currently at 9%.
Several reports indicate the BCB is seeking a real savings rate of 2%, which is equivalent to the SELIC rate minus inflation. With inflation over the past 12 months averaging 5.25%, that implies a desired Selic of around 7.5%. This will broadly drive real-related investments toward further depreciation.
But other factors point to the real holding at current levels, if not strengthening. The inflation rate remains above the BCB's stated target of 4.5%, though it is down from a seven-year high of 6.5% at the end of 2011.
The central bank, after buying dollars through most of March and April to fuel the real's decline, has gone comparatively quiet in the currency markets this month. The closer inflation comes to breaching 6.5% again, the more likely the BCB is to re-intervene in the opposite direction to stem continued BRL weakening.
Brazil also has two looming public events: the soccer World Cup in 2014 and Olympic Games in 2016, that will require massive investment, including probably some from abroad. Foreign direct investment into Brazil has become more difficult to define in recent years, as inflows have to evade the obstacle of capital controls. But to the extent that event-related spending comes from overseas, this is a force for a strengthening the real.
What is for sure is that the World Cup and Olympics will drive sustained infrastructure spending, most of which will stimulate domestic manufacturers and contractors. Meanwhile, cheaper money and abiding inflation will drive consumer spending, while much of the benefit the devalued real brings to exporters is offset by weaker global commodity prices.
That means the best way to bet on a Brazilian equities rebound is to stay away from all things exposed to currency volatility or commodities and stick with anything inwardly focused on Brazil. Retail investors can access the domestic sectors through four different ETFs: Global X Brazil Consumer (NYSEARCA:BRAQ) , Global X Brazil Mid-Cap (NYSEARCA:BRAZ), EG Shares Brazil Infrastructure (NYSEARCA:BRXX), or Market Vectors Small Cap (NYSEARCA:BRF).
Disclosure: No positions