Just days away from the global retail "super bowl" known as RECon, a host of exhibitors and shopping center professionals will assemble in Las Vegas to network and develop strategies for increasing performance and profitability. The annual conference sponsored by The International Council of Shopping Centers (ICSC) promises to attract over 30,000 attendees including a variety of retailers, brokers and developers across the globe.
This year retail investors should be more upbeat as the retail recovery is showing signs of life. Accordingly, the underlying fundamentals are showing strong support for growth and the latest data provides evidence that the retail sector is steadily gaining strength. In a recent National Real Estate Investor article, Victor Calanog, PhD and Chief Economist with Reis Inc. writes,
Consider the robust leasing patterns for neighborhood and community centers in the fourth quarter of 2011 and early 2012. Occupied stock increased by roughly 1 million sq. ft. per month, topping out at 1.36 million sq. ft. in December and 1.87 million sq. ft. in January. The sector has not absorbed this much space on a monthly basis since 2007. Strong leasing patterns also pushed vacancies down by 10 basis points. Vacancies declined slightly to 10.9 percent in January 2012, unmooring itself from the 20-year high of 11.0 percent at which it was stuck for at least a year. Furthermore, both asking and effective rents rose by 0.1 percent in February, the first time both measures of pricing posted an increase since the first quarter of 2008.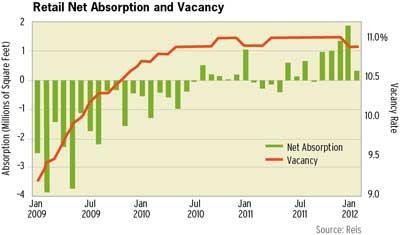 Retail vacancies are tightening as the depth of the trends are driven by the various retail sub-sectors. Based upon these vacancy trends, the recovery officially commenced in early 2011 and the improvements are still not close to 2008 levels.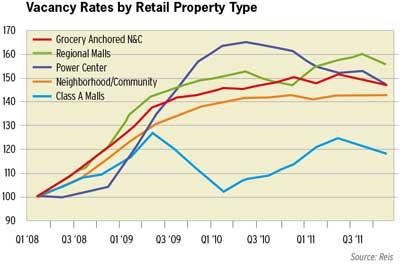 The macro-level trends are seeing continued signs of recovery and the various sub-sector trends are explained by Calanog:
Larger property types such as power centers boast 6.8 percent vacancies, a level that is fairly tight and that has declined consistently since mid-2010. Class-A malls, defined as regional malls that can command rents in the upper 75th percentile or higher of their specific metro, have vacancies of 6.4 percent, implying a slight but steady decline from that sector's cyclical peak of 6.9 percent from mid-2009. REIT-controlled malls posted occupancy improvements through 2011. Grocery-anchored neighborhood and community shopping centers are also doing relatively better than properties anchored by other tenant types, with end-2011 vacancies at 7.5 percent versus the overall average of 11 percent.
Retail REIT Performance
With the promise for continued recovery, the retail REITs are also seeing signs of overall outperformance. According to NAREIT, the retail REIT sector reported a year to date (April 31, 2012) total return of 19.5 percent - the second highest in the all equity performance rankings (industrial was highest at 23.24 percent). The Shopping Center sector reported year to date returns of 17.13 percent and the Regional Malls reported 21.85 percent. In addition, most of the retail REITs have reported first quarter earnings and many have raised guidance levels while reporting increased earnings levels.
Kimco Realty (NYSE:KIM), a leading REIT and the largest U.S.-based shopping center landlord, reported first quarter (2012) revenues of $231.4 million compared with $225.1 million in the year-earlier quarter - an increase of 2.8 percent. Total revenues for the reported quarter exceeded estimates of $228 million. Kimco also reported first quarter 2012 FFO (funds from operations) of $126.2 million or 31 cents per share compared with $122.0 million or 30 cents in the year-ago period. Dave Henry, CEO and President of Kimco explains,
All of us in the shopping center industry are encouraged by the sustained and steady improvements in the key metrics of our property sector including occupancy rates, leasing spreads, effective rents and same store site NOI. These trends bode well for the economy and retail REIT performance over the next year.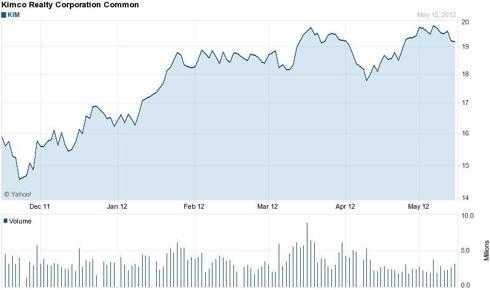 Other shopping center REITs that have reported solid first quarter performance include Retail Opportunity Investment Corp. (NASDAQ:ROIC), Regency Centers (NYSE:REG), Weingarten Realty Investors (NYSE:WRI), Excel Trust (NYSE:EXL), Federal Realty (NYSE:FRT), Equity One (NYSE:EQY), and Tanger Factory Outlets (NYSE:SKT). The mall sector REITs that have seen promising signs of recovery include CBL & Associates (NYSE:CBL), Simon Property Group (NYSE:SPG), and Taubman Centers (NYSE:TCO).
Pick a Brand - Based on Supply and Demand
The supply of retail space has drastically impacted the moderate recovery trends. Owning high quality real estate is directly correlated to strong occupancy trends and owning secondary (tier 2) property is associated with average income fundamentals. The constrained supply of high-quality retail properties has been a "boon" for many retail landlords as explained by Victor Calanog:
While demand drivers like increasing retail sales have been helpful, the dominant variable that is helping fuel the retail sector's nascent recovery is constrained building. From 1999 to 2008 an average of 29 million sq. ft. of new shopping center space came online per year. That plunged to 13 million sq. ft. in 2009, and remained very low throughout 2010 and 2011. In fact, 4.5 million sq. ft. of new completions in 2010 represents the lowest figure for construction in Reis's 30 years of history.
The retail recovery is well underway and the retail REITs should continue to outperform and deliver strong shareholder value. Picking a REIT with sound income fundamentals supported by durable dividend performance is the key to capitalizing on a SWAN (sleep well at night) income alternative. For the essence of the repeatable dividend model is to find a REIT that enjoys consistency and reliability driven by sound operating fundamentals. This optimal investment strategy is summed up by Victor Calanog:
Well capitalized REITs that are the first to market in underserved locations will profit from constrained supply growth, assuming there's latent demand.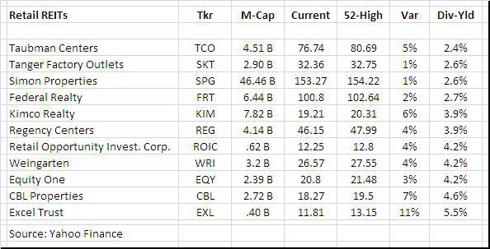 Disclosure: I have no positions in any stocks mentioned, and no plans to initiate any positions within the next 72 hours.