By: Brendan Gilmartin
Wal-Mart Stores (NYSE:WMT) is scheduled to report 1Q 2013 earnings before the opening bell on Thursday, May 17. The release is typically available at 7:00 a.m. EST. Results from the world's largest retailer and constituent of the Dow Jones Industrial Average tend to influence the direction of the equity index futures. The shares also trade in Frankfurt, Germany.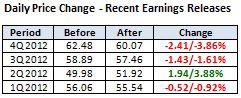 Outliers & Strategy
Key measures:
Earnings Per Share from Continuing Ops: The value for this measure is most often the figure that compares with consensus estimates. Wal-Mart indicated back in February that based on the current economy and operating environment, it expects 1Q 2013 EPS from continuing operations between $1.01 and $1.06. The current Street estimate is $1.04 (Source: Yahoo! Finance).
Earnings Per Share Guidance (2Q 2013): This is a crucial forward-looking measure for Wal-Mart. The current consensus estimate for 2Q 2013 is $1.16.
Earnings Per Share Guidance (FY 2013): For the full year, Wal-Mart sees diluted EPS from continuing operations in a range of between $4.72 and $4.92. The current Street estimate is at $4.86.
Revenues are seen rising 6.1% y/y to $110.5 bln.
Following the recent pullback, stemming from the bribery scandal in Mexico, Wal-Mart shares are now trading at a mere 13.1x trailing earnings, a steep discount to the 5-year average of 14.9x and just 0.5x sales. After raising its dividend back in March, the shares are now yielding 2.6%.
Recent News
05/07: Jefferies lowered its price target on Wal-Mart from $58.70 to $57.00, according to StreetInsider.com. The report attributed the cautious outlook to the Mexican bribery scandal.
04/21: Wal-Mart disclosed that it was investigating a bribery scheme in Wal-Mart de Mexico and violations of the U.S. Foreign Corrupt Practices Act. A report in the New York Times suggested that executives failed to follow through on allegations of widespread and frequent bribers in Mexico. The shares subsequently dropped $2.91 (-4.66%) to $59.54.
03/01: Wal-Mart approved an annual dividend of $1.59 per share, approximately a 9 percent increase from the $1.46 per share paid during fiscal year 2012.
Technical Review
Wal-Mart shares have recovered roughly 50% of the losses sustained in the wake of the Mexican bribery investigation on April 24.Over the past four sessions, Wal-Mart has nestled into a tight trading range right at $59.50 resistance and dividing point of the 20-Day SMA & 50-Day SMA. Should earnings surprise to the upside, a breakout above this area could lift the stock toward the recent highs in the $61.50 area. A disappointing release could drag the shares down toward the late April lows nadir at $57.00. (Chart courtesy of StockCharts.com)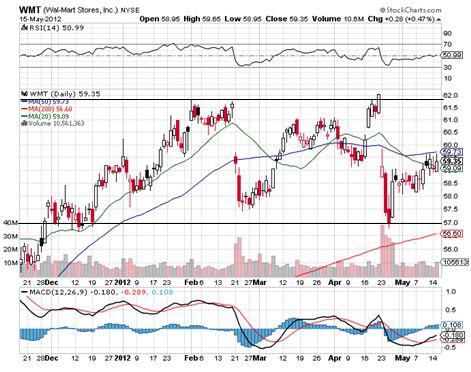 Summary
Wal-Mart shares have come under the radar in recent weeks, following reports that the retailer issued bribes to local officials in Mexico as part of an effort to expedite its expansion efforts. Despite the reputational and headline risk, Wal-Mart's aggressive push into new markets and solid results from its peers, including Target (NYSE:TGT) bode well headed into the 1Q 2013 earnings release. At just 13x earnings, the stock is fairly cheap on a relative basis with a hefty dividend yield of 2.6%. Technically, Wal-Mart shares are in a holding pattern and suggest a breakout in either direction, depending on the outcome of the earnings release. After guiding for EPS Cont Ops of $1.01 to $1.06, a figure above this range could alleviate recent fears.
Disclosure: I have no positions in any stocks mentioned, and no plans to initiate any positions within the next 72 hours.
Disclaimer: By using this report, you acknowledge that Selerity, Inc. is in no way liable for losses or gains arising out of commentary, analysis, and or data in this report. Your investment decisions and recommendations are made entirely at your discretion. Selerity does not own securities in companies that they write about, is not an investment adviser, and the content contained herein is not an endorsement to buy or sell any securities. No content published as part of this report constitutes a recommendation that any particular investment, security, portfolio of securities, transaction or investment strategy is suitable for any specific person.