Happy New Year! And there is plenty of reason to be happy with gold posting a 31% gain in 2007, and an explosive start to 2008. While many analysts were calling $800 gold overbought or even an end to the gold bull market, we correctly forecasted that gold would pause momentarily, and then continue higher. On December 5th, I wrote "there is a strong likelihood that gold will find support at $800 over the next few weeks and enter into the second phase of this upleg." Gold proceeded to reach new highs, adding $65 or 8% in the following weeks. Hopefully you added to positions and enjoyed the ride. I will be posting a detailed 2008 Gold Forecast in the coming days, but wanted to alert my readers to news from one of my favorite exploration companies - Fronteer Development.

Fronteer Development Group (FRG), who we first profiled back in January of 2007, announced that it has intersected high-grade gold mineralization at its Long Canyon property in Nevada. The company reported 0.88 ounces per ton gold (30.10 grams per tonne) over a true thickness of 23 feet (7.0 metres), within a broader zone that returned 0.39 ounces per ton gold (13.40 grams per tonne) over a true thickness of 75 feet (22.9 metres). These drill results are a significant improvement over initial results that were closer to 3 grams per tonne.
Fronteer President and CEO Mark O'Dea said:
Long Canyon defines a totally new gold trend in Nevada and ranks as one of the most significant greenfield discoveries made in the state in the last several years. This emerging deposit shows encouraging grade and tonnage potential and remains open for expansion in all directions."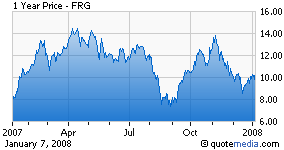 Investors responded by driving up the price of Fronteer stock by nearly 7% on more than double the average trading volume. What is more impressive is that the gain occurred on a day when most mining stocks were down 2-5%. At $10 per share, Fronteer could gain 50% on a run back to its 2007 high of $15.
We are very bullish on both gold and uranium for 2008 and think Fronteer, with an impressive portfolio of exploration projects, could be a takeover target for one of the majors. While the company's net loss has increased as a result of an aggressive exploration program, it still has $100 million in cash on hand, and recently acquired Newwest Gold Corporation and 19 new precious metals exploration properties in Nevada.
I have traded in and out of Fronteer over the past few years, buying on dips below $10. I took a new position on Monday at just under $10, and expect Fronteer to make a new highs this year. As always, perform your own due diligence on Fronteer as you are solely responsible for your investment decisions. Best of luck in 2008!
Disclosure: The author owns FRG.