CSP, Inc. (nasdaq: CSPI) is a tiny tech company that provides best-of-breed IT solutions, systems integration services, and high-performance computer systems. Their systems segment supplies high-performance Linux cluster systems for a broad array of defense applications, including radar, sonar and surveillance signal processing. Their MODCOMP subsidiary provides IT solutions and systems integration services.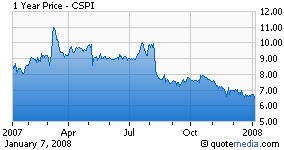 What is remarkable about CSPI is that on December 10, 2007, the Company reported a +36.4% increase in revenues to $94 million and a whopping +98% increase in EPS to $1.03, yet the stock trades at a miserable 6.3-times earnings. With a cash balance of over $21 million ($5.42 per share), no debt and a book value of $25.3 million ($6.42 per share), CSPI is basically trading at book and just above cash. CSPI has grown revenues for at least the last four consecutive years with impressive earnings growth in the last three, but the Company continues to sit on a treasure chest of cash and has done so for at least five years running.
Part of the Company's remarkable growth in 2007 can be attributed to an $18 million supply contract to Raytheon (NYSE:RTN) that was completed in 4Q07 and won't be repeated in 2008. This is somewhat of a letdown, but part of the nature of CSPI's business. In a recent CEO interview, management stated that they see the Company growing to exceed $100 million in sales. All this and the stock remains deeply discounted to earnings, cash and book.
Individual investors cry out for a better use of the Company's cash on the message boards including new acquisitions, significant stock buybacks or a special dividend, but these cries seem to fall on deaf ears. On November 16, 2007, CSPI did in fact announce a new stock repurchase program, but for only 250,000 shares, or roughly $1.6 million. Insiders hold a mere 17% of the stock and the CEO recently sold over 4,000 shares on both sides of the stock buyback announcement. A handful of institutions hold around 19%.
In our opinion, CSPI is far too cheap, even considering the fulfillment of the Raytheon contract and the Company needs to do something to improve awareness and shareholder value. The Company appears to be a prime target for an aggressive activist to shake-up management, put the cash to better use and get shareholder value moving in the right direction. Of course, that's just our opinion, it's worth a look. CSPI closed at $6.78 per share yesterday.
Disclosure: none