The desire to access information anywhere and anytime will be met with a variety of mobile devices, through the small screens of smartphones and the slightly larger to much larger screens of tablets. Netbooks and laptops may be the losers in this shift toward mobile. While many consider this an app-centric world -- and I doubt apps will ever disappear -- there is a growing move toward HTML5 and content optimized for smaller screens. As devices share some common aspects, like screen resolution, it will become less complicated to produce content that is easily accessible on smartphones and tablets.
Hints at smartphones coming into the market in late 2012 indicate a move toward a 720p HD screen (1280 x 720, or near that resolution) in a 4" to 4.5" diagonal for most devices. Some companies may stick to the current, one function at a time with fields of icons approach, while some companies will try to attract users who want to actively manage their devices through multitasking. I don't see multitasking dominating the market, unless the two leading companies make that move over the next couple years.
While we know the biggest players now in the market, I am focusing this article on two companies wanting a bigger future slice of this still growing technology pie. I don't expect either company to dominate in smartphones or tablets, but I expect them to profit from these sectors in the next few years. The two companies that will be competing for third place are Microsoft (NASDAQ:MSFT), with Windows 8, and Research In Motion (RIMM), with BlackBerry BB10. These are both the fallen and downtrodden giants of several years ago, companies that many have completely written off regarding the ability to gain any traction in smartphones or tablets. If you fit that description, you need read no further; but if you are curious about investing in the future of either company, based just on the still-growing smartphone and tablet markets, then I welcome you to continue reading, and hopefully to enter a discussion through the comments.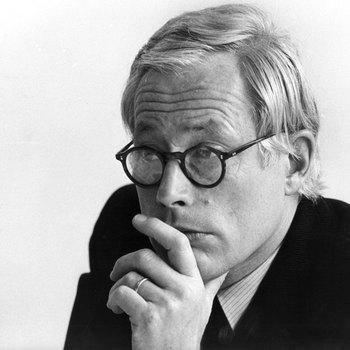 Neither BB10 nor Windows Phone 8 are expected to be released until late 2012, though there are a few previews and reviews giving us a glimpse at the way these systems will function. A user interface, or UI, is about managing content, with customization, allowing users to control how they manage their content. The biggest change at both companies is designers taking the lead over engineers, which may prove to be the route to success (or turnaround) for both firms. Other companies that emphasize design have seen some market success. German industrial designer Dieter Rams gives us 10 Principles of "Good Design," and these will be good to keep in mind in this technology preview.
A review of BB10 by The Verge showed various aspects previewed at the BlackBerry World 2012 developer event recently. BB10 emphasizes layering, distributing, and creating an order to content management. There appears to be a fluidness to this, though without a final device we cannot really be certain whether a device loaded with many apps will remain fluid -- especially given Research In Motion's claim that all apps are live and active all the time. There still appears to be a slight learning curve to the device UI, with no obvious home button and some gestures not immediately obvious. There are a few indications that position movements will activate some functions, without the need for touch or voice input, though these will not be immediately obvious to end-users.
One of the usage trends that could help smartphone sales is that compact camera sales have declined, while smartphones have become more often the camera of choice for personal imaging. Even Samsung is moving away from low-end compact cameras. Nokia (NYSE:NOK) has tried this approach for a while, with its partnership with Zeiss of Germany, though so far it has not been successful enough to substantially increase sales volume. Arguably, Nokia's best cameras in smartphones are still on their older Symbian platform, though as Engadget points out, we are seeing a shift more toward mobile smartphone cameras, mainly due to their ability to allow users to easily connect with friends and family. I expect to see better camera function in future Nokia Lumia Windows 8 smartphones, but those can expect competition as other companies launch their own Windows 8 devices.
We know very little about the camera in the next BlackBerry BB10, but we have a great video preview of a feature many end-users might find compelling. At BlackBerry World 2012, the camera preview shows a way around some of the shutter lag issues plaguing many cameras on smartphones. This is a little like what Nikon does with its Nikon 1 line of mirrorless cameras, though the difference is that the editor is built into the BB10 smartphone and allows you to edit each image -- or even just a portion of an image -- directly. You can remove background objects and change the image to fit what you want. This is the type of innovation that has been lacking from Research In Motion the past few years. Depending on how the company markets this aspect, and how well the other aspects of BB10 function, it may draw in new users to BlackBerry. (Click on the image below for a link to a short article on Scalado Tech, which developed the software that makes this possible.)
Click to enlarge all images.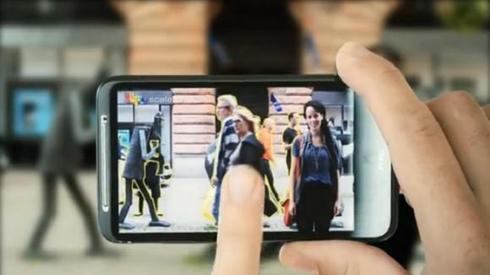 Current estimates put the BlackBerry user base around 77 million to 80 million end-users. Even though this is behind the user base of the two leading platforms, it is large enough for some app developers to create new apps and content for the upcoming BB10. Wall Street Journal reporter Will Connors was at BlackBerry World 2012 and filed a favorable video report. The virtual keyboard in the early part of the video is a huge change for BlackBerry devices, long known for their ergonomic physical keyboards. The predictive text might convert some existing BlackBerry keyboard advocates into virtual keyboard users. Inside study data at Research In Motion shows many users as slow to upgrade devices, so there is some potential for BB10 smartphone upgrades if the devices launch later this year. While a physical keyboard is promised in a later BB10 device, possibly early 2013, the first device will launch with a touchscreen -- much like most smartphones on the market.
An interview with Steve Kaneko of Microsoft discusses the Metro UI concept behind Windows 8. Microsoft wants to control the aspects of the user experience and interaction by creating a stringent set of rules for app development for Windows 8 devices. It's a strategy that might succeed, but only if developers choose to work within these parameters. At the core of this is the Microsoft Metro look and feel, always reminding the user that whatever they are doing when navigating or managing content it is about Microsoft's vision of how that should appear.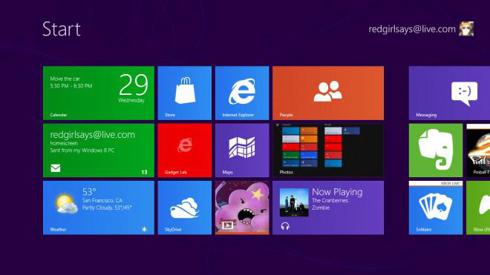 Microsoft Metro is a bit like Swiss Grid graphic design, which always seems clean and efficient, though the downside is that many find it somewhat boring. Users may find that to be true, or they may find the UI seamless and unobtrusive. So I really think it will become a love/hate type of view, with some embracing the concept and others lambasting it. Here are a couple of videos showcasing the design influence behind the Metro UI, part one and part two. The first four minutes of the first video and last three minutes of the second video are the most relevant. The videos are a bit long, but show much more about how Windows 8 will function than anything else I was able to find in my research. Parts of Metro UI seem as if they will function better on a larger and wider tablet screen than on a small smartphone screen, especially the panorama views. There are a few visual clues to help users navigate, but with some of the panorama views it seems the size of the graphic and image content might use up quite a bit of memory or become processor-intensive. Any lag would deter from the user experience.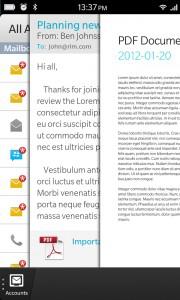 When we compare Window 8 Metro Panorama to BlackBerry Flow, we can see a similarity in approach, though the graphical elements are larger for Metro Panorama than for Flow. I think the visual guiding is more intuitive on Windows 8, with elements coming into the side of the screen suggesting a direction for more information. If we consider the current app-centric usage of the top devices, most apps take up the majority of the screen. BB10 Flow allows apps to take up a lot of the screen, in much the same way, but users must know they can layer and slide content in order to access the "Flow" of layers of information. Definitely less intuitive, though we may see some changes from the alpha version to the final version.
The tablet space is where either company could gain some traction in coming years. Unfortunately, the BlackBerry PlayBook stumbled on launch and, despite software improvements finally making it a nice standalone product, the damage from the poor launch and poor retail point-of-purchase presentation hurt sales volumes. It would not surprise me to see a complete re-branding to another name, at the very least, in order to remove the stigma surrounding PlayBook. Some aspects of PlayBook OS 2 are similar to BB10, though it appears there are some changes that could improve a future BlackBerry tablet. Abandoning tablets is another option, though with tablet sales still growing, I think shareholders (and the board of directors) would prefer to see a better launch.
We can reasonably expect a 4G tablet, based on FCC filings, and quite likely a 3G version for markets without 4G. There have also been hints at a larger PlayBook, though it remains to be seen if such a device could be delivered at a profitable price level. Google (NASDAQ:GOOG) Android tablets are expected to be almost a third of the market moving toward 2016. If the PlayBook manages more than 1% of total tablet volume, then it may continue to be produced and updated; otherwise, this might point toward a licensing effort to get BB10 on tablets made by another company, perhaps LG (NYSE:LPL) or Samsung (OTC:SSNLF) or through Korea Fund (NYSEARCA:EWY).
Microsoft is taking a different direction with Windows 8 for tablets, going after a more computer-like experience. Windows 8 tablets in some forms could be viable laptop replacements, though I wonder if all that horsepower will have a negative impact on battery life. Gartner Group expects initial Windows 8 tablets to gain just over 4% of the market, and eventually grow to 11% of the market. That's still third place, but on a volume basis that is significant. Most of the current laptop makers appear to want to release Windows 8 tablets, so the real winner here is Microsoft, while the OEM manufacturers will fight for profits. It looks promising when even the preview and developer versions are seeing significant usage.
I don't expect either company to take over the smartphone or the tablet space. Multitasking user interfaces can be useful for some end-users, but I suspect most people will want a device that emphasizes doing one thing at a time very well. We are flooded with information, and the predominance of games among the most popular apps currently in use suggests that many of us value distractions and disconnecting from information more than we want to manage layers of information. Statistics from App Annie for Android in the U.S. show games overwhelmingly as the dominant app downloads. Both Research In Motion and Microsoft have struggled to bring aboard app developers. Research In Motion handed out 5,000 developer alpha BB10 devices, and announced a $10,000 incentive to launch certified apps for BB10. Microsoft has invested $250 million in Nokia and provided some incentives for app developers.
I would consider buying Microsoft on any market weakness heading into July 2012, though I am waiting for shares to decline under $27.50 before choosing an entry position. In a market decline, shares in Research In Motion could easily dip under $10.00, making this a much more speculative investment. My suggestion is to watch the next few months of options volume to find increased activity, and that may provide some clues to an entry point. I'm not expecting solid returns until 2015/2016 in either company, making these long-term investments.
Disclosure: I am long RIMM. I have no position in MSFT, but may initiate a new position during summer 2012.