Wikis, blogs and social networking – once exclusively the Internet playground for techies, kids, and assorted enthusiasts – are being adopted by corporations at an explosive rate.
The race is on to embrace the power of the web to harness collective intelligence and sell products in new ways.
For anyone needing proof that Web 2.0 is big business, just look at Microsoft's battle with Google for an equity stake in Facebook, one of the leading social networking sites. Microsoft now owns 1.6% of Facebook after making a $240 million investment, marking a $15 billion valuation for the high-traffic website.
The Race Is On
ChangeWave Research recently completed a benchmark survey on Web 2.0, which confirms the explosion in Web 2.0 usage. Our survey of 2,081 companies shows a huge percentage not only believe in the benefits of collaborative Web 2.0 tools but are rapidly moving to implement them in a wide variety of ways.
Key findings include:
One-in-four respondents (24%) say their company already uses Web 2.0 social software. Another 8% say they'll begin using it in the next 12 months.
Focusing on specific web technologies, we found that Wikis (20%), Blogs (18%), and Social Networking (15%) are attracting the most attention.
Surprisingly, while current users find Wikis to be most beneficial to their company, future users think Blogs (26%) and Social Networks (21%) will be most beneficial.
All told, two-in-five respondents (39%) report their company is very or somewhat willing to use Web 2.0 social software for business purposes.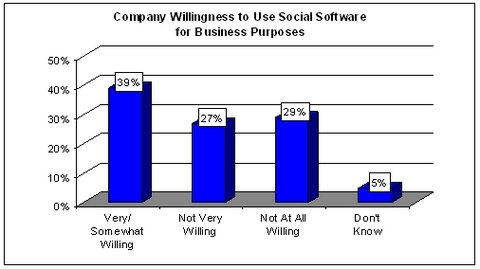 But why are companies so hot on using Web 2.0?
The top two reasons given by current users are both internally oriented:
To improve internal employee collaboration
To increase internal efficiency and productivity
However, a wholesale transformation is occurring between current and future corporate users in terms of why they're making use of Web 2.0 software. While current users are more 'internally oriented' in their usage, future ones will be far more 'externally oriented.' Here are the top reasons given by future corporate Web 2.0 users:
To improve internal employee collaboration
To improve external customer service and support
To increase external brand awareness and loyalty
To increase external sales of products and services
Following the Money
Among respondents whose companies currently use or plan to begin using Web 2.0 software, 35% say they'll spend more resources on it over the next 90 days, while only 2% say they'll spend less.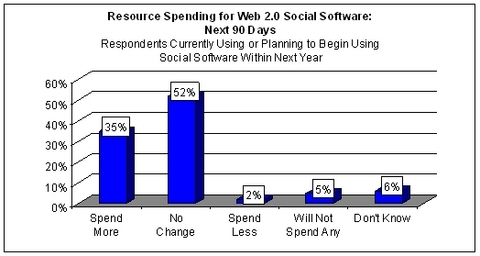 To better understand where this corporate investment is headed, let's compare current Web 2.0 users vs. future ones in terms of where they'll be investing the most money over the next year: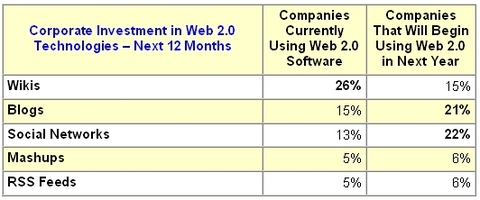 While current corporate users are investing the most money in Wikis (26%), future users will clearly make their greatest investment in Social Networks (22%) and Blogs (21%).
But who benefits from all this? Who really controls the Web 2.0 software space?
Our survey shows it's a relative handful of vendors – with Microsoft the dominant player in terms of market share across virtually all Web 2.0 technologies, and IBM ranked either second or third within each.
The Big Guns of Web 2.0
Here are the leading software vendors identified within each Web 2.0 technology:

Above and beyond the big guns, open source software still remains the number one option for Wikis and is also relatively popular for Blogs.
Similarly, software developed in-house ranks as the top option for Mashups and is also rather common within each of the other Web 2.0 software technologies we asked about.
What's Ahead
For all the hype, Web 2.0 today is still essentially the same platform as Web 1.0. The real difference is in the way corporations, software developers and legions of users are reshaping collaborative intelligence and networking over the Internet.
Our survey shows that companies big and small are changing their way of thinking about the power of the Internet, and a Web 2.0 arms race is underway. Concurrently, investors should diligently monitor the activity in this space.
ChangeWave Research will closely track breaking developments in the cascading worlds of Web 2.0 and 3.0 Internet – and we expect future surveys of our 13,000 early adopters to uncover exciting new investment opportunities.
Stay tuned.
----------------------------------------------------------------------------------------------------------------------------------------------
This article summarizes the results of a recent ChangeWave Alliance survey. The Alliance is a research network of 10,000 business, technology and medical professionals who spend their everyday lives working on the front line of technological change. For more info on the ChangeWave Alliance, or if you are interested in joining, please click here.