Xinhua Finance Media Company (XFML) is mainly an advertising company operating in China an Hong Kong. For its investors, it is a great opportunity to enjoy both the expected appreciation of the Yuan and the booming advertising industry in China and Hong Kong.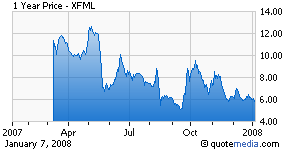 Fundamentally speaking, Xinhua's market cap is less than $390M while its shareholders' equity is more than $445M. The company is expecting net revenue of between $42M to $47M in the last fiscal quarter of the year - roughly a 100% increase YoY. That follows third quarter margins of 37% and steady growth YoY. According to analysts, Xinhua is expected to report a net income of 67 cents per share for the year 2008 - a P/E ratio of less than 9 based on Monday's closing price of $5.64.
Last time I've seen something like this was with Canadian Solar (NASDAQ:CSIQ), which I reported here, when it was trading for less than $10. Today, less than 3 months later, it is trading above $20.
There has been some confusion among the market regarding the price at which Yucaipa acquired XFML's shares. The Yucaipa Company acquired 6.2% of XFML's shares at the price of $3 per common share. As each ADR represents 2 common shares for XFML, the effective purchase price was $6 per ADR share instead of $3. Compared with this price, the 15-day average closing price for XFML prior to the Sep. 26 announcement was actually $5.77 per ADR. Hope this allays your concerns regarding this issue. The danger of holding Xinhua shares is in the fluctuation of the markets, not in the fundamentals of the company itself. Therefore I think holding it for the long haul will be rewardable. In the short run - who knows?
Please be smart enough to do your own research before touching this stock (or any other for that matter).
Disclosure: Author is long XFML.