I am big fan of dividend stocks. They have a tendency to outperform the rest of the market with relatively lower volatility. Traditionally, a substantial portion of the market returns have been due to the dividends. Even if the markets experience short-term swings, the dividends can provide a soft cushion against capital losses.
It is a dream for every investor to sit back and watch the dividends growing. This is particularly true for those who depend on passive income stream from previous investments. In this low-interest atmosphere, retirees or soon-to-be-retirees should seriously consider switching to high-yield bond alternatives. We haven't yet seen the inflationary effects of the FED's expansionary policy, but we are very likely to experience a higher inflation in the near future. A nice alternative to paltry bond yields could be high-dividend stocks. The dividends can provide a strong hedge against rising prices during high-inflation periods. Consequently, a diversified portfolio of high-dividend stocks can support superior returns for the long-term investors.
While it might be argued that retirees should balance their portfolio between bonds and equities, the contemporary market conditions favor high-dividend stocks over fixed-income securities. The FED's decision to keep interest rates low has created a rare bubble in the bond markets, where the interest rates are near their historical lows. Therefore, I strongly recommend high dividend stocks over other alternatives. Here is a diversified list of 5 stocks, each of which is worth considering for any investor's retirement portfolio. All of these companies have a stellar record of dividends. They have also proven themselves with strong business models, and provided substantial returns to long-term investors.
Intel (NASDAQ:INTC) - Strong Buy
Intel is the largest chipmaker in the world. Almost every office has at least one Intel product in house. It is also one of the safest and cheapest large-cap dividend-growth companies on the market. Over the last 10 years, profits have been going up, along with dividends. While the quarterly dividends were 2 cents in 2003, the current dividend of 21 cents per share indicates a yield of 3.1%. The stock performed well in this year, returning 13% so far.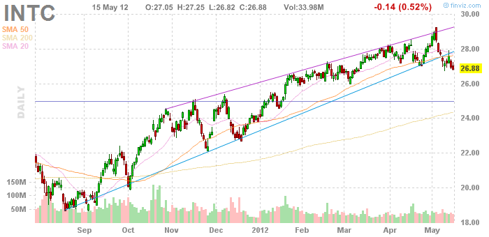 (Source: Finviz)
Intel is a highly cyclical company whose profits are strongly correlated with economic growth. As we are experiencing something of a recovery, I expect Intel to break its previous earnings record this year. Analysts expect an even higher earnings report for the next year. EPS is expected to be as high as $2.69 per share in 2013. That implies a forward P/E ratio of 10.04, which is one of lowest among other large-caps in the market.
Unlike most other tech companies, Intel's management is shareholder friendly, as it keeps raising the dividend -- regardless of the current profits. The balance sheet shows an almost $15 billion differential between current assets and current liabilities, which means dividends have plenty of room for growth. I am expecting a quarterly dividend raise of 4 cents by the last quarter of this year. That is another reason to consider Intel as a buy.
Conoco Phillips (NYSE:COP) - Strong Buy
ConocoPhillips is one of the top dividend yielders among the major integrated oil and gas companies. Considering the relatively low payout ratio, there is a lot of room for dividend growth. The stock made it to as high as $60 in this year, but it retreated back to $52 along with the rest of the market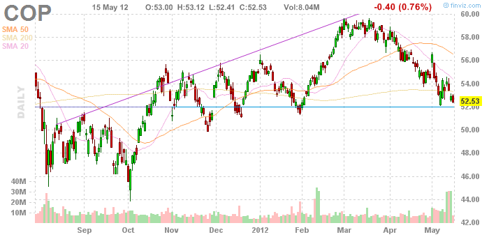 (Source: Finviz)
ConocoPhillips recently gave birth to Phillips 66 (NYSE:PSX), the company which is entitled to refining and chemical-related assets. Such splits are usually aimed at unleashing shareholder value, and I think that will be the case for ConocoPhillips. At a forward P/E of 7.85, the stock looks like a dirt-cheap deal to me. With a low debt to equity and a relatively high return on equity, ConocoPhillips proved itself as a reliable investment for several decades. Looking at the trend for the dividends, I am also expecting a dividend increase from the company this year. The fall-back after the split might continue for a while, but it also means an opportunity for those interested in purchasing the stock. It is one stock that can double its dividends in the next 5 years.
McDonald's (NYSE:MCD) - Long Term Buy
McDonald's, easily recognizable by its famous golden arches symbol, has one of the best business models in the world. The company provides franchisees with the logo, the material, the inputs, and the means to utilize the inputs to produce the most essential thing in any traders life: hamburger and fries. The stock has been a long-term outperformer, and reached to as high as $102 this year, but it could not stay above $100, and retreated back to fair valuation levels.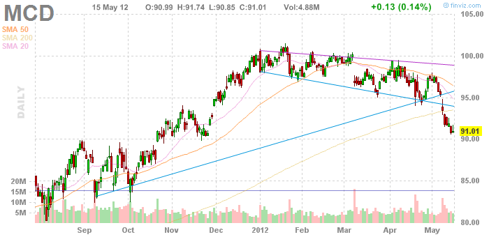 (Source: Finviz)
While the current P/E ratio of 17 is a little pricey, the forward P/E falls to 14.49. McDonald's brand image in emerging markets is even higher than in the U.S. or Western Europe. Although it is known as a cheap food here, it symbolizes high-quality and tasty food in rest of the world. The company even offers delivery services in many countries around globe. Its only real competitor is Burger King (private), which is not yet as global as McDonald's. Analysts estimate quarterly earnings of $1.42, which is perfectly in-line with my earnings forecast. That is 7 cents higher than the same quarter earnings in 2011. McDonald's trend analysis suggests an earnings growth of 3% at each quarter. That translates into a meaningful long-term return of around 13% - 14% annually. That is why I think it is a great buy for the long-term.
Annaly Capital (NYSE:NLY) - Long Term Buy
Annaly Capital Management is one of the most popular stocks among income-oriented investors. It currently offers a yield of 13.3%, which is more or less supported by the company's earnings. As a real estate investment trust that invests primarily in agency-backed mortgage securities, the company has a relatively simple business model. The entire business model is based on the ownership and financing of a portfolio that invests in mortgage-backed securities. In its most simple form, Annaly borrows short-term funds that invest in long-term securities. The spread between the short-term interest rates and the long-term interest rates creates the backbone of Annaly's business model. The recent spread reduction has induced the Annaly's management to be more cautious and started deleveraging. The current debt/equity ratio of 5.84 is one of the lowest among agency-only mREITs.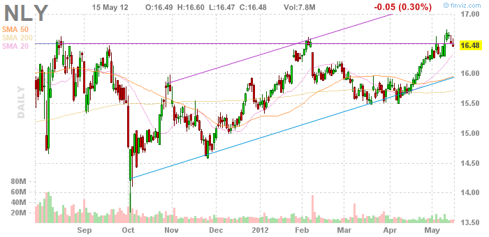 (Source: Finviz)
From a technical perspective, $16.5 seems like a very strong resistance level. The bulls tried to overcome this resistance several times this year, but no success observed so far. The good news is that Annaly returned almost 5% in the last month, when most equities provided negative returns. That is another reason to consider Annaly for the retirement portfolio. With a low Beta of 0.29, the stock can be a great diversifier.
Abbott Laboratories (NYSE:ABT) - Long Term Buy
Established in 1888, the Abbott Park, Illinois-headquartered Abbott has been one of the best managed pharmaceutical companies in the world. The company has presence almost all around the world, and employs more than 90,000 employees worldwide. Its stock has been an outperformer, returning 20% in the last 12 months alone.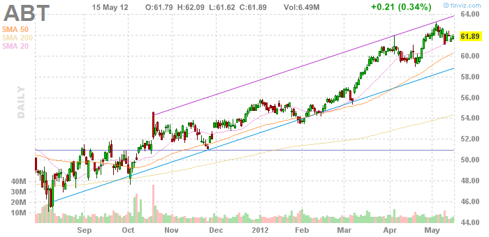 (Source: Finviz)
Abbott recently submitted its latest quarterly earnings report. The company reported a gross profit of $5.7 billion in the last quarter. After deducting for operating, financial and tax expenses, the net profit amounted to $1.242 billion. That is almost 50% increase from the last year's first quarter earnings. The current P/E ratio of 20 suggests a relatively expensive stock, but the forward P/E ratio is expected to be as low as 11.55. UBS has an upgraded target price of $68 on the company, implying about 10% upside potential.
Disclosure: I am long (INTC).