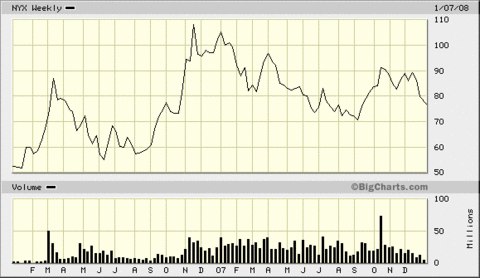 NYSE Euronext (NYSE:NYX), the holding company created by the combination of NYSE Group, Inc. and Euronext N.V., was launched on April 4, 2007. NYSE Euronext (NYSE/New York and Euronext/Paris) operates the world's largest and most liquid exchange group and offers the most diverse array of financial products and services. NYSE Euronext, which brings together six cash equities exchanges in five countries and six derivatives exchanges, is a world leader for listings, trading in cash equities, equity and interest rate derivatives, bonds and the distribution of market data.
Profiting on increased market volatility, NYSE Euronext reported yesterday a record year for 2007:
"As the world leader in trading a range of investment products, NYSE Euronext's volume growth in Europe and the U.S. clearly demonstrates our strong value proposition to investors and issuers," said NYSE Euronext CEO, Duncan Niederauer. "In 2008, we will continue to innovate and lead the global marketplace as we further integrate our business and introduce new products and services to better serve our customers."
In 2007, NYSE Euronext expanded its global reach and entered lucrative new markets such as carbon emission trading:
NYSE Euronext is pending final approval to collect fees for market data:
NYSE Euronext has a new block trading joint venture which will debut in 2008:
Merger synergies are also expected to realize in 2H08:
NYSE Euronext is a diverse, high-growth company with much potential. After a recent high of $90 per share, NYSE Euronext's stock price has dropped to $76.82 amidst falling U.S. Macro. In my opinion, this presents a good risk-to-reward opportunity to scale into NYSE Euronext, which found strong support at $70 last year.
Disclosure: Author has a long position in NYX