My thinking on the precious metals producers has been mixed with conflict between technicals and fundamentals:
The short term trend is without a doubt, down, as we make lower lows and lower highs. In the last couple of months, anyone shorting this has probably made money even with terrible timing. Anyone going long has only made money with exceptional timing.
Despite the price action, I continue to believe in the fundamentals in gold (NYSEARCA:GLD) and silver (NYSEARCA:SLV), from a general belief that expansion of the money supply and monetization of debt is ultimately beneficial for fixed assets and from actually studying supply and demand
I also realize and relearn that short term, day to day action, is more dictated by liquidity and sentiment than fundamentals
Despite the recent, almost liquidation like trading of precious metals, the longer term trend remains up
There are many amusing adages on Wall Street, warning about picking bottoms and catching falling knifes, for good reason. Identifying and betting on a trend reversal is incredibly difficult. However, it is also tempting given the huge gains in the initial portion of a reversal. Therefore, for anyone making countertrend trades, I advocate a tight stop loss. Once the trade is green, move up stops to take the risk out of the trade.
While SPDR Gold Trust and iShares Silver Trust are back at recent lows from mid December, the Market Vectors Etf Trust (NYSEARCA:GDX), the Global X Silver Miners and Market Vectors Junior Gold Miners are making new lows. Absent a big gap up, many will trigger at the open.
One useful setup that accomplishes the goals of benefiting from a trend reversal while managing risk is the Bollinger Band Crash Trade. This opportunity is triggered by a close below the lower Bollinger Band. And then the next day's open is below the lower band as well. Stops are placed at yesterday's low or 1-2% below the open, whichever is lower and depending on one's risk tolerance.
(Click to enlarge)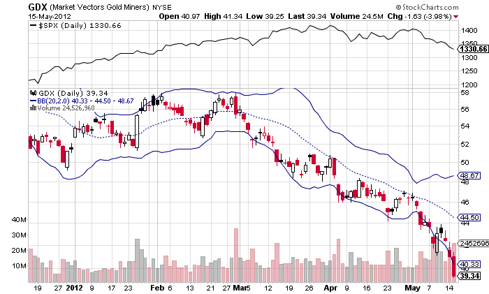 When the trend reverses, in the miners, there will be plenty of time and room to catch the move up.
This tool is a useful addition to any trader's repertoire who engages in countertrend trading. Even amidst the plunge from March highs, it did not trigger too often, keeping one safe. Further, when it does trigger the risk is well defined in case, you are wrong and can be adjusted based on one's tolerance.
Of course, in trading there is no magic bullet and risk and reward are tied together. However I think this is an effective compromise.
Disclosure: I am long NUGT.