Barron's, "The Dow Jones Business and Financial Weekly," published its annual list of America's 500 top companies by sales May 7. Barron's survey was prepared by HOLT, a segment of Credit Suisse which measured, graded, then ranked companies based on three measures collected from reports from the companies' latest reported fiscal year (mostly 2011):
"Median three-year return on investment, based on a proprietary cash-flow metric called CFROI"
"Change in CFROI in the latest fiscal year relative to the three-year median"
"Sales growth in the latest fiscal year, adjusted for divestitures (and, in the case of cigarette companies, for taxes that are collected and remitted to the government)"
Given the measures, each company was graded in each of the three categories with those making the top one-fifth graded A, while those in the bottom one-fifth were graded F. HOLT thereby assigned grade point averages (GPA) for each company based on 4 for A down to 0 for F. Companies that restated financial data or operated under bankruptcy rules were excluded. A previous article described the top 10 Barron's 500 companies that earned a GPA of 3.0 or above as "Overbought in May."
Dogs of the Index Metrics Cull Out Current Low P/E Bargains
To identify companies with especially cheap shares, Barron's asked FactSet to re-rank the HOLT list by price/earnings ratio, based on profit estimates for the current fiscal year. "Combing the Barron's 500 for Underpriced Shares" focused on the 30 components with the lowest P/Es.
For this article 17 low P/E companies that pay dividends were re-ranked using the two key dog performance metrics: (1) stock price; (2) annual dividend. Dividing the annual dividend by the price declared the percentage yield by which each dog stock was ranked.
Historically dividend dog investors utilized this ranking system to select portfolios of five or 10 stocks in any one index, sector, or survey to trade. They awaited the results from their investments in the lowest-priced, highest-yielding stocks and prayed that the price of every stock they now owned climbed higher (having locked in a high yield percentage at purchase).
Dogs of the index strategy, popularized by Michael B. O'Higgins in the book "Beating The Dow" (HarperCollins, 1991), revealed how high-yielding stocks whose prices increase (and whose dividend yields therefore decrease) can be sold off once each year to sweep gains to reinvest the seed money into higher-yielding stocks in the same index.
Seventeen low P/E stocks in the Barron's 500 Dividend Dogs listed below were ranked by yields calculated as of May 11. Bracketed numbers after the stock name indicate the rank earned in Barron's survey. Classic Dogs of the Index theory trades selected Dow stocks. Thus, the Dow is used as a standard of comparison to conclude this article.
Barron's Low P/E Dogs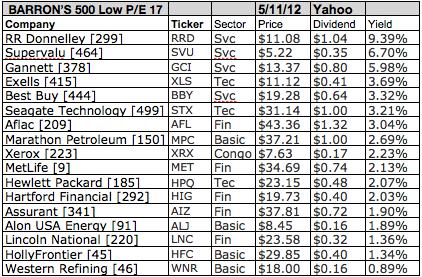 Barron's 500 Low P/E Dividend Dogs top 10 stocks showing the biggest yields as of May 11, included equities representing five of nine market sectors. The top stock as revealed by Yahoo Finance data, was one of four in the services sector, RR Donnelley & Sons (NASDAQ:RRD). The other three services firms were: Supervalu (NYSE:SVU), Gannett (NYSE:GCI), and Best Buy (NYSE:BBY). The balance of the top ten included: two technology, Seagate Technology (NASDAQ:STX), and Exells (NYSE:XLS); two financial firms, Aflac (NYSE:AFL), and MetLife (NYSE:MET); one basic materials firm, Marathon Petroleum (NYSE:MPC); one consumer goods maker, Xerox (NYSE:XRX), representing the sectors.
Up and Down Moves for Barron's 500 Low P/E Dividend Dogs
One firm, RR Donnelley & Sons, stayed at the top of this 17-stock list by yield for the four months surveyed.
Color code shows: (Yellow) firms listed in first position at least once between February and May; (Pale Blue) firms listed in fifth position at least once between February and May; (Pink) firms listed in 10th position at least once between February and May; (Pale Green) firms listed in 15th position at least once between February and May.


Bullish upward price moves since April 16 were made by only two of the top-10 April Barron's 500 Dividend Dogs: Seagate Technology spun its price up 6.6%, and Aflac quacked out a 4.18% hike.
Bearish downward price moves for the same period hit the remaining eight of the top ten April Barron's 500 Low P/E Dividend Dogs: Top dog RR Donnelley & Sons price fell 8.2%; Supervalu displayed a 14.14% price drop; Gannett posted a 2.76% decline; Exells delivered a 2.54% decline; Best Buy returned a 10.2% price drop; Marathon Petroleum drilled a 6.74% decline; Xerox cranked out a 3.05% drop; MetLife wrote out a .772% swoon.
Dividend vs. Price Results
Below relative strengths for Barron's 500 Dividend top 10 low P/E stocks by yield was graphed as of May 11, 2012. Five months of historic projected annual dividend history from $1000 invested in the ten highest yielding stocks and the total single share prices of those ten stocks created the data points for each month shown in green for price and blue for dividends.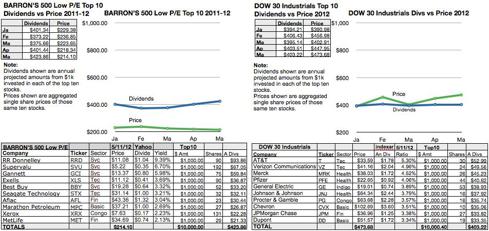 Conclusion: Barron's 500 Low P/E Dividend Dogs Show Upside Potential
Unlike their overbought B+ ranked Barron's 500 brothers, these Low P/E top-10 dogs show more dividend potential at potentially higher risk (some listed equities may struggle to sustain projected dividends). While B+Barron's top-10 dogs showed aggregate share price diverging 70.55% above projected dividends from $1k invested in each of the 10, the Low P/E Barron's 500 top-10 dogs diverged 97.97% with dividends exceeding price.
The mostly bearish trend the B+top-10 dogs exhibited in dividend vs. price performance was also shown by the Low P/E top 10. Aggregate single share price for the Low P/E top 10 declined 6.66% while projected dividends from those 10 invested at $1k each increased 5.62% between January and May.
May aggregate single-share stock price for the Barron's 500 Low P/E top-10 dogs lagged total annual dividend returns from $1k invested in each of those stocks by $209.76 or 49.49%. Compared with the Dow in May these Barron's 500 Low P/E top-10 dogs showed a 54.8% lower aggregate single share price with 5.12% greater dividends from $1k invested in each than did the dogs of the Dow.
Future articles each month will compare the paths of the overbought B+ Barron's 500 dogs with their higher potential Low P/E brothers. Stay tuned.
Disclosure: I am long T, VZ, JNJ, CVX.
Disclaimer: This article is for informational and educational purposes only and shall not be construed to constitute investment advice. Nothing contained herein shall constitute a solicitation, recommendation or endorsement to buy or sell any security. Unless stated otherwise, prices and returns on equities in this article are listed without consideration of fees, commissions, taxes, penalties, or interest payable due to purchasing, holding or selling same.