One would wish that sorting through one's trash could be as useful as sorting through waste management stocks in search for the optimal income-producing opportunity. Indeed, the waste management sector boasts stocks with attractive yields that promise to generate income for patient dividend investors. While the sector has seen slower growth this year due to restructuring and acquisition charges, lower recycling and electricity prices, and higher operating costs, it is poised for stronger growth as the population increases and the economic activity boosts lead to higher waste production in the coming years. In the aftermath of the latest quarterly earnings announcements, the correction in stock prices of the key industry players has created favorable conditions for investment in some of the attractive long-term dividend plays in this industry.
One of the appealing high-yield waste management companies is Waste Management (NYSE:WM), the largest provider of comprehensive waste management solutions in North America. This $15.2 billion company recently reported its first-quarter earnings per share (EPS) that were down one penny from the same quarter a year ago and two cents short of analysts' estimates. Despite the increase in revenue, the company's EPS was hit by higher operating costs, associated, in part, with the acquisition of Oakleaf Global Holdings. Still, notwithstanding modest growth in the projected EPS this year, Waste Management is expected to grow EPS on average by 9.7% annually over the next five years, in line with stronger economic growth and, thus, a recovery in commercial and industrial waste volumes. The forecast rate of EPS growth represents a dramatic improvement compared with the average annual EPS growth rate of negative 0.6% reported for the past five years.
A high-dividend yield is a particularly alluring feature of Waste Management. The company's stock is currently yielding 4.17%, featuring a dividend yield that has been on a continuous uptrend since 2003 (see the chart below). The company's dividend growth has been remarkable. The annual dividend has increased from a mere 1 cent a share in 2003 to the current level of $1.42 a share. The company expects to return to shareholders some $1.2 billion in stock repurchases and dividend distributions in 2012. Waste Management has a dividend payout ratio of 68%, below the industry's average of 80%. The company is relatively attractive on valuation as well, with current and forward P/E below the industry's benchmarks.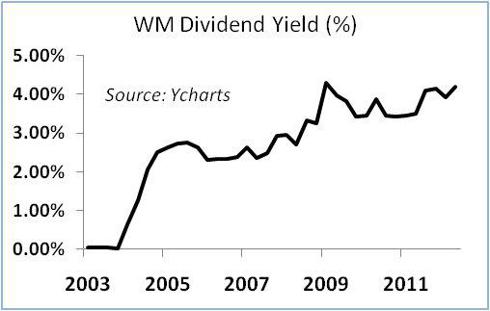 The recent pullback in the shares of Waste Management of more than 9% is a good opportunity to create a position in the company. This view is supported by Ray Dalio of Bridgewater Associates and David Dreman of Dreman Value Management, both of whom added the position in Waste Management in the fourth quarter of 2011, at an average price of $32.01, close to the current market price of $32.75 a share. Financier Mario Gabelli and the renowned Microsoft (NASDAQ:MSFT) founder and Chairman, Bill Gates, are also fans of the stock.
Another opportunity in the industry is Republic Services (NYSE:RSG), the second-largest waste management company in the U.S. This $9.5 billion company is very popular with Bill Gates' investment arm, Cascade Investment LLC, which is managed by Michael Larson, a well known value investor. In three separate transactions between April 30 and May 2, Cascade Investment LLC, as a beneficial owner of more than 18.6% shares in the company, reported acquiring more than 3.7 million shares at an average cost of $27.40 a share. This price is below the current stock price of $25.60 a share.
Following a negative earnings report on April 26, 2012, in which the company missed analyst estimates and lowered its guidance for the year due to weak pricing and low volumes that exert pressure on margins, shares of Republic Services plummeted. The stock is currently changing hands at $25.61 a share, which is down 17.8% from the day before the earnings announcement. The company has a dividend yield of 3.3% and a payout ratio of 56%. The company's dividend has increased 5.5 times between 2003 and 2012. In addition to an attractive yield, the company has attractive valuation.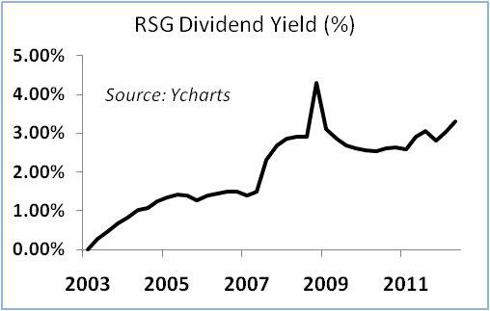 With the current and forward P/Es of 13.3 and 13.5, the company's valuation is more attractive than that for Waste Management and the industry as a whole (industry's current and forward P/Es of 20.3 and 17.4). Also notable is the waste processor's forecasted growth over the next five years. RSG is expected to average close to 10%, or 4.3 times faster than in the previous five years.
There are other players in the industry as well, but they look less attractive. Covanta Holding Corporation (NYSE:CVA) is a small $2.2 billion waste management company with a 3.7% dividend yield. Progressive Waste Solutions (BIN) is also a small $2.3 billion company with a dividend yield of 2.9%. A larger international player in the international arena is Veolia International (VE), a $6.8 billion French waste management company with a high yield of 5.8%. While the company is expected to see a robust 15.7% average growth per year over the next five years, it is currently not profitable and is expected to slash its dividend payment this year, following a similar cut in dividend last year. Still, it should be noted that Veolia International was recently upgraded at HSBC on strong cash-flow generation and robust growth expectations.
Investors in pursuit of yield have an opportunity to acquire positions in some stable dividend players with attractive valuation and strong growth prospects. As noted, several fund managers and corporate insiders in some of the noted companies have already done so.
Disclosure: I have no positions in any stocks mentioned, and no plans to initiate any positions within the next 72 hours.